MRC Touts Blogger Pushing Falsehoods About Voter Fraud
Topic: Media Research Center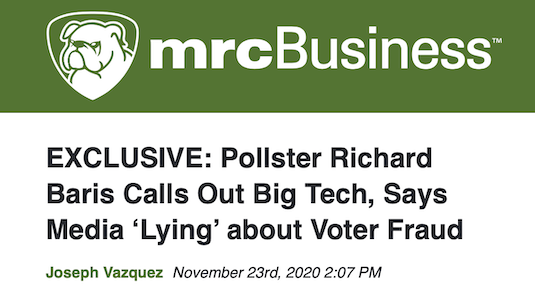 The Media Research Center's Joseph Vazquez thinks he got a big "EXCLUSIVE" scoop in a Nov. 23 post:
Big Data Poll Director Richard Baris slammed both Big Tech and the liberal media after being silenced by Twitter for speaking out about voter fraud in the 2020 election.

Baris was blocked from his Twitter account earlier this month for sharing research pointing to the possibility of voter fraud. He said his wife Laura and his polling firm were also blocked from their respective accounts as well. Baris's account has since been restored.

In a new interview with MRC Business, Baris warned about the interference of Big Tech and the liberal media into the 2020 election by hoodwinking the American people into believing that there's no evidence of voter and election fraud. His main message to the press trying to black out the issue: "Media should stop lying to the American people about the reality of both voter and election fraud. There are examples of both in every election. " Baris continued: "The question this year has never been whether there was fraud, but rather how widespread it was and whether it was enough to impact the outcome of the election in any of these critical battleground states."
Of course, Vazquez isn't going to tell you that Baris has been pushing falsehoods about alleged election fraud. Most notoriously, Baris has claimed that 132,000 voters in Fulton County, Ga., had been flagged as possibly ineligible, a claim Fulton County officials have called "false and baseless."
Baris has also claimed that "Joe Biden underperformed Hillary Clinton in every major metro area around the country, save for Milwaukee, Detroit, Atlanta and Philadelphia" -- which is also false.
Vazquez was not about to tell that part of the story, of course -- he had a victim narrative to peddle. And he was certainly not going to connect the dots and point out that one reason Twitter might have suspended his account was his peddling of false claims, which runs against Twitter's terms of service. Vazquez then wrote:
Just the News founder John Solomon released a report today arguing that "a mountain of evidence has been amassed in private lawsuits alleging there was, in fact, significant and widespread voting misconduct." In Baris's view, "the states in question essentially used Covid-19 as a predicate to put a moratorium on election integrity laws, including long-standing established laws and verification procedures."
In fact, one reporter who looked into Solomon's claims found him to be "profoundly misleading" and the claims he makes left out information that discredits them. Vazquez also failed to mention that Solomon's overall work is suspect because of his shady dealings with Russian and Ukranian sources to launch thinly sourced smear campaigns against critics of President Trump.
In short: There is no reason Vazquez had to give an "EXCLUSIVE" interview to a dishonest writer who is seeking to perpetuate the fraud that the election was stolen from Trump -- unless perpetuating that fraud is the MRC's current editorial policy.
Posted by Terry K. at 6:43 PM EST