MRC's Double Standard on Softball Interviews
Topic: Media Research Center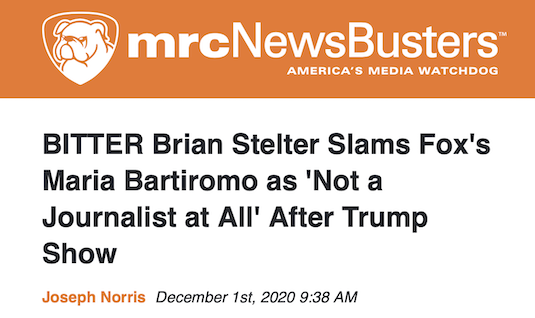 The Media Research Center loves to complain that President-elect Biden gets asked "softball" questions in media interviews:
Needless to say, that concern about softball interviews of politicians doesn't apply when the politician being interviewed is a Republican -- or Donald Trump. When Fox Business host Maria Bartiromo interviewed Trump and was so utterly softball that she offered no pushback to his false claims of election fraud, the MRC wasn't happy when that was pointed out.
Joseph Norris took the whataboutism route in a Dec. 1 article:
On Sunday, Fox Business host Maria Bartiromo interviewed President Trump for most of her Sunday Morning Futures program about his challenges to the election results in multiple states. This caused an eruption of outrage hours later on CNN's Reliable Sources, that Bartiromo would give the president softball questioning on such a controversial issue.

The president's lawyers haven't been winning in court, and as always, CNN attempted to discredit the competition to maximum effect. CNN host Brian Stelter said Bartiromo was "not a journalist at all." He summarized: "Fundamentally, that is what this is about, destroying trust in the election system. It's about delegitimizing Biden's presidency."

Wow. No irony, at all. Given the leftist media's four-year war on the President, and CNN's own history with the Russia coverage, it is not Fox News that is destroying trust in our election system. CNN's been doing that for years.

[...]

It is laughable that Stelter and his guests are accusing Fox News of being partisan hacks and spreading misinformation given their recent history. Stelter hypocritically lamented Bartiromo's "fall": "it's sad that a journalist like Bartiromo, who had a storied career, is now not a journalist at all. She is now on there just teeing up the President to lie to the viewers."

Carpenter piled on: " This is propaganda. If the RNC, if the Trump campaign produced a commercial, Brian, it would be more constrained by the truth to go on the airwaves than what transpired that hour." This coming from the network that literally ran chunks of a Michelle Obama "closing argument" for Biden and called it a "news" show.
When Jimmy Kimmel made a joke about Bartiromo's obsequiousness, Curtis Houck didn't take it well:
Late Monday on ABC, viewers saw the latest instance of a liberal double standard as, if the comment below had been leveled against a female journalist, politician, or spouse would have fetched wall-to-wall condemnations. During his eponymous show's monologue, host Jimmy Kimmel quipped that the "always-sycophantic" FBN and FNC host Maria Bartiromo had been "auditioning for the position of" President Donald Trump's fourth wife.

[...]

Ah, yes. Let's boil down a woman who's been a business anchor, correspondent, and host for over 25 years (and currently the host of the most-watched business news program), and the daughter of working-class parents to a housewife.

Imagine if a Fox News comedian said this about, say, Vice President-Elect Kamala Harris or a journalist like Dana Bash or Norah O'Donnell. The silence would be deafening.
Houck seems to have forgotten that he (as NewsBusters managing editor) and his employer sought to justify smearing Harris as a "hoe" because she once was romantically involved with a prominent politician.
Posted by Terry K. at 10:04 PM EST