MRC Still Portraying Twitter Enforcing Terms Of Service Against Trump As 'Censorship'
Topic: Media Research Center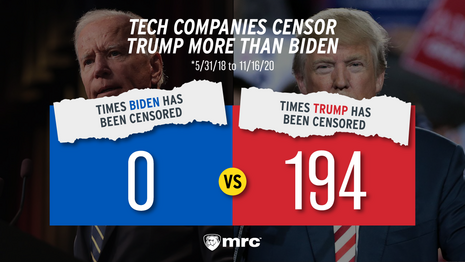 The last time we checked on the Media Research Center whining that social media companies enforcing their terms of service on President Trump was "censorship," it was featuring both Twitter and Facebook. Perhaps because portraying Facebook as uniquely biased against conservatives is utterly divorced from reality, the MRC has now decided to focus solely on Twitter (despite accompanying graphics still blaming plural "tech companies"). Corinne Weaver complained on Nov. 9:
Through its rampant censorship, Twitter has done its best to silence President Donald Trump. However, neither former Vice President Joe Biden nor his campaign have received any labels or filters of any kind.

Election Day brought with it a huge spike in Twitter's censorship. The company's arsenal used against Team Trump included labels, filters, blocking URLs and preventing users from commenting on certain tweets. This same treatment was also handed to the Trump campaign Twitter account. Since Nov. 3, Trump's personal Twitter account was censored 35 times as he tweeted about ballots and election counts. Overall, Twitter has censored Trump since May 31, 2018, a grand total of 111 times. In contrast, Biden and his campaign have received no forms of censorship or suppression.
Weaver followed up the next week:
Twitter has gone off the rails when it comes to censoring President Donald Trump and his campaign account. But meanwhile, Joe Biden and his campaign accounts remain untouched.

The president's account and the account of Team Trump received 83 labels on their tweets between Nov. 9 and Nov. 16, as of the time of this piece's publication. These tweets included retweets of statements from figures like X Strategies CEO Alexander Bruesewitz, Fox political analyst Gregg Jarrett, and actors Kevin Sorbo and Jon Voight. Overall, since May 31, 2018, Trump and his campaign have been censored 194 times.

Between Nov. 2 and Nov. 9, Trump's personal Twitter had been censored 36 times. Between Nov. 9 and Nov. 16, Trump's personal account received 64 labels. This marks a 77 percent increase in censorship over the previous week. By contrast, none of Joe Biden's tweets have been given any sort of label.
In neither post did Weaver cite a Biden tweet that should have been "censored," nor did she coherently explain why any of the Trump tweets should not have been. She did sort of try on that last part though, asserting that in one "censored" clip, "Fox Business host Maria Bartiromo discussed with Sen. Lindsay Graham (R-SC) the concept of 'dead people voting.' Twitter labeled this video with 'This claim about election fraud is disputed.' Yet, according to 2012 research done by the Pew Center on the States, 1.8 million deceased people were registered as voters. This topic has been discussed broadly by both sides in the past 10 years."
But dead people on the voting rolls is not the same as "dead people voting." Weaver did not note whether Bariromo or Graham offered any verifiable of evidence of "dead people voting," let alone that it has been an significant issue in the presidential campaign.
That's the kind of baseless, factually unsupported ranting Weaver doesn't think should be disciplined by Twitter.
UPDATE: After the election, Kayla Sargent similarly complained that Twitter "censored tweets from at least six conservatives' verified accounts, including President Donald Trump. In five of the six instances, the platform placed an interstitial, or filter, over the tweets, and in five of the six cases, it turned off comments and likes. Twitter still allowed quote tweets for the posts, however." But if you can still easily see the tweets simply by turning off a filter, it's not "censorship," is it? Sargent didn't explain why it is.
Posted by Terry K. at 11:42 PM EST
Updated: Monday, November 23, 2020 2:07 PM EST