How Is MRC Sports Blogger Hating Gays Now?
Topic: Media Research Center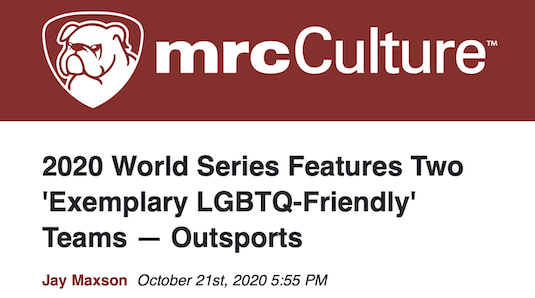 Jay Maxson, the Media Research Center's mysterious sports blogger who has no internet presence outside the MRC and may not even be a real person for all we know, is still feeling the anti-LBGT hate as much as ever.
Maxson complained in an Oct. 12 post:
Black Lives Matter protest is so passé now that the National Football League's weekend focus Sunday was on "National Coming Out Day." The league released a 30-second long "National Coming Out Day PSA" on YouTube Saturday, which aired during early-game Fox broadcasts Sunday.

[...]

Let's be real here. Sports leagues frequently suck up to the LGBT pressure groups' agenda, to stay on their good side, to prevent boycotts and nastiness. They're fearful of being labeled "homophobic."

Now it's not important to just be a great athlete. By coming out of the closet NFL players are sure to get the Jason Collins treatment. The president, commissioners, coaches and athletes fawned all over the former NBA player for cravenly coming out as he retired from the NBA in 2014.
Maxson is clearly not fearful of acting like a homophobe, as exhibited by his depiction of an athlete's coming out as "craven."
On Oct. 21, Maxson whined that the teams in the World Series, the Los Angeles Dodgers and Tampa Bay Rays, were being noted for catering to their LGBT fan bases, sneering that they earned " LGBTQ alphabet points" and that "Tampa's lesbian mayor" threw out the first pitch at a game, adding that "The Dodgers were one of the first baseball teams succumbing to pressure to feature Pride Nights, hosting what is believed to be the first Gay and Lesbian Night in August of 2000."
Maxson ranted against transgenders in a Nov. 6 post:
Boise, Idaho, you can kiss your inclusion in March Madness next spring good-bye. The NCAA prefers a different version of inclusion for its host sites, one that doesn't ban males from participating in female sports like Idaho does. College sports fans, trans inclusion is rolling down the tracks and little can stop it.

SB Nation Outsports reports that the NCAALGBT hasn't yet rescinded its agreement for NCAA Tournament games in Boise, but the sport's governing association is in the tank for transgenders.

[...]

As if social justice activism hasn't ruined people's enjoyment of sports enough, it's just a matter of when college sports become more defined by the letters NCAALGBT than by biological gender and notions of fairness.
On Nov. 16, Maxson retorted against an article noting that longtime baseball coach Tonny Lasorda refused to acknowlege his son is gay by declaring him to be on his deathbed:
Can't a 93-year-old critically ill man be allowed to die in peace? Not if he is Hall of Fame former baseball manager Tommy Lasorda. Then SB Nation Outsports will dog him to his dying day because he never admitted his late son was homosexual.

Outsports writer Dawn Ennis goes lower than low in a shameful assault on Lasorda (seen in photo delivering his Hall of Fame speech), who managed the Los Angeles Dodgers from 1976-1996, won 1,599 games and two World Series. Inducted into the Hall of Fame in 1997, Lasorda is currently in an intensive care unit in a Los Angeles-area hospital.

[...]

Tommy Lasorda is not a "legend" because he didn't get on his knees to the LGBT fascists and say his son was homosexual. Ennis is a "legend" for contributing to cancel culture with her crassness, disrespect and lack of civility.
That's what passes for sports commentary at the MRC.
Posted by Terry K. at 4:04 PM EST