MRC Thinks Conservative Misinformation Is Just Asking 'Honest Questions'
Topic: Media Research Center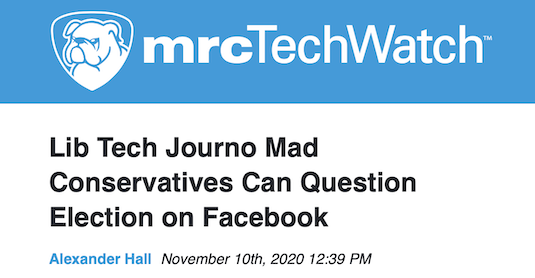 The Media Research Center is in active denial about Facebook's attempts to mollify conservarives -- and now it's simply lying to itself about it and denying that conservartive misinformation about the presidential election was misinforming anyone. Alexander Hall ranted in a Nov. 10 post:
A liberal tech writer has blasted Facebook for allowing conservatives to ask honest questions about the controversial 2020 election. He also lamented that Facebook has allowed conservative posts to become wildly popular.

New York Times tech columnist Kevin Roose tweeted screenshots of multiple trending stories on Nov. 9 that showed allegations of voter fraud. Roose lamented above the screenshots: "Facebook is absolutely teeming with right-wing misinformation right now." He followed up by later conceding that "The tricky thing, for Facebook, is that some of the most viral stories aren't strictly false." He continued to complain: "But they are feeding a stolen election narrative that is going to be hard to dial back."
Yes, Hall actually claimed that deliberate conservative misinformation was merely asking "honest questions" about the election. He then crowed that "Roose was then scorched by The Babylon Bee CEO Seth Dillon for brazen hypocrisy," but all Dillon actually did was play whataboutism, whining that Roose "never mentions 'left-wing misinformation.'"
Hall went on to portray conservative misinformation as normal -- note his biased dichotomy between conservatives "swaying public opinion" and "far-left influencers indoctrinating" people"-- but he's also forced to concede that not only does Facebook not actually censor conservative views to the extent the MRC insisted it has, conservative posts dominate the site:
Roose was disturbed not only by the fact that conservative news outlets are able to speak, but also at how popular they are. He mentioned what he called, "A Newsmax video full of debunked voter fraud conspiracy theories (dead people voting, poll watchers barred, software glitches)" and remarked on how it "is the 3rd most-shared post of the past three days. 15 million views, 345,000 shares."

Roose acknowledged that Facebook has labelled conservative posts in an attempt to discredit them, but derides that tactic as useless:

[...]

To Roose, it seems that any conservative swaying public opinion is radicalizing people, whereas far-left influencers indoctrinating them is just creating upright citizens. He has frequently tweeted lists of Facebook's trending topics and users, complained that the platform is often dominated by conservative commentary.
Having admitted that, Hall then labored to return to the misleading right-wing narrative by huffing that "Contrary to Roose's recent accusation of Facebook enabling conservative election skeptics, Facebook has cracked down on conservative information in the past year." But he cited only one example, that of the New York Post's dubious Hunter Biden story -- and he won't even vouch for the veracity of the story, stating that it was based on "purported emails."
It appears that Hall wants conservatives to be able to mislead and lie with impunity.
UPDATE: Hall did the same thing in a Nov. 12 post claiming that "A Biden campaign staffer is furious that conservatives are still allowed to question the integrity of the 2020 election online" and was "slamming the platform for giving conservatives a voice." In fact, the staffer accurately pointed out that "Donald Trump voter fraud and election victory lies represented 17 of the top 20 posts on FB between 11/3-11/8. While Twitter disabled sharing of Trump's election disinformation, Facebook continued to actively promote the posts in feeds." Hall again claimed that "Contrary to liberal critiques, Facebook has cracked down on conservative information in the past year, specifically that which could hurt former Vice President Joe Biden's bid for the presidency," but again he cited only the New York Post story.
Posted by Terry K. at 10:14 AM EST
Updated: Saturday, November 28, 2020 10:22 AM EST