WND's Peterson Credits Trump for Obama's Economic Policies Helping Blacks
Topic: WorldNetDaily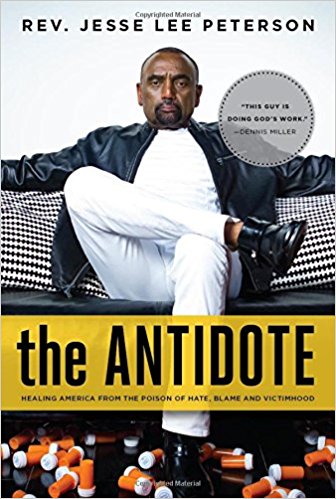 Jesse Lee Peterson is oblivious to a lot of things -- for instance, the racism in the term "great white hope." He forgets something else in the midst of this rant in his Dec. 24 WorldNetDaily column:
Incomes from 2009 to 2014 fell more for blacks than any other racial or ethnic group.

The following are some more unfortunate statistics about the decline of blacks under Obama cited by Deroy Murdock in National Review:

During Obama's tenure, the percentage of black Americans struggling below the poverty line advanced, according to the Census Bureau data, from 25.8 in 2009 to 26.2 in 2014 – up 1.6 percent.
Real median income among black households during those years, according to the Census Bureau, sank from $35,954 to $35,398 – down 1.5 percent.
The seasonally adjusted labor-force-participation rate for black Americans across the board slipped from 63.2 percent to 61.7 percent – down 2.4 percent.
The number of black food-stamp participants exploded across that time frame from 7,393,000 to 11,699,000, the U.S. Department of Agriculture reports – up 58.2 percent.
Also, from Obama's swearing in through the fourth quarter of 2015, the percentage of black Americans who own homes plunged from 46.1 percent to 41.9 percent, according to the Census – down 9.1 percent.

Donald Trump has done more for black Americans in one year than Obama did in eight years!

Since the 2016 election, the black unemployment rate has fallen by a full percentage point in the last year, black labor-force participation is up, and the number of black Americans with a job has risen by 600,000 from last year. Black wages and incomes are also up.
Missing from this rant: any mention of the inconvenient fact that there was a recession that had to be dug out of for the majority of Obama's presidency. That seems important -- but not to Peterson.
Peterson also fails to name any one thing Trump has actually done to create those conditions for blacks during his presidency -- which tells us that Peterson is giving Trump credit for policies that began under Obama.
Peterson contiunes his weird self-hatred for blacks by huffing, "Blacks are the one group Democrats can count on to support them no matter what. Look at the Alabama special Senate election where 96 percent of black voters blindly followed Democrat talking points and voted for liberal Democrat Doug Jones." It's a "Democrat talking point" to expect people not to vote for guys who like to perv on teens?
Peterson concludes by whitesplaining Trump to blacks, while also playing the divine-Donald card:
Kamala Harris, Cory Booker and other selfish Democrats only care about themselves; therefore, they keep lying and misleading blacks to keep them angry, blind and stuck on the Democrats' plantation. They keep blacks in a perpetual state of anger with false allegations of "racism" (which doesn't exist) to convince them that Donald Trump hates them and that Democrats are their saviors. It's an evil and calculated agenda used to promote their selfish political desire for power and wealth.

I'm convinced that this president was sent by God to restore and unite our nation. This Christmas season and in the new year, black Americans should thank God for President Trump.
The only person we see who's perpetually angry here is Peterson.
Posted by Terry K. at 1:02 AM EST