MRC Tries to Defend Fox News As A News Outlet
Topic: Media Research Center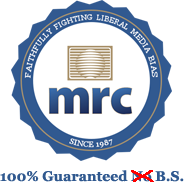 We've shown that the Media Research Center has a Fox News-shaped blind spot when it comes to things it does that it criticizes other media outlets for doing. When it comes to Fox News' reputation as a right-wing opinion machine that's light on the news part, the MRC will rush to the defense of the channel that serves as the premier media outlet for its talking heads.
So when CNN's Brian Stelter questioned whether Fox News is actually news, the MRC's Alex Xenos was quick to retort in a Dec. 19 post, insisting that Fox News really does news, except for the stuff that's not, and that CNN is the real problem here:
Everybody understands that Fox & Friends presents a friendly viewpoint toward the Trump administration. Meanwhile, CNN still acts as if they are the arbiter of news as they fret over the President's Diet Coke consumption and how he's a bully for taking an extra scoop of ice cream.

The point is that it's CNN's hypocrisy here that's troubling (not to mention that Fox News does excellent journalistic work and covers stories that the major broadcast networks refuse to even consider).

Sean Hannity is not a journalist. He is a pundit and admits to being one. Fox & Friends has had their reputation of being a right-of-center news program for years while Special Report will never be confused with Hardball or The Ingraham Angle. To Stelter's credit, he admitted as much regarding Shepard Smith and Special Report host Bret Baier. Using the former two examples to blugeon Fox News as an illegitimate news source is dishonest.
Actually, Hannity has claimed to be a journalist when it suits him to do so. And if "CNN's hypocrisy" is really the issue here, why is Xenos devoting so much time to defending Fox News' purported journalistic bona fides and dismissing its obvious right-wing bias as something "everybody understands" and, thus, something that doesn't need to be discussed?
Posted by Terry K. at 3:30 PM EST