MRC's Graham Lashes Out Again At NPR Media Reporter
Topic: Media Research Center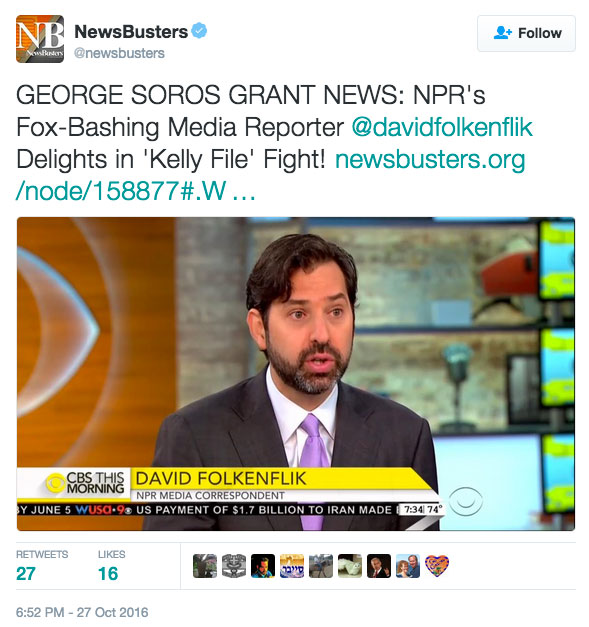 For some reason, the Media Resarch Center's Tim Graham loves to pick fights with NPR media reporter David Folkenflik. Graham got huffy with Folkenflik again in an Oct. 27 post:
NPR's media correspondent David Folkenflik loves to report negative stories about Fox News, over and over again. Since July 6, he's filed 16 negative reports on Fox News and the sexual-harassment lawsuits, leading to the departure of longtime boss Roger Ailes.

But try to find him mentioning anything about the media sucking up to the Clinton campaign in the Wikileaks emails. He skipped that, just like he skipped Gawker's trove of suckup emails going to Hillary press aide Phillippe Reines back in February. One might rightly conclude bashing Fox News is a favorite pastime.
Those 16 reports on Fox News and Ailes are, as we've noted, approximately 16 more than the MRC has devoted to it. Fox News is the MRC's favorite news outlet, and Brent Bozell and crew appear there regularly, so they didn't want to jeopardize that by reporting such unpleasant things.
Graham went on to whine: "The least surprising story on Wednesday night's All Things Considered was Folkenflik enjoying the Tuesday night Fox News fight between Megyn Kelly and Newt Gingrich. Like the other leftists, Folkenflik took the side of Kelly, scorning Gingrich as a finger-wagging old man who specialized in cheating on his wives losing voters for Trump."
But criticism of Gingrich was not coming solely from "leftists" (and Graham does not prove Folkenflik is one). For instance, Katie Pavlich and Cheri Jacobus -- no "leftists" they -- also criticized Trump.
Stranger than Graham's attempt to pick another bogus fight with Folkenflik is how the MRC promoted it. A post on its NewsBusters Twitter account carried the introduction "GEORGE SOROS GRANT NEWS."
Graham didn't even mention Soros in his post, nor did he engage in a "defund NPR" rant that is usually a staple whenever Graham writes about NPR.
The NewsBusters tweet was apparently a reference to a donation Soros' Open Society Institute made to NPR back in 2010 -- but that was earmarked for NPR's "Impact on Government" project and apparently not to Folkenflik's salary.
But, hey, when has anyone ever accused Graham and the MRC of caring about inconvenient facts?
Posted by Terry K. at 2:39 PM EDT
Updated: Tuesday, November 1, 2016 2:47 PM EDT