Faking It At WND, Part 2
WorldNetDaily continues to rail against fake news at the same time it continues to create fake news (while, again, denying that it does so).
By Terry Krepel
Posted 5/22/2017
---
It's indisputable that WorldNetDaily publishes fake news. But WND editor Joseph Farah -- who creates no small amount of fake news just by himself -- will never admit it, and he continues to be in denial about it. Still, he's also very sensitive to the charge when called out on it.

In his Feb. 10 column, Farah lashed out at a website called "FakeNewsChecker.com" that listed WND has a purveyor of it. "You won't find out on the website who's behind it. It's been around since Nov. 17. And, irony of ironies, it makes stuff up. In other words, it's a 'fake fake news checker.'"

Farah took great exception to the website's claim that WND "received donations from the Donald Trump superPac Great America PAC," huffing that it was completely false, though "It's possible that such a PAC has advertised on WND – many have."

Farah actually has a point here. FakeNewsChecker is a strangely organized site, its claim that WND "received donations" from Great America PAC is not quite true -- though Farah should know, since he's also WND's CEO, that the PAC rented out WND's mailing list twice, according to ConWebWatch's count of WND emails it has received -- and the fact that we could not figure out who's behind it is a red flag.

That said, Farah is pulling a cheap rhetorical trick here: citing a shoddy criticism of WND as representative of all criticism of WND. Farah would never say the same thing about ConWebWatch, which is not only on record as to who we are, we can also cite chapter and verse of the fake news WND has published and can come up with specific examples of "anti scientific fact," in the words of FakeNewsChecker, that WND has run, as well as examples of exactly how it is "conspiratorial" and "inciteful."

But Farah will never call out ConWebWatch because we respond and can and will back up what we say, as he found out in 2008.

Instead, Farah does some manhood-measuring to dishonestly defend his website:
How do I plead? Well, I would like to point out that I may be the one and only founder of an online news agency that spent more than 20 years in what we euphemistically call "the mainstream media," running daily newspapers in major markets. WND was also the very first independent online news agency founded 20 years ago. That adds up to more than 40 years of experience directing large news agencies. I should also point out that I taught journalism at UCLA and have received countless awards for my work in the so-called "mainstream" news media long before founding WND. I served as an expert witness on journalistic standards and practices in some of the largest media lawsuits in history.

And the team of WND's journalism professionals – editors and reporters – have collectively hundreds of years of experience doing similar things in the news media.

[...]

Notice WND reports openly and honestly, listing publicly who's who, sourcing its reports, attributing its claims and operating under the highest standards of traditional American journalism, while very often its worst detractors hide in the shadows like cowards while slinging the most reprehensible unfounded and unsupportable charges.

At the end of the day, I'll leave it to you to determine for yourself who has more integrity and credibility.
In fact, it seems that more and more WND articles lately have no bylines at all, which counters Farah's claim that it's "listing publicly who's who." And the claim that WND is "sourcing its reports, attributing its claims" glosses over the fact that it won't report when those attributed sources are wrong when doing so would undermine WND's right-wing agenda; otherwise, its readers would have known years ago that WND's birther conspiracy was discredited.
It's been amply proven that WND lacks integrity and credibility. It's a demonstration of Farah's own lack of integrity and credibility that he can't admit we're right -- or even have an honest conversation about it.
That's not all. The January issue of WND's sparsely read Whistleblower magazine was called "Meet the Fake News Media," with the subtitle "Feigning objectivity, they traffic in disinformation, conspiracy and fabrication."
That's an uncannily apt description of WND itself -- disinformation, conspiracy and fabrication are pretty much all Joseph Farah and Co. live for.
WND doesn't want to talk about that, of course. Most of the articles in the magazine have already appeared at WND, including its unprofessional smear of a professor who put WND on a list of fake-news sites.
The article promoting the issue laughably claims that WND "adheres to the highest traditional journalism standards." WND can ask Clark Jones, for one, about the truth of that claim. WND managing editor David Kupelian repeated the laughable claim in the lead essay for the magazine, which WND published on Jan. 12.
Kupelian self-aggrandizingly defended WND' so-called intergrity: "WND's worldview is pro-American, pro-Constitution, pro-Judeo-Christian, pro-capitalism and pro-morality. Obviously, then, it must be condemned as hateful and delusional by the left, which seems perpetually at war with America's cultural, legal and moral foundations."
Making excuses to ignore Russian meddling in a U.S. presidential election is hardly being "pro-American." Supporting a thrice-married adulterer for president is hardly being "pro-morality."
As much as Kupelian refuses to admit it, WND has earned being disregarded as fake news.
To prove it (further), here's an incomplete list of fake news WND has published since ConWebWatch first tackled the subject in December.
Fake Obama photo
An anonymously written Dec. 27 WND article claiming that "the Obama administration gave Iran secret exemptions, allowing the terror-sponsoring state to stockpile uranium in larger amounts than the limits imposed by the 2015 nuclear deal" is illustrated with a picture of President Obama apparently posing with Iran President Hassan Rouhani: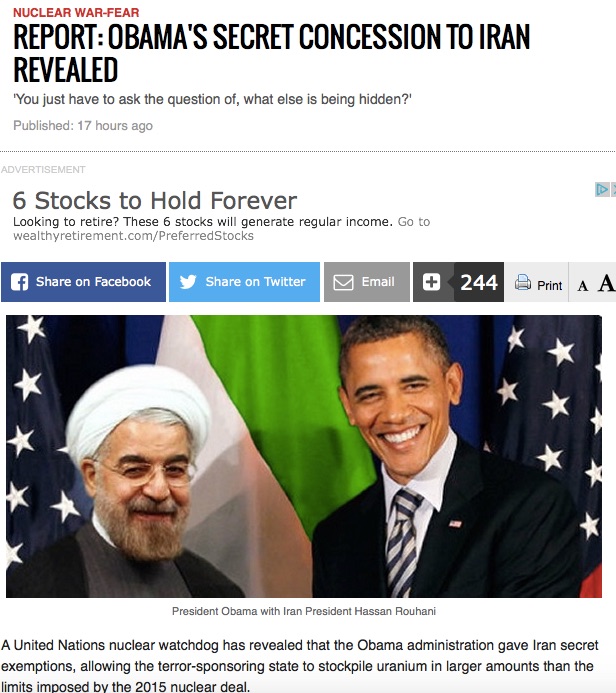 WND used the image again in the front-page carousel tease for the article.
But as Right Wing Watch reported, Obama has never met Rouhani. The photo is a fake -- the image lifts a photo of Obama, who has never met Rouhani, meeting with former Indian Prime Minister Manmohan Singh. The orange in India's flag behind them has been replaced by the green from Iran's flag.
Right Wing Watch added that FactCheck.org has caught others using the fake image. Maybe if WND didn't dismiss all fact-checkers as liberal shills, it would have caught this before publishing it and embarrassing itself -- and damaging its credibility -- even further.
WND later replaced the fake image with a stock photo of Obama. It didn't tell readers that the image was changed, let alone why.
Fake claim about Obama's executive orders
Bob Unruh ranted in a Dec. 20 WND article:
Barack Obama, who once threatened, "I've got a pen and I've got a phone" to impose executive orders, is telling his soon-to-be successor Donald Trump that he really shouldn't be using executive orders that much.

In fact, in an interview with NPR, he went on and on about it.

[...]

Fox News described Obama, who repeatedly has turned to the executive pen to impose major changes across America, such as a rule requiring that building owners allow men to use women's restrooms when they say they are women, and more, as "pen-happy."
Curiously omitted from Unruh's article: exactly how many executive orders Obama has issued and how that stacks up with previous presidents, despite ambiguously conceding far down in his article that "statistics reveal that Obama has not issued significantly more executive orders that other recent presidents."
Turns out the complete opposite is true. During his presidency, Obama issued 276 executive orders. By contrast, George W. Bush issued 291 executive orders and Bill Clinton issued 364. Obama issued the fewest executive orders of any president who served two full terms since the 19th century and slowest pace of executive order issuance since William McKinley.
The only concrete number Unruh bothers to serve up is an irrelevant claim that "Over the years, Republican presidents have issued 7,122 executive orders, and Democrat presidents 8,337." But that number is skewed by the fact that one Democratic president, Franklin Roosevelt, issued 3,721 executive orders during his 12-year presidency, which spanned a little thing called World War II.
In other words, the entire premise of Unruh's article lacks a foothold in reality. But what else can one expect from a top fake-news provider?
Lying about Lynch
WND just loves creating fake news about former Attorney General Loretta Lynch. When she was first nominated in 2014, then-WND reporter Aaron Klein falsely claimed Lynch had once represented the Clintons and was Bill Clinton's "'bimbo eruption' fixer" (that was a different Loretta Lynch). Then, the following year, WND's Garth Kant falsely claimed that Lynch is "tied to terrorists, drug cartels," bizarrely extrapolated from Lynch working to achieve a monetary settlement instead of a criminal prosecution in a bank fraud case as a federal attorney. Klein's article quietly disappeared without explanation or correction; Kant's false article remains live and uncorected on the WND site.
The fake news continued in a March 4 article headlined "Loretta Lynch: Need more 'marching, blood, death on streets'," in which an anonymous WND writer claimed:
The Obama administration's former Attorney General Loretta Lynch has made an impassioned video plea for more "blood" and "death" on the streets – a video that was later posted on the Facebook page of Senate Democrats as "words of inspiration."
But Lynch did not say the words WND put in quote marks, including "blood" and "death."
As the WND article itself stated later on, Lynch said this in the video in question -- in which, again, none of the things WND set off in quote marks earlier are things Lynch said: "It has been people, individuals who have banded together, ordinary people who simply saw what needed to be done and came together and supported those ideals who have made the difference. They've marched, they've bled and yes, some of them died. This is hard. Every good thing is. We have done this before. We can do this again."
That's barely an endorsement of marching, and is most certainly not a call for "blood [and] death on [the] streets." In other words, WND is lying again about Lynch.
Somebody at WND apparently noticed that, because the article was later updated to remove the quote marks around "blood" and "death" in the article and "marching, blood, death on streets" in the headline, and the quote marks around the words in the front-page carousel promo disappeared as well. But the false claim that Lynch made a "plea for more marching, blood and death on the streets" remains. Further, the article fails to indicate that it has been changed from the original; it seems WND forgets that the Wayback Machine exists so we can display the lie-filled original.
If WND were actually "operating under the highest standards of traditional American journalism," as editor Joseph Farah likes to claim it is, this story would never have seen the light of day, let alone be live for several hours with a completely manufactured quote as its lead claim, and it would have admitted to readers that the quotes were fake and apologized to Lynch for putting false words in her mouth.
Not only didn't WND do that, it spread the lie: Farah repeated the fake news in his March 5 column, claiming that Lynch "just called for 'blood and death' in the streets to stop Trump, much to the approval of Senate Democrats." Note that "blood and death" is in quotes.
WND imports fake news
On Feb. 13, WND copied-and-pasted an article from the right-wing Gatestone Institute (which pushes the idea of "civilization jihad" embraced by Muslim-hating WND reporter Leo Hohmann) claiming that "German authorities are investigating reports that dozens of Arab men sexually assaulted female patrons at bars and restaurants in downtown Frankfurt on New Year's Eve 2016" in which "mobs of migrants harassed women in a 'rape game.'"

Just one problem: It didn't happen.

The day after WND's copy-and-paste article appeared, the Washington Post reported that German police found that the allegations were fabricated and possibly driven by anti-immigrant sentiment, and those making the allegations may themselves face charges.

This story was debunked pretty quickly, yet all these months later WND's article remains live and uncorrected, and there is no separate WND article admitting the accusations were bogus. Even the Gatestone Institute article that WND copied-and-pasted has been completely scrubbed of any reference to the now-discredited incident and is now a lengthy screed about "Germany's Migrant Rape Crisis."

WND columnist Caleb Stephen picked up on the bogus story as well in his Feb. 15 column, asserting that "On New Year's Eve last year, dozens of Muslim men sexually assaulted female patrons at bars and restaurants in downtown Frankfurt, Germany. His column similarly remains uncorrected.
Fake Soros attack
An anonymous writer asserted in a Feb. 5 WND article under the clickbait-y headline "12 top Republicans backed by Soros in 2016":
Everyone knows about the tens of millions of dollars various George Soros front groups poured into Hillary Clinton's failed presidential efforts in 2016, but the Republicans he supported – from Republican House Speaker Paul Ryan and his predecessor, John Boehner, have received less attention.

Republican presidential candidate John Kasich was also a big recipient of Soros largesse – to the tune at least $202,700. That makes Soros one of the Kasich presidential campaign's top funders.

While the Soros Fund Management, just one of the Hungarian billionaire's political tentacles, spent $224,300 on Democratic Party congressional campaigns in 2016, it also spent $31,400 on Republicans, including $10,800 on Ryan – the most of any member of the GOP, the same as it invested in Senate Minority Leader Charles Schumer, a Democrat.

Other GOP congressional recipients of Soros contributions include Sen. John McCain, R-Ariz., ($2,500); Sen. Marco Rubio, R-Fla. ($2,700); Rep. Joe Heck, R-Nev. ($2,700); Rep. John Boehner, R-Ohio ($2,600); Rep. Ed Royce, R-Calif. ($2,500); Rep. Carlos Curbelo, R-Fla. ($1,000); Sen. Charles Grassley, R-Iowa ($1,000); Sen. Ron Johnson, R-Wis. ($1,000); Rep. Cathy McMorris Rodgers, R-Wash. ($1,000); and Rep. Dan Donovan, R-N.Y. ($300).
Except that's not what happened at all. As Mediaite pointed out, those donations were from employees who happen to work at Soros Fund Management, not from Soros personally as the anonymous WND reporter is claiming.
That anonymous reporter curiously failed to state where his or her information came from, but it was obviously the Center for Responsive Politics; the article includes a donation chart that was lifted from the CMP. But WND missed the bold red type below that chart at CMP: "The organizations themselves did not donate, rather the money came from the organizations' PACs, their individual members or employees or owners, and those individuals' immediate families."
WND columnist manufactures quotes
WND columnist Barbara Simpson devoted her March 12 column to ranting about purported "white genocide" in South Africa. She concluded with this (italics in original):
Dr. Gregory Stanton, with Genocide Watch, speaks openly about genocide, what leads to it and how to determine when it's actually taking place

He said it's difficult to convince countries outside of South Africa because of our emotional attachment to Nelson Mandela and a resistance to speak openly about what's really happening in that country – a world record murder rate, more than 100,000 white murders, torture deaths of white farmers, 95 percent black-on-white murder rate and the world's highest rape rate.

That's not in your local news.

Dr. Stanton was specific about the terror among South African whites and that they can't depend on police or government protection.

He spoke of the line of defense against such racial violence, saying "it's local – the local courts, the political system. Do everything you can legally to draw attention to it."

And then he said: "For God's sake, don't disarm. Do not disarm."

He spoke of the Second Amendment in our Constitution and that "the founders recognized that the final defense against tyranny is self-defense."

"Despite any laws passed – do not disarm."

He said, "No matter what the government ignores … you (the people) must fight back to stop this kind of apartheid."
It's unclear where Simpson got her "100,000 white murders" claim from, but Africa Check reported that it may have originated by a South African musician, Steve Hofmeyr, who claimed that the number of white South Africans killed by blacks would fill a soccer stadium -- and is wrong. Africa Check points out that while South Africa does have a crime problem, whites are still much less likely to be murdered than other ethnicities. The number of whites murdered in South Africa between 1994 and 2012 may be as low as 6,498, and the rate of black-on-white murder is far lower than the "95 percent" Simpson claims.
One more thing: While Genocide Watch's Stanton has expressed concern about events in South Africa, he has explicitly stated that "white genocide" is not happening there now. The quotes Simpson attributes to Stanton seem unusually strident for him compared with other things he has written about South Africa, and a Google search turned up no original source for them.
When ConWebWatch contacted Stanton, he responded that the quotes are indeed bogus:
Thank you for bringing to my attention an article claiming to "quote" me on "white genocide in South Africa."

They are, as you suspected, a series of "quotes" put together in a way that completely mis-represents my views about the situation in South Africa.

I have made it clear that I do not believe that a "white genocide" is underway in South Africa. See the attached, on our website at [this address].

The figure quoted in the article that there have been 100,000 murders of whites in South Africa is a gross exaggeration. It is certainly not true since 1994. Indeed far more black South Africans are victims of crime than white South Africans.

Although I don't believe that police in South Africa provide adequate protection to any group, the danger from criminal gangs to farmers who give up their arms is acute. When the notorious "commandos" were disbanded and farmers gave up their arms, they were promised police protection to replace their self-defense. That has not been implemented. But the reason is largely from lack of adequate training, support, and supervision of police forces; not an intentional policy of neglect by the government. Until the crime rate falls, I advised farmers not to give up the arms they possess with permits for their self defense.

I am grateful that you have brought this article to my attention. Please send a rejoinder to the publication that published it. You may quote me.

I just don't have time to respond to all of the mis-representations of the warnings by Genocide Watch about dangerous trends in South Africa and other countries.
Consider it done, Dr. Stanton. We're sending an email link to this post to Simpson's WND email address.
Fake news, WND book division
The love of fake news at WND is so rampant, it has even spread to its book division. It had already demonstrated its love for disseminating fake news when it continued to sell David Barton's discredited book on Thomas Jefferson despite its publisher withdrawing it from the marketplace over its factual inaccuracies -- and then published its own version of the book that includes added falsehoods about the critics who forced the withdrawal of the book in the first place.
When ConWebWatch first wrote about WND's favorite Donald Trump fanfiction writer Ted Malloch, we noted his propensity for pumping up his resume. WND insisted on presenting him as Theodore Roosevelt Malloch in honor of his claimed lineage to the former president, something for which we could find no proof. And in a May 2016 WND column, Malloch described himself this way to sell himself as a VP pick for Trump:
THEODORE ROOSEVELT MALLOCH, Republican extraordinaire, Oxford professor, Ph.D., best-selling author, earliest Trump supporter (see: WND archive), international political economist of some renown, accomplished corporate strategist, served on dozens of boards, held ambassadorial position for President Reagan in the U.N., worked in the State Department and in the U.S. Senate. No skeletons, great namesake and very good-looking.
Turns out Malloch has gone way overboard in his self-aggrandizement -- to the point that it's not true at all.
Amid speculation that Trump would appoint Malloch as U.S. ambassador to the European Union (which WND was absolutely giddy about), The Financial Times looked into Malloch's WND-published book "Davos, Aspen & Yale: My Life Behind the Elite Curtain as a Global Sherpa" and found that several things Malloch writes about himself "are misleading or are contradicted by available evidence." Among them:
He claimed that a documentary he made "was nominated for an Emmy Award"; in fact, it was for a regional Emmy in the Lower Great Lakes.
He claimed that Margaret Thatcher described him as a "genius" and "global sherpa" in a 1992 speech; in fact, those words weren't said specifically about him.
He claimed he was "knighted in the Sovereign Order of St John by the Queen, Elizabeth II herself" and that "to my family and closest friends, I am therefore known as Sir Ted"; in fact, the honor is several ranks below knighthood and carries no right to a title like "Sir."
He claimed he was "made a laird by Lord Lyon of Scotland and given a personal coat of arms with a fancy Latin inscription"; in fact, the Lord Lyon does not have the power to make anyone a laird.
He claimed he completed his "entire doctoral program in an unprecedented less than three years"; in fact, he completed it in four years.
The Scotsman newspaper added that Malloch wrote in his book that he was "president of the Ancient Scottish Universities Trust"; in fact, there is no such institution by that name.
WND never publicly acknowledged the criticism. Instead, it published an insta-book by Malloch, in which he takes his Trump-fluffing skills to new heights by writing about Trump's election win and purporting to explain how, "as the twenty-first century Theodore Roosevelt, Trump is a strong and authentic leader who will fix America, defend America, and make it great again."
We're guessing WND fact-checked that book about as closely as his first one.
The latest from