Did The MRC Prime Trump's Attack On NBC Reporter?
Topic: Media Research Center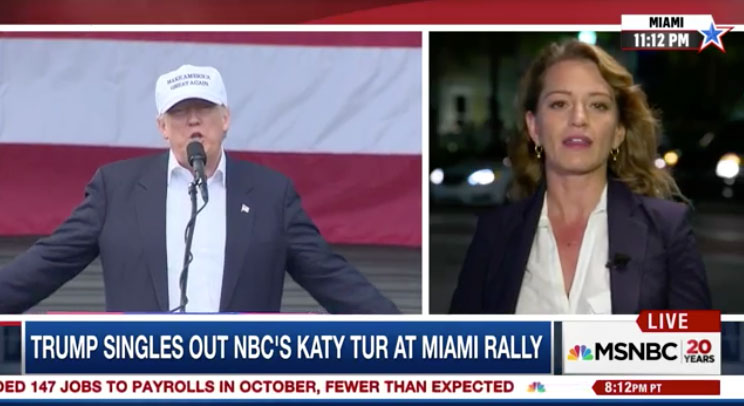 In a Dec. 16 post, the Media Reearch Center's Tim Graham huffed that "Donald Trump correctly felt NBC reporter Katy Tur was hostile to him on the campaign trail." Graham doesn't mention how the MRC played a big role in ginning up the idea of that purported hostility.
At a Nov. 2 rally, Donald Trump singled out Tur, complaining about the purportedly "dishonest" media before shouting at Tur: "There's something happening. They're not reporting it. Katy -- you're not reporting it, Katy. But there's something happening, Katy. There's something happening, Katy." Tur responded afterwards by pointing out that while attacking reporters is part of Trump's "schtick" on the campaign trail, and his complaints about how the media covers the rallies is false, "it does make the crowd very angry and it does concern a lot of folks about the safety of journalists."
this wasn't the frist time: Tur wrote that after Trump targeted her in a December 2015 rally, the Secret Service hed to walk her to her car for her protection.
Did Trump get advice for choosing Tur as a target from the MRC? Let's look at the evidence.
In an Oct. 24 Media Research Center item, Nicholas Fondacaro complained that "The 'Big Three' networks (ABC, CBS, NBC) put their undying loyalty to Democratic nominee Hillary Clinton on full display Monday evening, as they completely blacked out two news stories with explosive consequences for the campaign," in contrast to the reporting of pro-Trump Fox News. He sneered: "NBC Nightly News led with Clinton fangirl Andrea Mitchell talking about how comfortable Clinton is with her lead, then pivoting to Katy Tur who mocked the GOP candidate." Curiously, Fondacaro provided no evidence whatsoever of the "mocking" he claimed Tur did.
That seemed to be a catalyst for Trump's Nov. 2 attack on Tur, but the MRC has long bashed her for not being a right-wing shill throughout the 2016 campaign:
The MRC -- as its agenda dictates -- had a definite interest in painting Tur as hostile to Republicans in general and Trump in particular, even though much of the criticism was because Tur accurately reported events in a way that didn't advance the agenda of Trump and Republicans. It wasn't necessarily "correct" -- it was a politically motivated campaign.
The MRC was determined to paint Tur as "hostile" to Trump simply because she was not a Trump sycohpant. And it appears they made Trump know that Tur was not a sycophant, which encouraged him to single her out with anger on the campaign trail.
Posted by Terry K. at 2:09 PM EST