WND's Corsi Cites Another 'Trusted' Source, Flip-Flops on Turkey to Bash Obama
Topic: WorldNetDaily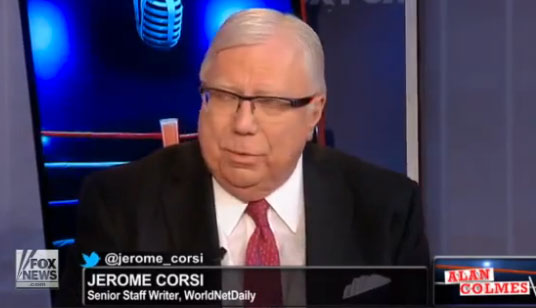 In 2011, WorldNetDaily's Jerome Corsi cited "trusted Kenyan professionals" in an attack on President Obama, accusing him of breaking obscure "promises" he made to various people in the country. In fact, the report those "trusted Kenyan professionals" were paid by WND to put together was plagiarized in large part from other media reports; WND stuck an editor's note at the top of Corsi's article that only partially explained the problems with it.
In other words, beware whenever Corsi claims his sources are "trusted." Which means there's a big red flag on this Dec. 26 WND article by Corsi:
Turkish government intelligence has determined Mevlut Mert Altintas, 22 – the police officer who recently assassinated Russian Ambassador Andrey Karlov while the ambassador was giving a speech to open an art gallery in Ankara – was a member of the Gulen organization, which claimed to be the same group that staged an unsuccessful coup in Turkey in July.

WND reported Nov. 3 the Clinton Foundation was engaged in a pay-to-play scheme to obtain Secretary of State Hillary Clinton's support for the Obama administration decision to give asylum to Fetullah Gulen, a Turkish Muslim imam the Erdogan government holds responsible for the attempted coup July 15.

He's now living in Saylorsborg, Pennsylvania.

Trusted sources close to the Turkish government have explained to WND on the condition of anonymity that assassin Mert Altintas, born in 1994, joined the police in Turkey in 2012 and graduated in 2014, when Gulen's organization, known in Turkey as the Fetullah Terrorist Organization, or FETO, was at the peak of its power in Turkey.
Yes, WND seems to be cozying up to another dictator -- in this case, Turkish leader Recep Tayyip Erdogan. But wait: Hasn't WND been critical of Erdogan, particularly in the wake of his actions in the failed coup attempt of last year? Yep -- a couple weeks before Corsi's article came out, WND's Leo Hohmann was misleadingly painting Erdogan as the "best friend" of President Obama after a Christian U.S. pastor was jailed in Turkey purportedly as part of Erdogan's "brutal crackdown on religious minorities and dissidents in the wake of a failed coup five months ago." On Dec. 10, a WND article by Art Moore claimed that Wikileaks showed that Erdogan's son was importing oil sourced to ISIS. And an October article by Bob Unruh rehashes criticism of Obama for having "quickly sidled up to Erdogan when he was elected."
But WND doesn't like Gulen either, despite his alleged link to the coup attempt. After the coup attempt failed, WND reported that Gulen "has links to the Clintons."In November, Corsi cited "sources close to the Turkish government" (not identified as "trusted") to claim that "The Clinton Foundation was engaged in a pay-to-play scheme to obtain Secretary of State Hillary Clinton's support for giving asylum to the Turkish Muslim preacher the Erdogan government holds responsible for the attempted coup, Fethullah Gulen." Never mind the fact that Gulen has lived in the U.S. since 1999, predating the existence of the Clinton Foundation.
Corsi rehashes the purported Clinton links in his Dec. 26 article, as well as a claim that "Also, military intelligence sources in Turkey continue to tell WND that Obama administration officials have consistently 'looked the other way' regarding terrorism in Turkey, refusing to budge on Turkey's requests to extradite Gulen."
Corsi uncritically uses the Erdogan terminology for Gulen-linked groups in Turkey by calling the Fetullah Terrorist Organization or FETO, though Corsi cites no instances of "terrorism" FETO has committed. Indeed, Corsi's only source for his article are those purportedly "trusted sources close to the Turkish government" who are presumably anti-Gulen and are eager to paint him as a "terrorist."
Corsi doesn't mention the close ties between Obama and Erdogan WND has been concurrently reporting on, or why WND is suddenly flip-flopping to cozy up to Erdogan. But we can guess: Corsi's simply taking whatever side he thinks will do the most political damage to Obama at a given time.
Has Corsi told his "trusted" Turkish government sources that WND has bashed Erdogan? Probably not.
And that placement of Obama-hating over all means Corsi can't be "trusted" any more than his sources.
Posted by Terry K. at 1:12 PM EST