MRC's 'Media Research' on NBC's Tur Mostly Just Personal Attacks
Topic: Media Research Center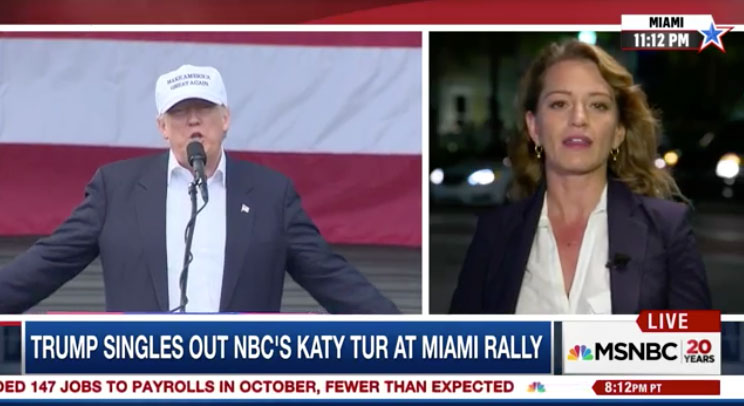 The Media Research Center has had it in for NBC reporter Katy Tur for some time, and it may have inspired attacks on her by Donald Trump that threatened her safety. That hostility has not abated.
A Dec. 19 post by Curtis Houck carries the hyperbolic headline "Grab Your Popcorn: Katy Tur Gets Annihilated by Dave Brat in Tax Policy Debate."But there's little actual annihilation going on; Brat simply disagrees with her. Houck is condescending to Tur throughout his post, ranting about her purported "smug factor" and mocking her status as a "MSNBC host extraordinaire" who's supposedly an idiot because she "grew up in a family of journalists." Perhaps Houck needs to be reminded that petty personal attacks on someoneyou don't like are not "media research."
Just as condescending and spiteful was Houck's MSNBC colleague Chris Reeves, whose Dec. 27 post ridiculously called Tur an "uber-liberal partisan" (what is an "uber-liberal"? Reeves never defines the term) and ranted that she was "fomenting political tribalism by promoting rank partisan propaganda" and is "a repeat offender when it comes to pure, unadulterated liberal lunacy."
One purported example of this, according to Reeves, is that Tur recently, and accurately, pointed out that President Trump has not held a full solo press conference since February. This, needless to say, sent the MRC into spin mode. Tim Graham retorted, "Trump has held a series of press conferences this year, but most of them have come with foreign leaders, and only two American reporters and two foreign reporters are allowed to ask a question. That's a fraction of a press conference, perhaps, but it's wrong to say he 'hasn't had a press conference.'" Reeves joined in: "In reality, Trump's last press conference was on October 16th, and the President regularly answers press questions in informal sessions on the White House lawn. This hardly constitutes a "laughable" fear of the press, as Tur characterized it." But that presser was an impromptu one, held in the White House Rose Garden with Sen. Mitch McConnell -- again, not the formal, planned press conference Tur was talking about.
Again: Personal attacks do not qualify as "media research" -- except, apparently, at the MRC.
Posted by Terry K. at 7:48 PM EST