WND's Favorite Ex-Soviet Bloc Spymaster Peddles The Disinformation He Claims To Despise
Topic: WorldNetDaily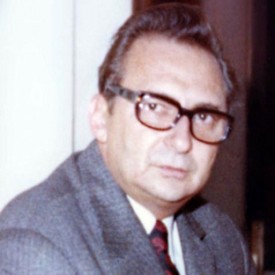 Ion Mihai Pacepa is the former Soviet Bloc spymaster-turned-Trump fanboy, as we documented. But as questions have grown about Russian interference in the 2016 presidential election for the apparent benefit of Donald Trump, Pacepa remained curiously silent.
Pacepa has finally broken his silence in the form of a Dec. 20 WND column headlined "The real Russian collusion." And as you'd expect from a guy who wrote a (WND-published) book called "Disinformation," Pacepa's column contains a lot of, um, disinformation. His first false claim came early:
Out of 1,331 daily newspapers in our still-capitalist nation, only two – the Las Vegas Review-Journal and the Florida Times-Union – unconditionally endorsed the capitalist candidate Donald Trump during the election campaign, and little seems to have changed since then.
In fact, most newspapers no longer endorse political candidates. Of those that did during the 2016 election, 19 endorsed Trump while 240 endorsed Clinton.
Nevertheless, Pacepa rants that "the media are disinforming America" -- a paragraph before he falsely claims that Katharine Weymouth was the publisher of the Washington Post in 1990. Weymouth was the publisher of the Post from 2008 to 2014; Pacepa may have been thinking of her grandmother Katharine Graham, but she was publisher from 1969 to 1979 and chairman of the board of the Washington Post Co. after that.Her son, Donald Graham, was the actual Post publisher in 1990.
Having made two major factual errors already, it's hard to take Pacepa seriously when he cheers Donald Trump as a "capitalist entrepeneur" and calls Barack Obama "the first undercover Marxist to become president of the United States" who engaged in a "ruinous flirtation with the alien god of Kremlinist autocracy" -- then uniroinically complains that "Ridiculing the U.S. president is an anti-American dezinformtsyia tool smuggled into the U.S. by the KGB community" and whines that "During the age of Obama, the KGB-style vilification of American political leaders became a standard journalistic tactic in the U.S. as well."
Pacepa then declares: "Now I am joining the efforts of WND (whose founder and editor was also a Marxist when he was young, and whose managing editor edited "Disinformation," the book I co-authored with professor Ronald Rychlak) to persuade our media to stop colluding with Russia and with undercover Marxism, and to become American again."
Another unironic statement, given that WND is one of America's foremost traffickers in disinformation and fake news.
Pacepa concludes: "But national unity is difficult if not impossible when the press, that near-sacred institution on which we rely for digging up and communicating vital truth, instead becomes the chief purveyors of lies and half-truths – in a word, of disinformation." Perhaps, but he will never demand that the publisher of his book and columns adhere to that standard of truth-telling.
Posted by Terry K. at 4:46 PM EST
Updated: Tuesday, January 2, 2018 4:48 PM EST