How Does An Ex-Soviet Bloc Spymaster Endorse Trump?
WorldNetDaily fave and ex-spymaster Ion Mihai Pacepa (and his co-author, Ronald Rychlak) strangely has nothing to say about Trump's cozy ties to Russia and its ex-Soviet spymaster leader Vladimir Putin.
By Terry Krepel
Posted 10/13/2016
---
Here's how WorldNetDaily describes its favorite ex-Soviet bloc spymaster:
Gen. Ion Mihai Pacepa spent decades at the very top of the Soviet bloc's intelligence and disinformation world, only to undergo a profound awakening and change of heart, leading him to become the highest-ranking Soviet-bloc official ever to defect to the U.S. Naturalized as a proud American citizen, he spent years briefing America's intelligence agencies on how the super-secret Soviet intelligence world operated, exposing all its tactics, techniques, dirty tricks and disinformation campaigns.

So vital were Pacepa's insights to America's security that President Ronald Reagan referred to the former spy-chief's first book, "Red Horizons," as "my bible for dealing with dictators."
So vital are Pacepa's insights to WND's right-wing agenda that WND published a 2013 book by him, "Disinformation," written with co-author and University of Mississippi law professor Ronald Rychlak. The book claims in part that "disinformation is still very much alive in the age of Obama, remaining a powerful engine in the ongoing socialist transformation of America"; WND also made a film based on the book.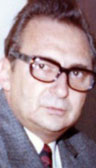 Ion Mihai Pacepa
In other words, Pacepa these days appears to be little more than a right-wing shill for a fringe website -- so much so that WND gave him a "Lifetime Achievement Award" in 2015. The article announcing the award, by WND managing editor, failed to mention the inconvenient fact that WND had published Pacepa's book and, thus, WND is self-dealing by giving the award to one of its own authors.

So, with all this experience with Soviet-era spy antics and propaganda, you'd think Pacepa would have something to say about Donald Trump's unusually cozy relationship with the Putin regime in Russia, which includes receiving funding from Russian oligarchs, changing the Republican Party platform to remove a plank that supported arming Ukranian rebels against Russian forces and a former Trump campaign manager, Paul Manafort, who worked as a lobbyist for pro-Russian officials in Ukraine.

Well, you'd be wrong.

On Aug. 25, WND promoted a new e-book by Pacepa and Rychlak, "Looming Disaster," which purports to, in WND's words, "reveal, with utter clarity, the real war into which Americans have been thrust, as well as the momentous decision they will make in November" from "one remarkable person with the unique experience and moral authority to cut through all the lies, political posturing and propaganda."

WND is giving away the book for free (well, you have to hand over your email address so WND can send you several emails a day promoting its content and various other things), which seems to be what the book is worth.

A ConWebWatch analysis of "Looming Disaster" shows there's a lot of fact-free ranting about the Clintons by Pacepa and Rychlak, who at one point assert that "listening to campaign speeches of Hillary Clinton, we get the distinct feeling of listening to former Soviet Socialist bloc tyrants."

But what do Pacepa and Rychlak have to say about Trump, who actually has the cozy ties with Putin and Russian oligarchs that they wish they could ascribe to the Clintons? Why, nothing less than an unqualified endorsement:
We are not personally acquainted with Donald Trump, but we firmly believe that the whole of America – Republicans and Democrats and fringe thinkers – should unite behind him in order to defend capitalism and our great country during these existentially dangerous times. The alternative is unthinkable.
Pacepa and Rychlak are apparently taking it on faith that Trump is a great guy, declaring without any supporting evidence whatsoever that "I know a few of Donald Trump's intelligence advisers from my past cooperation with the U.S. intelligence community, and I have no doubt that a President Trump will start a new 'Campaign of Truth' that will wreck ISIS and remake America as leader of the world without firing a shot."
Indeed, Trump's cozy ties to Putin and Russian oligarchs are not mentioned anywhere in Pacepa and Rychlak's book, though they declare that Putin was "enthroned in the Kremlin at the end of a KGB palace putsch" and "there is no end to his reign in sight."
In short: Pacepa and Rychlak's book is little more than an anti-Clinton screed dressed up in Cold War-era terminology that conveniently omits the closeness of Trump to Putin and his Russian oligarchs for the sake of an endorsement of Trump by two people who presumably ought to know better.
Pacepa (and, presumably, Rychlak as his ghostwriter-slash-mouthpiece given that Pacepa is in his upper 80s, though Rychlak is given no credit here) followed with a Sept. 11 column attacking Clinton once again, declaring that "Hillary Clinton's lies regarding her gross mishandling of America's national secrets should disqualify her from running for the White House."
You'd think a former Soviet Bloc spymaster would think a personal relationship with Putin like Trump apparently has is similarly disqualifying for a presidential candidate. But Pacepa makes no mention whatsoever of Trump in his column, let alone note his extensive Russian ties.
One have to wonder: Is Pacepa a coward, or is he just being led around by right-wingers and Trumpophiles like WND and Rychlak as a useful idiot to rubber-stamp their agenda? Perhaps Rychlak can speak up and clear up some things.
ConWebWatch tried the next best thing: engage in a Twitter conversation with his co-author, Rychlak. Here's how that went, in non-Twitter form:
ConWebWatch: Hey @rrychlak, why won't your ex-Soviet bloc spymaster discuss Trump's coziness with Russia & Putin?

Rychlak: He has.-in recent ebook & book review. He's convinced that Trump will be tough on Russia & Putin.

ConWebWatch: Does he know all the nice things he's said about Putin & his business dealings in Russia? Is he speaking without that evidence?

Rychlak: Yes, he knows of the statements.

ConWebWatch: He seems to have a disconnect. How can someone with such a close relationship w/Russia & Putin be expected to be tough on them?

Rychlak: Twitter is not the place for this, but P knows advisors & attitudes. He also looks beyond the surface headlines.

ConWebWatch: Agree this is not best forum. But it's strange to be told not to believe our own eyes re Trump. Pacepa looks like he's being used.

Rychlak: P says see [here] Lt. Gen. Flynn may be Trump's CIA head. coziness w: Russia wont be policy.

ConWebWatch: Point is, if Hillary had these Russia connections, you & P would be using them against her. Why does Trump get a free pass?

Rychlak: Look past headlines and optics.

ConWebWatch: Did you & P did that [sic] re Hillary? Not that I've seen. You haven't given me a reason not to believe what I see in Trump.

ConWebWatch: It still looks like P's claimed expertise is being appropriated for partisan purposes that contradict the record.
And that's where the conversation ended. Rychlak offered few suitable or substantive answers to our questions about Pacepa, and empty statements like "Look past headlines and optics" are completely meaningless.

The link Rychlak provided was to an Aug. 18 article in which Pacepa slobbers over the new book by retired Lt. Gen. Michael Flynn, "The Field of Fight," of which he writes: "Having once managed a Soviet bloc espionage service, I am on solid ground when I say this book should be read by every American who believes in American exceptionalism, every European who loves his country, and every Russian who wants to free his motherland from the historically Russian samoderzhaviye, under which a feudal lord rules the country with the help of his political police." Trump is mentioned nowhere in Pacepa's article.

As it so happens -- though perhaps not surprising given Pacepa's claim that Flynn could be CIA director if Trump is elected -- Flynn is rather cozy with Russia as well. In a Washington Post interview published three days before Pacepa's review of the book, Flynn tried to spin away his paid participation in an event sponsored by Russia Today, a state-owned media outlet (which Flynn suggests is no different than CNN), during which he sat next to Putin (he didn't "have any problem" with the optics of that).

We have heard nothing further from Rychlak in the more than three-plus weeks since that conversation, but interestingly, neither Pacepa nor Rychlak have surfaced at WND or anywhere else since then to discuss Trump or the election.

There remains a disconnect between Pacepa's Cold War history and his endorsement of a presidential candidate whose ties with another Cold War relic are unambiguous and disturbing. Having weighed in on the election already, Pacepa and Rychlak need to further explain why we shouldn't believe our own eyes regarding Trump.
The latest from