WND Portrays 'Ethnic Cleansing' (As Claimed By Pro-Apartheid Dead-Enders) As 'Nelson Mandela's Legacy'
Topic: WorldNetDaily
Following the death of Nelson Mandela, WorldNetDaioly sent out a tweet stating: "Nelson Mandela's Legacy: JEW BEARS CHRISTIAN WITNESS TO ETHNIC CLEANSING."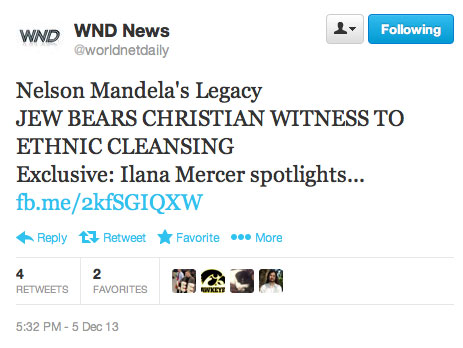 The link went to WND's Facebook page, which in turn linked to a 2011 article by Ilana Mercer, WND's
resident apartheid-lover
, touting how "a "pro-Boer Israeli human rights activist" by the name of Avigdor Eskin visited South Africa on a fact-finding tour" in which he criticized the "ANC-regime's 'silent genocide' of the … Afrikaner-Boers in South Africa."
What Mercer doesn't tell you: Eskin supports apartheid. In a 2010 Faceook post attributed to Eskin, he writes that "Apartheid was not practiced slavery, but in fact to create optimal conditions for the development of blacks," adding that "Apartheid has emerged as a humane embodiment of the ideas of the ninth chapter of the first books of the Bible."
If Eskin's Wikipedia page is correct, Eskin is also a former member of Meir Kahane's violent far-right Kach movement and laid a death curse on Yitzak Rabin in response to the Oslo Accords.
Note to WND: Right-wing pro-apartheid dead-enders are probably not the most objective source of information about Nelson Mandela.
Posted by Terry K. at 12:25 AM EST