WND's Farah Pretends Colin Flaherty Is A 'Journalist,' Not A Race-Baiter
Topic: WorldNetDaily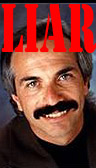 Joseph Farah makes two major errors in his Dec. 1 WorldNetDaily column.
First, he portrays Colin Flaherty as a "journalist":
Journalist Colin Flaherty recognized the trend long before anyone else in America – before the corporate media, before me, before Matt Drudge.

He began tracking a noticeable and undeniable upswing in black-on-non-black racist violence – either in mob form or via what has become known as "the knockout game," in which perpetrators took at least one unprovoked punch at an unsuspecting and innocent victim.

Two years ago, Flaherty's work got my attention. He had self-published a remarkable book called "White Girl Bleed A Lot" about this phenomenon. WND enlisted Flaherty to chronicle these attacks for publication and made arrangements to re-publish a vastly updated, bestselling edition of the book – one that would allow readers to see, with their own eyes, hundreds of attacks actually caught on video by perpetrators or bystanders.
Flaherty is not a journalist -- he's a race-baiting radio host.
Second, Farah assumes that every instance of black-on-white violence Flaherty has documented is driven by racism:

Despite the recognition of the story by many other media outlets, precious few have credited either Flaherty or WND for the relentless, heavily criticized reporting that broke through the long news blackout that allowed this unprovoked racial violence to go virtually unnoticed for two years.

[...]

We also need victims to tell their stories. If you have been victimized by racial mob violence or the so-called "knock-out game," you have an eager and willing advocate here at WND. Let us know the details of what you have experienced so we can continue to raise awareness of the way racist violence is rearing its ugly head in America, again.

What's the danger of not pursuing this epidemic of social pathology?

The danger is obvious and even more frightening – the provocation of something resembling a race war.
Again, Flaherty's work does nothing other than demonstrate his race-baiting. Why else would he put non-blacks (and non-humans) in his "black mobs?
Because Flaherty has never bothered to prove that an inordinate amount of the "black mob violence" he obsessively documents is "racist," he has no basis to claim there's a trend here -- and Farah has no basis to claim there is "something resembling a race war" happening here.
emember, for WND it's all about perception, not reality -- as we've noted, Flaherty and WND don't claim to be documenting an actual epidemic of "black mob violence" -- only what what appears to be an epidemic.
The fact that Farah is begging readers to tell their "racist violence" stories to WND is all the evidence you need that he's trying to create something that doesn't exist. He has a book to sell, after all.
And the fact that Farah apparently can't tell the difference between a journalist and a race-baiter is yet another clue as to why nobody believes WND.
Posted by Terry K. at 8:34 PM EST
Updated: Tuesday, December 3, 2013 8:36 PM EST