An Exhibition of Conservative Paranoia
Exhibit 58: When MRC Staffers Tweet
The Media Research Center likes to mock Twitter entries from liberals, but its own employees' tweets are just as mock-worthy.
By Terry Krepel
Posted 5/9/2013
---
Earlier this year, the Media Research Center started issuing a series of web videos titled "When Liberals Tweet," featuring allegedly dumb tweets by liberals, followed by actual dumb jokes by host Dan Joseph.

But you'll never see Joseph making a video called "When MRC Staffers Tweet," even though his fellow co-workers have compiled quite a record of idiocy through Twitter. So it falls to us to do what Joseph won't.
Tim Graham
MRC director of media analysis Tim Graham is no stranger to dumb tweets, so much so that he spent his time before last October's vice presidential debate issuing personal attacks against the debate moderator, Martha Raddatz. First, Graham tweeted, "Questions lib media never asks: 'Will woman who won't take husband's surname have a feminist tilt?'"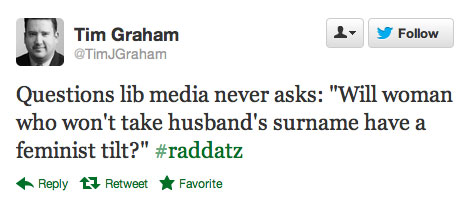 That was followed by another tweet: "Or: will woman who marries three times have a hard time deciding which debate questions to ask?"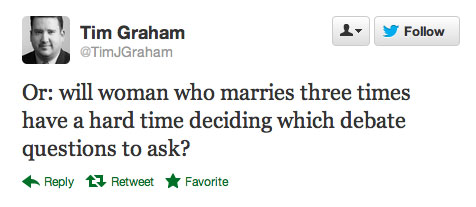 But Graham wasn't done being demeaning to women. In April, he really did tweet his pondering of whether "the average viewer" of MSNBC would be able to tell that newly minted MSNBC host Karen Finney is African-American and his suggestion that John Boehner may be darker: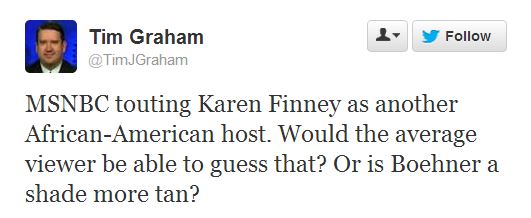 And then he tweeted a photo of Finney so we can judge for ourselves: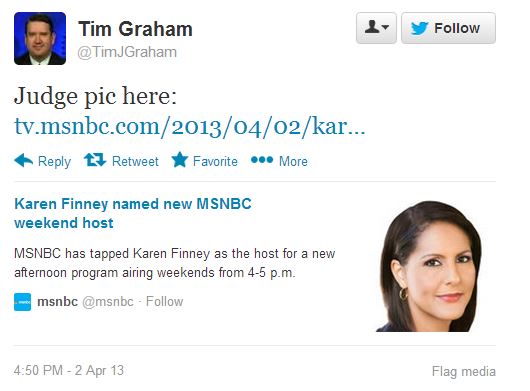 Sometimes, though, Graham's tweets backfire. He issued a November 2011 tweet aimed at NPR media corespondent David Folkenflik, who was committing the offense of reporting on the phone-hacking scandal involving Rupert Murdoch-owned newspapers in Britain that Graham and the MRC was trying to bury:

That was followed by another shot at Folkenflik:

Graham seems to have forgotten that Soros is an American citizen.
Folkenflik responded by setting Graham straight on basic news principles: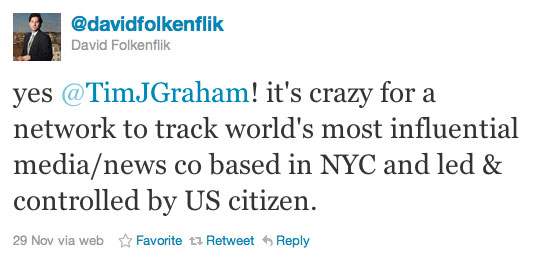 Given that Graham likes his attacks on Democratic presidents laundered through notoriously unreliable British newspapers, bashing Folkenflik for reporting on British newspapers is a strange attack for him to make.
Matt Philbin
One tweet stated, "Anybody got Fluke's mailing address? I'm gonna send her a big Costco-sized box of condoms."

Philbin also tweeted, "Rush's prob was semantic. Shoulda said 'Woman of dubious reputation,' 'horizontal laborer' or 'Lincoln Tunnel Hitcher.'"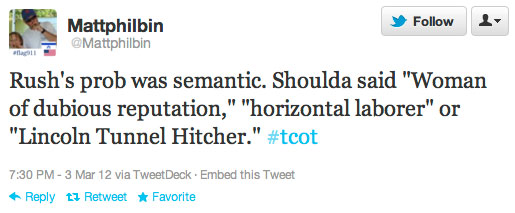 He followed that with this attack: "Lawschool in your 30s, kvetching on "The View," calls from the prez, free BC so you can sleep around w/impunity. Some #waronwomen."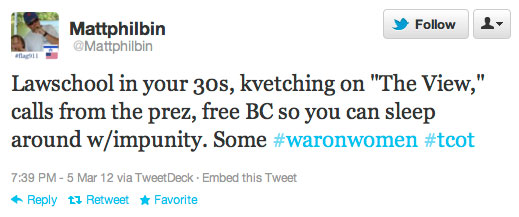 The MRC's Culture & Media Institute weighed in on the silly controversy over Google marking Cesar Chavez's birthday over Easter by ... complaining about the price of groceries. A March 31 tweet stated of Chavez, "He isn't risen, but he did make sure the cost of our groceries have."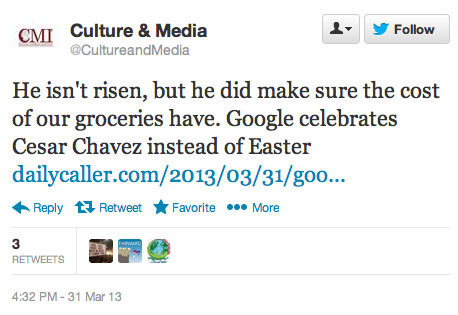 This tweet was apparently written by Philbin, since the same exact tweet appears on his Twitter feed. If so, Philbin is a massively ignorant person -- Chavez played a key role in improving compensation and labor conditions for migrant farm workers. Apparently, Philbin has no problem with farm workers being poorly paid and working in harsh and dangerous conditions just so he could pay a few cents less for a head of lettuce.
Noel Sheppard
In February 2012, NewsBusters associate editor Noel Sheppard tweeted: "If contraceptives R 2 B covered by health insurance shouldn't alcohol since sober people don't need birth control?"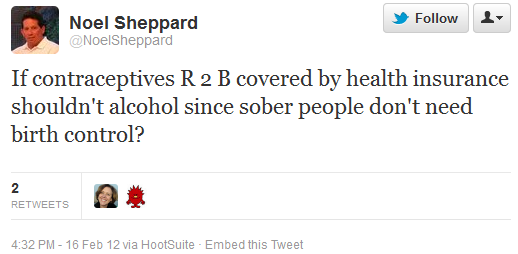 After getting negative feedback on it, he used subsequent tweets to pass it off as a joke, with comments like, "It's called a joke, dude. Go rent a sense of humor."
Sheppard has yet to explain where exactly the humor is in his "joke," which ironically appeared on a day when prominent right-wing financier Foster Friess was apparently not joking when he insisted that a little aspirin between your knees was an effective contraceptive.
Brent Bozell
Even MRC chief Brent Bozell is not immune to stupidity in tweeting.
After Anderson Cooper admitted publicly that he's gay, Bozell took to Twitter to comment, "Can @andersoncooper give us his expert opinion on teabagging now?"

Bozell and his MRC used to take great offense to others in the media referring to tea party activists (including Cooper himself) as "teabaggers," alternately calling the term "vulgar and childish," "incredibly juvenile,"and "disgusting." Bozell, apparently, doesn't find this term offensive when he can use it to insult someone.
What a sleazy hypocrite. And it seems that MRC employees follow his sleazy, juvenile example.