FLASHBACK: How MRC Falsely Smeared Anti-Disinfo Board As 'Ministry of Truth'
Topic: Media Research Center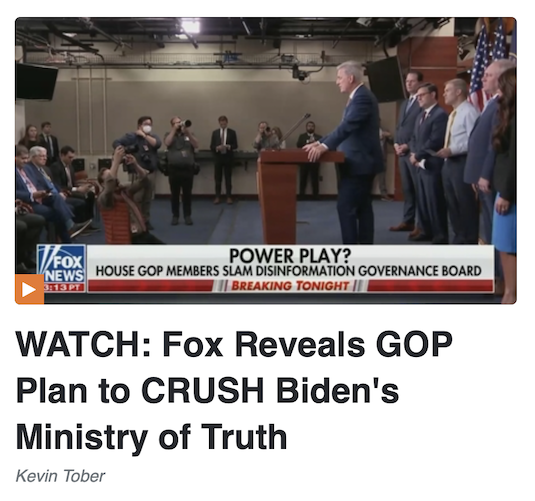 When the Biden administration set out to create a "Disinformation Governance Board" last year with the goal of identifying false or misleading information that harms national security, the Media Research Center joined other right-wing media in smearing the board as a "ministry of truth" and attacking the woman who was to head it, Nina Jankowicz, as an Orwellian figure who delighted in censoring people, while denying that there was such a thing as an objective definition of disinformation by adding odd qualifiers like "so-called." Here's a sampling:
The MRC also launched personal attacks on Jankowicz and others allegedly involved with the board:
In fact, the board was to coordinate anti-disinformation efforts within the DHS and wouldn't be policing speech. But the MRC cares only about right-wing red meat, not the truth, so the "ministry of truth" narrative had to prevail. When those paranoid right-wing falsehoods about the board were called out, the MRC attacked the truth-tellers. Nicholas Fondacaro ranted in a May 2, 2022, post:
Over the weekend, the Biden administration rolled out his Ministry of Truth under the Department of Homeland Security called the Disinformation Governance Board. This clearly Orwellian (1984) machination has rightly been the subject of scrutiny, but on Sunday's Reliable Sources, CNN host and chief media apologist Brian Stelter suggested the real problem was the "right-wing uproar" and how they're getting angry at something that they don't have a clue about.

[...]

He was speaking to Moira Whelan of the "non-partisan" National Democratic Institute, who said she was "aware" of the concerns but dismissed them. She insisted "it's a board, exactly as we say."

In his question to her, Stelter suggested that the people criticizing the board are just too ignorant and don't know what they're talking about. "But I don't think people know what it is and what it isn't. And there's just been a lot of right-wing uproar without knowing what it is," he whined.
Fondacaro made no effort to disprove anything Stelter or Whelan said -- he just repeated his assigned talking points. Catherine Salgado followed a week later with ranting at the Washington Post for telling the truth:
The Washington Post Editorial Board tried to scoff away critiques of the Orwellian Disinformation Governance Board in a tone-deaf piece.

Ther Post, in an editorial headlined, "Ignore the hysteria over the Disinformation Governance Board," made clear it supposedly sees no serious problems with the blatantly pro-censorship board, despite evidence to the contrary; "Despite what some in the Republican congressional leadership might tell you, the Department of Homeland Security is not starting up a 'Ministry of Truth.'" Sure, the rollout was "ham-handed," but the board could actually do a "great deal of good," the editorial board bleated. The Disinformation Governance Board (DGB) has come under fire ever since it was announced by Department of Homeland Security (DHS) Secretary Alejandro Mayorkas.

The Post tried to put a positive spin on the idea of sharing data with "government actors" to target alleged "viral lies and propaganda ... Done right, this is a useful function." However, multiple members or advisors of the censorship board have themselves pushed disinformation in the past, including self-proclaimed "Mary Poppins of disinformation" and current DGB executive director Nina Jankowicz.

[...]

The Post dismissed the board's issues as a mere a lack of transparency in detailing the board's function, in conjunction with the "Soviet-sounding" acronym "DGB":

"As long as fair-minded observers have to guess at what the board's role is, players who have more nefarious agendas will have ample opportunity to, yes, spread disinformation."

Because, of course, anyone criticizing the censorship board instituted and monitored by a left-wing administration must be spreading disinformation, right?
Like Fondacaro, Salgado made no attempt at a factual rebuttal of what was said.
The MRC went on to parrot other malicious attacks on the board:
The MRC even lashed out at Jankowicz for proposing that people be allowed to add context to tweets, even quoting Elon Musk as panning the idea. This didn't age well, because several months later when Musk finally overpaid for Twitter, he added the Community Notes funciton, which allows users to do pretty much what Jankowicz had proposed. (The MRC has mixed feelings about Community Notes, loving it when liberals are called out through it but hating it when conservatives are.)
It also continued to bash anyone who told the truth about the board. Salgado complained in a May 13, 2022, post that "Pro-censorship leftist individuals and news outlets used contradictions, deceptions and convoluted rhetoric in their quest to defend the Biden administration's new Orwellian Disinformation Governance Board," though she did little to counter what she was allegedly criticizing. A post four days later by Joseph Vazquez complained that the Associated Press did a fact-check of right-wing attacks on Jankowicz, particularly around her Twitter-comments proposal (which, again, were effectively added under Musk in the form of Community Notes).
Posted by Terry K. at 9:43 PM EDT
Updated: Wednesday, September 13, 2023 2:43 PM EDT