MRC Whines Networks Didn't Parrot Right-Wing Narrative On FBI Whistleblowers
Topic: Media Research Center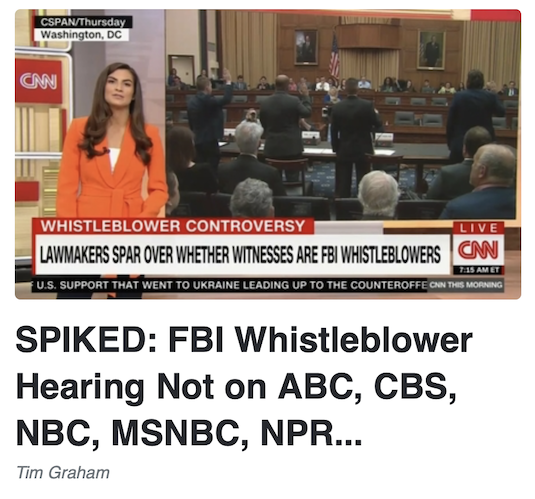 The Media Research Center's Kevin Tober whined in a May 18 post:
On Thursday, the House Judiciary Committee held a hearing on the weaponization of the federal government against its citizens. A sad occurrence that has become more frequent as the government continues to grow out of control. During the hearing, numerous whistleblowers testified about being retaliated against by the FBI for coming forward to report either corruption or abuse of power by the government or its affiliated agencies.

Being members of the fourth estate that were supposed to report on government and its excesses, you would think the big three evening news broadcasts would jump at the opportunity to report on this hearing and the shocking accounts that were revealed. Sadly, like most stories of any consequence these days, the big three networks ignored it because they rightly believe coverage would hurt the Biden administration.

Instead, all three networks: ABC's World News Tonight, CBS Evening News, and NBC Nightly News decided to keep their viewers in the dark and waste precious airtime on stories like a fire at a North Carolina construction site or a security scare at the Vatican.
But Tober gave a gold star to Fox News for dutifully embracing the narrative:
Meanwhile, Fox News Channel's flagship newscast Special Report kicked off the broadcast with the news that was made from the congressional hearing.

"Witnesses told members of Congress stories of retaliation and intimidation because they questioned a prominent investigation," correspondent David Spunt explained.

One of the whistleblowers who testified under oath was a former FBI agent named Marcus Allen who "was punished for questioning the official narrative of what happened at the U.S. Capitol on January 6, 2021."

"He lost his security clearance two weeks ago, though it was suspended in January 2022," Spunt noted.
Tober, complained, though, that Fox News reported a small piece of the other side of the story, which he immediately dismissed:
In an attempt at damage control, the FBI released a statement to Fox News that tried to smear Allen, reading: "Mr. Allen used his FBI email to send multiple colleagues, quote: Links to web sites and urged recipients to exercise extreme caution and discretion in pursuit of any investigative inquiries or leads pertaining to the events of January 6."
Tim Graham similarly complained in a May 19 post that the Republican narrative wasn't uncritically presented and that questions were raised about the whistleblowers:
Last night, we reported that the nightly newscasts of ABC, CBS, and NBC completely skipped any mention of a House Judiciary Committee hearing on FBI whistleblowers. Since the hearing was organized by Republicans, it was somehow not news. Fox's Special Report had it. The PBS NewsHour and NPR's All Things Considered also failed to consider the hearing.

The trend continued on Friday's morning shows, with no FBI whistleblower coverage on ABC's Good Morning America, CBS Mornings, and NBC's Today. Even a "jam-packed Morning Joe" couldn't locate the story on MSNBC. NPR's Morning Edition also offered nothing. CNN This Morning did offer a brief piece, making it sound like a very messy hearing, as Democrats (like Del. Stacey Plaskett) insisted that these weren't real "whistleblowers" on the FBI, because the FBI insisted they were not.

Collins began "Meanwhile, in Washington, lawmakers on Capitol Hill got into a pretty explosive argument yesterday over whether or not those three self-proclaimed FBI whistleblowers are actually whistleblowers."

Collins at least aired soundbites from two whistleblowers, and then followed with the FBI line: "It is also important to note that before the hearing, the FBI actually sent a letter to Congressman Jordan's subcommittee. In it, the agency said that officials stripped two of those three men that you saw there who testified of their security clearances after multiple violations and security concerns. The agency says that both men also expressed alternate theories about the attack on the Capitol."
Graham further whined that non-right-wing outlets reported a fuller story about the whistleblowers:
That's not to say that Ken Dilanian missed the FBI whistleblower hearing. Online, Dilanian and Ryan Reilly wrote up a story larded with pro-FBI spin: "GOP witnesses undermined Jan. 6 cases with conspiracy theories, FBI says". You have to get about 15 paragraphs down before the pro-whistleblower side gets a quote or two.

[...]

The Washington Post actually covered the hearing on page A-4 under the headline "FBI agents who testified on alleged abuses had security clearance revoked."

This is how liberal media outlets play: any criticism of Democrats are described as "alleged abuses" from "self-proclaimed whistleblowers."
Graham didn't explain why the full story of the self-proclaimed whistleblowers should be censored, nor did he explain why FBI agents who refused to do their jobs should be trust. Graham didn't tell his readers that, according to the NBC News article he cited, the FBI stated that one of the agents, Steve Friend, "told his bureau management in Florida he would not work Jan. 6 cases and "refused to participate in the execution of a court authorized, search and arrest," and that Allen "'espoused alternative theories' about Jan. 6 to co-workers and also "'failed to provide relevant information' to an FBI special agent about a Jan. 6 suspect who was later discovered to have physically assaulted U.S. Capitol Police officers." Graham also failed to mention that Friend received money from Trump ally Kash Patel, who provided Friend with a job at a right-wing think tank after he was suspended by the FBI.
Rather than reveal the full truth about these whistleblowers, Graham continued to whine about this in his podcast the same day:
NBC is a national news network. So why would it skip House GOP hearings into whistleblowers being punished by the FBI, and obsess instead over small-town right-wing school board members pushing a "dangerous" curriculum? We call it "bias by story selection." They pick the narratives they want to enforce, and avoid the narratives that aren't helpful to Democrats.
Of course, Graham is engaging in his own bias by story selection by censoring the full story about the whistleblowers' misdeeds.
It will not surprise you to learn that the MRC does not treat all whistleblowers as sacrosanct truth-tellers who must always be believed. It repeatedly tried to discredit Frances Haugen for telling how Facebook did little to stop misinformation on its platform, attacking her as "a far-left activist and AOC donor" -- while failing to disclose the fact that it wasadhering to the talking points of Facebook management, who had reached out to conservative organizations to plant those attacks.
Posted by Terry K. at 9:28 PM EDT
Updated: Tuesday, September 19, 2023 12:48 AM EDT