Flashback: MRC's Kneejerk Defense Of Guns Continues
Topic: Media Research Center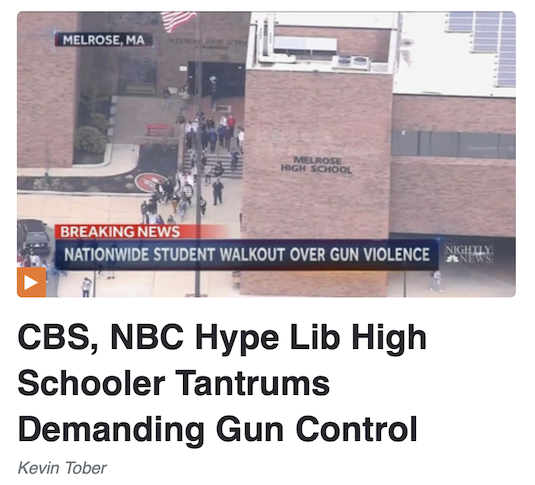 Our flashback on the Media Research Center's kneejerk defense of guns continues with an April 1 column by Jeffrey Lord accusing Democratic Rep. Jamaal Bowman, an advocate of gun regulation, of being a hypocrite because he benefits as a congressman from having a security detail:
There is Rep. Bowman shrieking all this - as he and every other Member of Congress work daily in the Capitol and surrounding House and Senate office buildings that are swarming with - yes indeed - gun-carrying Capitol Police officers. Bowman has specifically called his Republican colleagues cowards for not supporting gun control. Which raises the obvious question: Is Congressman Bowman a coward for refusing to give up the gun-carrying Capitol Police that protect him?

[...]

And as Rep. Bowman himself just illustrated, the Congressman adamantly opposes providing teachers in schools with guns to protect school children - but makes no move to demand the Capitol Police surrounding him give up theirs.

In other words, the message from all these supposedly anti-gun media types and Democrats in Congress like Congressman Bowman is simple.

"Guns for me but not for thee."
Clay Waters complained in an April 3 post that someone on PBS was critical of guns after the Nashville shooting (about which the MRC wanted you to focus on the allegedly transgender shooter, not the guns):
Tax-funded PBS features the Amanpour & Co interview show, and the Tuesday edition featured a self-righteous gun-control rant by host Christiane Amanpour keyed to the murders at a Christian school in Nashville. Left unanswered: How would many of the proposed gun-control measures (like background checks) would have stopped this attack? Amanpour can't blame the shooter. She has to blame the gun-rights lobby. Notice there's not the slightest attempt to avoid editorializing.

[...]

Amanpour interviewed Dr. Joseph Sakran of Johns Hopkins Hospital, who called for guns to be considered a "public health problem." Amanpour once again called for her own bizarre version of "sensible gun control," which looks a lot like the gun confiscation that occurred in Australia after a mass shooting there.
We don't recall Waters or anyone else at the MRC complaining that someone on Fox News failed to make "he slightest attempt to avoid editorializing."
Kevin Tober used an April 5 post to dismiss protests in favor of gun regulation by high school students as nothing more than "tantrums":
On Wednesday, petulant leftist high school students in select cities across the United States walked out of school to demand lawmakers infringe on their fellow Americans' Second Amendment rights in the juvenile belief that this infringement would somehow keep schools safe from deranged people wanting to commit mass murder. Naturally, CBS Evening News and NBC Nightly News were more than happy to champion their cause and hype their truancy for at the behest of the left's anti-American gun-grabbing agenda.

[...]

Meanwhile, on NBC Nightly News, anchor Lester Holt acted as a stenographer for the gun control activists by breathlessly reporting how "across the country, today students walked out of their classrooms by the thousands demanding that officials and politicians do more to stop gun violence."

Holt added that some of the students were apparently "saying they didn't want to live in fear in their schools."

Maybe if members of the media like Holt would report on these shootings responsibly and add context, like the fact that high school students have a better chance of dying in the car on the way to school than dying in their classroom, these students wouldn't be living in fear.
Tober didn't explain exactly what level of high school student being massacred in their classroom he find acceptable.
When a commentator pointed out how little Republicans care about keeping guns away from dangerous people, Tober ranted later that day:
On Wednesday night's edition of MSNBC's The Last Word, vile leftist Lawrence O'Donnell lashed out at Republicans and accused them of not having any sadness over children dying in mass shootings. To make matters even worse, he doubled down and outrageously claimed Republicans are dedicated to ensuring "America's mass murderers are the very best-equipped mass murderers in the world." O'Donnell is no stranger to this kind of incendiary rhetoric. In fact, he's made almost identical claims last year after the tragic Robb Elementary School shooting. Prior to that, O'Donnell sneered how "Republican politicians do not care how large the body count gets."

After mocking South Carolina Republican Senator Lindsey Graham for being outraged at the political prosecution of Donald Trump by the George Soros-backed prosecutor Alvin Bragg, O'Donnell claimed that Graham shows emotion for Trump but not for children being killed. He then took it a step further and painted the entire Republican Party as being unmoved by children dying: "Professional Republicans absolutely do not cry for dead American children when they are murdered by AR-15s," O'Donnell falsely claimed without any evidence at all.

[...]

It appears there is no low O'Donnell is willing to stoop to in order to smear half the country as being complicit in murder. When will MSNBC hold him accountable?
Despite all his ranting, Tober made no effort to disprove anything O'Donnell said.
Tober had another meltdown in an April 10 post:
MSNBC's The ReidOut host Joy Reid had one of her most vile meltdowns since September 2021 when she claimed conservatives "love Covid so much" that they "want it everywhere" to murder as many people as possible, and drink it in a Kool-Aid cup." As bad as that was, Monday night's Reid meltdown was a whole nother level of evil. Reid opened her show claiming Republicans "clearly don't give a damn if they or their friends die a painful, gruesome death at the hands of an assault rifle."

Later on in her demonic, hate-filled program, Reid brought on turncoat former Republican consultant Matthew Dowd to kvetch about how Texas Republican governor Greg Abbott was considering a pardon of a Texas police officer who was wrongly convicted of killing a Black Lives Matter terrorist who pointed a rifle in his face.
That last claim by Tober didn't age well. As we noted, not only did the shooter provoke the confrontation, no witness saw the "Black Lives Matter terrorist" point a gun at him, and it was revealed a few days later that unsealed documents from the case showed that the shooter had a history of making racist and violent comments on social media, stating just a couple months before the shooting that "I might go to Dallas to shoot looters."
An April 13 post by Brad Wilmouth dismissed gun laws as "irrelevant":
On the morning after the shooting attack on a bank in Louisville, CNN This Morning was true to form in promoting new gun laws that were not relevant to the crime, and devoted a segment to allowing anti-gun Senator Chris Murphy (D-CT) to push for irrelevant gun laws.

Even though the Louisville gunman passed a background check and purchased the murder weapon legally from a gun dealer, co-host Poppy Harlow plugged Senator Murphy's push for "universal background checks" as she opened the show at 6:00 a.m. Eastern: "We'll talk to Senator Chris Murphy later in the show, who keeps reintroducing this universal background check bill -- keeps trying, keeps trying, keeps trying."

At 8:08 a.m., Harlow recalled that President Joe Biden keeps calling for more gun control in the aftermath of each high-casualty mass shooting, playing recent clips of him. She then reiterated Senator Murphy's push for "universal background checks" as she introduced the Connecticut Democrat: "Let's bring in Democratic Senator Chris Murphy of Connecticut. He was a key negotiator in the previous bipartisan gun talks -- keeps reintroducing legislation for universal background checks."

It is baffling that "universal background checks" (requiring private sellers of used firearms to pay a gun dealer to conduct a background check) is so reflexively brought up when it is never relevant to any of the mass shootings that receive media attention.

Without mentioning the role that journalists and other liberals have played in stoking murder rates and shootings by portraying police officers as racists, and complaining about "mass incarceration" of criminals, Harlow blamed guns for a recent surge in gun-related deaths of children.
Wilmouth didn't explain why racist cops shouldn't be exposed or why they should be protected.
Dawn Slusher went on a tirade over the Shonda Rhimes-created show "Station 19" in an April 17 post after a character declared that "the answer to anything in this country is not more guns" (bolding in original):
Finally, "the answer to anything in this country" is absolutely more guns - more guns in the hands of the right people, to be exact. Guns in the hands of the right people have always been what's stopped active shooter situations. Guns in the hands of the right people are what keep law and order. Guns in the hands of the right people are what people use to defend themselves and others against an attack.

Just consider the fact that authorities admitted that trans school shooter Audrey Hale targeted the Covenant School in Nashville, Tennessee, because they didn't have armed security and she bypassed another target because they did. That alone proves armed security works and gun-free zones do not. In fact, gun-free zones are basically an open invitation to bad people with guns like Hale.

But leave it to Hollywood to get it all backwards. In the Shondaland of make believe, facts don't matter and propaganda reigns supreme.
Wilmouth returned for an April 19 post grousing that a CNN interview of Republican New Hampshire Gov. Chris Sununu "even went so far as to try to credit strict gun laws in neighboring blue states for New Hampshire's low homicide rate," going on to sneer that "In the same vein, the liberal news network also has a history of trying to blame pro-gun Indiana for crime in the more anti-gun Illinois." He made no effort to disprove either assertion.
Posted by Terry K. at 10:11 PM EDT