Zucker Derangement Syndrome: MRC Cheers Attack Piece On Ex-CNN Chief
Topic: Media Research Center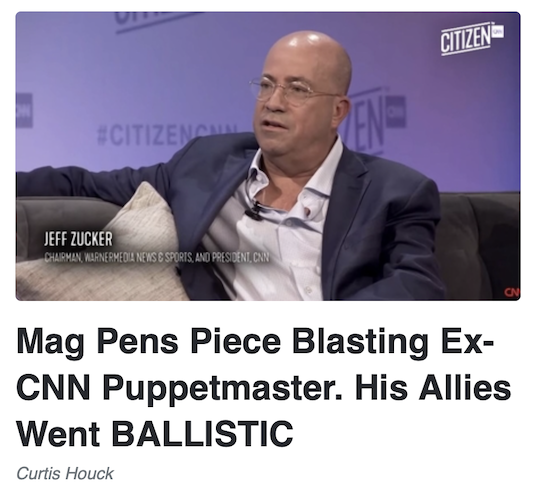 The Media Research Center has spent years spewing hate at former CNN chief Jeff Zucker -- even hurling the anti-Semitic "puppetmaster" slur at him (he's Jewish) -- and the fact that he left that job well over a year ago hasn't kept it from regularly freaking out over him, most recently complaining that the career of his replacement, Chris Licht, was cut short due to "Zucker loyalists" inside CNN. Curtis Houck spent a July 27 post cheering an attack piece on Zucker -- and, yes, using the "puppetmaster" slur yet again:
Having published a piece in April detailing Don Lemon's decades of insufferable behavior inside CNN, Variety's Tatiana Siegel blew the lid Monday night off Jeff Zucker, the former CNN boss and puppetmaster whose allies engaged in a blatant smear campaign against his replacement, Chris Licht. Siegel explained how Zucker and a team of allies undermined Licht and Warner Bros. Discovery executives with hopes to buy CNN using shady foreign moguls.

Once the piece went live, the onslaught was on with Zucker's team, Puck "partner" and former CNN media reporter Dylan Byers, The Atlantic's Tim Alberta, and CNN senior media reporter Oliver Darcy all chiming in to trash Siegel.

The 4,300-word tome painted an odious picture of Zucker having "spent the past year traveling the globe to meet with potential" investors to steal CNN back and even though it's "likely" to "fail...his battles with Zaslav and his behind-the-scenes attempts to undermine Licht" to the point he "isn't worried about damaging CNN as he attempts to ram his way through it."

[...]

She briefly focused on Alberta's now-infamous profile of Licht, claiming "sources maintain it was never pitched as a profile" as it was instead billed "as a broad story about restoring trust in the media" with Licht as a test subject. Once he agreed, she said the two only met four times, quotes were used that were meant to be off the record, and embellished.
Houck went on to mock those who pointed out the article's errors:
Starting with Alberta, he was furious someone would pushback on the piece seen as a tactical strike on Licht by adversaries, tweeting: "Dear [Tatiana Siegel] 1) I met w Licht on 7 different days 2) I used zero off-record details or quotes, as our [Fairness and Standards] team can attest 3) His trainer overheard portions of 1 interview 4) Licht is quoted extensively in a neutral context (sorry it wasn't positive enough for you/him)".

For Byers's part, he repeatedly claimed he didn't want to opine, but that was a crock based on the insults he leveled. After mocking Zucker's undermining of Licht and thoughts of buying CNN as "secretly plotted" "double-barreled revenge fantasy," Byers dismissed it as "heavy cake," "problematic," "sophomoric," and "utterly implausible."

His best excuse? "Siegel's assertions about Zucker's attempt to court a certain investor would be followed by an on-the-record denial." Well, that settles it then, Dylan!

Byers was joined at the hip by Darcy, whom he noted also had concerns as Siegel's report fetched "heightened scrutiny".

On Zucker's company investing in Puck, Byers insisted he "was wholly unaware of that conversation".

Best of all, Byers relayed an afternoon coffee meeting "with an entertainment industry C.E.O. here in Los Angeles" in which this person bemoaned negative media coverage, to which we should all point and laugh at as irony and/or a taste of their own medicine[.]
For all his criticism of Alberta's profile of Licht, Houck identified no errors in it. And Houck failed to follow up with the fact that Variety later revised the article in response to the complaints. But apparently falsehoods get a pass at the MRC as long as they are made about a designed enemy. Zucker Derangement Syndrome lives.
Posted by Terry K. at 12:37 PM EDT
Updated: Sunday, September 10, 2023 9:50 PM EDT