FLASHBACK: MRC Cheered Demise Of Anti-Disinfo Board It Smeared
Topic: Media Research Center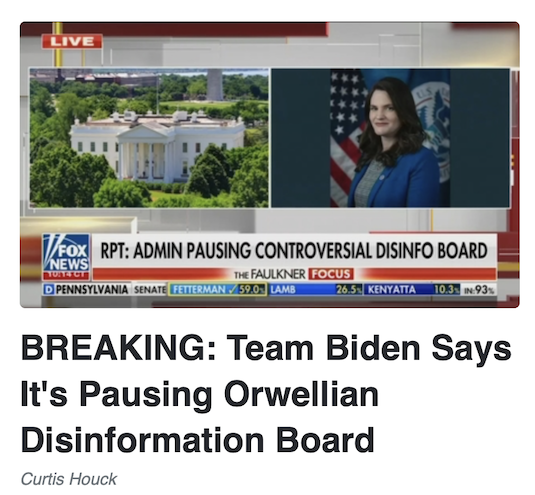 We've shown how the Media Research Center falsely smeared a proposed anti-disinformation effort in the Department of Homeland Security as an Orwellian "ministry of truth" that would censor Americans. When those smears ultimately torpedoed the office, the MRC was dancing in the streets over this dishonest right-wing victory. Curtis Houck cheered in a May 18, 2022, post:
According to far-left creep and perpetual whiner Taylor Lorenz of The Washington Post, the Department of Homeland Security (DHS) decided this week it would put a pause on the dangerous, Orwellian Disinformation Governance Board (DGB) due to what they claimed were "unjustified and vile personal attacks and physical threats" to executive director Nina Jankowicz.

Late Tuesday morning, Lorenz tweeted after the article's publication that Jankowicz officially resigned.

Lorenz wrote: "Now, just three weeks after its announcement, the Disinformation Governance Board is being 'paused,' according to multiple employees at DHS, capping a back-and-forth week of decisions that changed during the course of reporting of this story."
Houck offered no proof that Lorenz is "far-left," though a month or so earlier it was viciously smearing Lorenz for using publicly available information to accurately identify Chaya Raichik as the proprietor of the viciouisly homophobic Libs of TikTok Twitter feed. Also note that Houck did not criticize those "vile personal attacks" on Jankowicz; perhaps that was because his employer helped forward some of them.
Houck continued:
As she often does, Lorenz framed objections to her views as nefarious, calling the uproar "a prime example of how the right-wing Internet apparatus operates, where far-right influencers attempt to identify a target, present a narrative and then repeat mischaracterizations across social media and websites with the aim of discrediting and attacking anyone who seeks to challenge them."

Lorenz painted opposition to Jankowicz as a smoke-filled, backroom image that began thanks to "far-right influencer Jack Posobiec" having used "a derogatory comparison point" by dubbing DGB "a 'Ministry of Truth.'"
Houck went on to claim that "The back-end of her article all but conceded that the board was created so as to crush and maim conservatives" -- but the excerpt he posted of that section of the article did not mention "conservatives" at all; Lorenz did point out that "Experts say that right-wing disinformation and smear campaigns regularly follow the same playbook," which "start with identifying a person to characterize as a villain." Houck did not deny that this is how right-wingers like him work.
A post the same day by Craig Bannister also attacked Lorenz, insisting that her article was "highly partisan, bemoaning the DGB's demise and ignoring Jankowicz's dabbling in disinformation." He also made sure to get his talking points by declaring that "The board has been condemned as an attempt to institute a "Ministry of Truth" to censor, punish and "correct" speech and news that contradicts government policy and ideology. He went on to spout the corporate line and falsely frame dishonest right-wing attacks as defending "free speech":
Conservatives, however, cheered the news of the DGB's demise, but say a "pause" doesn't go far enough to protect free speech. "The Ministry of Truth needs to be canceled, not just paused. We don't need the government telling us what to think!," Media Research Center (MRC) President Brent Bozell tweeted.

"@washingtonpost blaming conservatives for daring to defend free speech is the icing on the cake. Yes, we love free speech and real journalists should too!," Bozell said in a follow-up post.
Another post, this one anonymously written, cheered Jankowicz's official resignation:
"Mary Poppins of disinformation" Nina Jankowicz resigned from leading President Joe Biden's Disinformation Governance Board (DGB) after MRC and other outlets exposed its Orwellian nature.

"UPDATE: Nina Jankowicz has officially resigned from Disinformation Governance Board and the DHS," unapologetic doxxer and Washington Post columnist Taylor Lorenz tweeted Wednesday morning. "Jankowicz had previously written a resignation letter on Monday, when the board was set to be dissolved. Then last night, after DHS officials called and and [sic] said the board would simply be on 'pause' she reevaluated. She's now made the decision to leave."

Lorenz wrote a whiny story on how the DHS "paused" its Ministry of Truth operation headlined: "How the Biden administration let right-wing attacks derail its disinformation efforts."
The anonymous writer didn't admit the dishonest right-wing attacks, nor did he or she mention the threatsmage against Jankowicz due to those dishonest attacks. The smear of Lorenz as an "unapologetic doxxer" also snottily refers to her exposure of Raichik.
A post by Kevin Tober complained that non-right-wing networks didn't buy into the right-wing smears the way its buddies at Fox News did:
On Wednesday morning, it was reported that the Department of Homeland Security is putting a pause on the Orwellian Disinformation Governance Board (DGB). It was later reported by The Wall Street Journal that the executive director in charge of the board, Nina Jankowicz is stepping down.

"With the exception of one minute and 23 seconds on the May 1 edition of the Sunday show Meet the Press" the broadcast networks have refused to cover the news of the Biden administration's Orwellian Ministry of Truth. Instead, the evening newscasts ABC's World News Tonight, CBS Evening News, and NBC Nightly News have decided to cover the U.S. women's soccer team winning a lawsuit over equal pay and local weather reports.

Yet, Fox News Channel's America Reports did manage to cover the reported pause in the operation of the DGB and Jankowicz's resignation. At the helm of the Wednesday afternoon broadcast of America Reports co-hosts John Roberts and Gillian Turner covered the story.
Toer went on to complain that a Fox News correspondent read a statement from a Biden White House official denying the accuracy of right-wing attacks against the board, which Tober dismissed as "snarky and petulant." It seems he's upset that Fox News told a side of the story he didn't want to hear.
The MRC capped off that day's coverage with a podcast in which Tim Graham proclaimed the suspension of the board a "shocking victory," then whined that Lorenz "lamented how the right-wingers sought to ruin DGB boss Nina Jankowicz with their negative narratives," immediately playing whataboutism to avoid having to actually discuss the issue and seemingly justifying the dishonesty as revenge: "As if Donald Trump and his staff didn't receive 'an unrelenting barrage of harassment and abuse' from The Washington Post? Journalism and satire are wonderful tools when liberals use them apparently, but it's unrelenting harassment when conservatives get involved."
When the dishonest attacks on the board were called out, the MRC continued to whine. Alex Christy complained in a May 19, 2022, post:
On Wednesday's edition of All in With Chris Hayes on MSNBC, the show's namesake host welcomed Nina Jankowicz, who resigned from the paused Disinformation Governance Board. Both Hayes and Jankowicz lamented and alleged that the DGB fell victim to the sort of misinformation that went would seek to combat even with Hayes admitting the board had its issues.

In introducing Jankowicz, Hayes declared, "But almost immediately after the announcement, a right-wing frenzy ensued helped along I think by the vaguely ominous title of the office, and she found herself on the receiving end of a concerted campaign by the very same forces disinformation her office would face now attacking her and undermining her credibility with wild conspiracy theories and lies."
Joseph Vazquez similarly huffed:
The New York Times had a cow over the apparent demise of President Joe Biden's Disinformation Governance Board and painted it as a victim of — wait for it — disinformation.

Times"veteran" foreign and national security correspondent Steven Lee Meyers published an asinine story headlined: "A Panel to Combat Disinformation Becomes a Victim of It." Meyers mourned that the Department of Homeland Security was "suspending the work" of the DGB "intended to combat disinformation after what the department described as a deliberate disinformation campaign."

According to Meyers' lament, "the fiercest denunciations came from the right," which included correct characterizations of the DGB as "an Orwellian Ministry of Truth that would police people's speech." The DHS paused the DGB's operations after significant backlash.

Meyers pleaded that being a Ministry of Truth "was never the board's mandate, a department spokesman said in a written statement." Ah, so the "Ministry of Truth" narrative wasn't true because a "Ministry of Truth" loyalist said so?
Vazquez's claim that right-wing attacks were "correct" went to another MRC post -- hardly a stellar example of "media research." Neither Vazquez nor Christy would admit the dishonesty of the attacks coming form their side. Vazquez also played the Soros card, claiming that "A 2020 report by a think tank funded by liberal billionaire George Soros raised questions about whether it had any hand in the creation of President Joe Biden's 'Ministry of Truth.'"
Tober returned to attack Jankowicz for daring to point out the right-wing smears:
One day after the Biden administration's Orwellian Disinformation Governance Board (DGB) was shut down, the former Executive Director Nina Jankowicz continued making the rounds on cable news to whine about the board's demise and her subsequent resignation, this time with an appearance on CNN Tonight.

Host Lauren Coates asked Jankowicz why the purpose of the board was "not communicated effectively?" She responded that "absolutely could and should have been communicated better" and shirked responsibility by claiming her advice wasn't listened to, adding that she "wanted it to be communicated better."

Further proving that she has no sense of irony or self-awareness, Jankowicz said, with a straight face, that unfortunately and ironically we were undone exactly by a disinformation campaign coming from folks who apparently want to put our national security behind their own personal political ambitions."

[...]

She then accused opponents of the DGB of being unpatriotic: "this childish behavior is putting the national security of our country behind this sort of partisan vitriol."
Tober made no effort to prove Jankowicz wrong, nor did he deny the fundamental dishonesty of the right-wing campaign against the board.
In a May 21, 2022, post, Graham unironically attacked Jankowicz for complaining about the baseless right-wing attacks she faced:
Now that Nina Jankowicz has resigned her job as "Disinformation Governance Board" boss at the Department of Homeland Security, the liberal media have competed to paint her in the most melodramatic tones as a victim of vicious sexist harassment. Associated Press reporter Amanda Seitz -- who's supposed to be a "Fact Check Reporter" -- filed a story Friday with the gaudy headline "Disinformation board's ex-leader faced wave of online abuse.

[...]

The AP reporter was not at all interested in the conservative argument against the DGB or Jankowicz. Newspapers and websites across America were spreading the word that the right-wingers were "silencing and terrorizing" her because she was female.
Graham seems to think Jankowicz deserved to be abused simply because she ran afoul of right-wing narratives (which he didn't bother to demonstrate were accurate).
Even though the board was essentially suspected, the MRC still wasn't done repeating attacks on it and Jankowicz over the next several days:
Vazquez was still whining that the dishonesty that killed the board was being called out in a July 6, 2022, post:
The triggered liberals at The New York Times are having a cow over fears that Washington, D.C., won't be able to install a censorship apparatus to root out so-called "disinformation."
The Times published a whiny story headlined: "Disinformation Has Become Another Untouchable Problem in Washington." The piece, plastered with a photo of a stone-faced former Disinformation Governance Board (DGB) Director Nina Jankowicz, whined that Biden's Ministry of Truth "was dismantled — put on 'pause,' officially — undone in part by forces it was meant to combat, including distortions of the board's intent and powers."

The Times has tried for weeks to orce-feed readers into believing that the DGB was a disinformation victim. Jankowicz resigned from the DGB following backlash to the Biden administration's attempt to control the flow of information online.

[...]

The liberal newspaper even attempted to paint Jankowicz as a DGB martyr: "Ms. Jankowicz became a focus of the furor, targeted online by false or misleading information about her role in what critics denounced as a Ministry of Truth."
As before, Vazquez would not admit the dishonesty of the smear campaign, instead complaining that "The Times repackaged the generic 'Republicans Seized' and 'Republicans Pounce' mantras to label First Amendment concerns around the DGB as a partisan issue." If you're falsely smearing something as an Orwellian "ministry of truth," you're making a highly partisan political attack, not issuing "First Amendment concerns."
Posted by Terry K. at 10:42 PM EDT
Updated: Thursday, September 14, 2023 3:06 PM EDT