Soros Derangement Syndrome At The MRC Continues
Topic: Media Research Center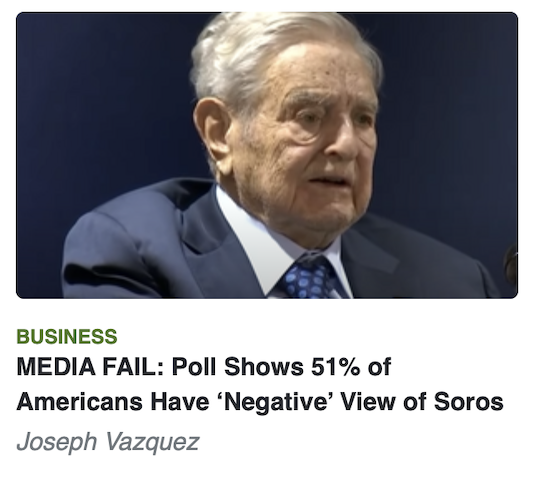 When it wasn't melting down over "Soros-funded" prosecutors holding Donald Trump accountable for his crimes and helping Elon Musk frame him as the Jew conservatives are allowed to hate, the Media Research Center was continuing its dirty war on George Soros in the usual ways since we last checked in:
The MRC served up more detailed attacks as well. Clay Waters complained in an April 20 post that it was pointed out how right-wing attacks on Soros lean into anti-Semitism:
The House Judiciary Committee held an unusual "field hearing" in Manhattan to hear from local victims of violence -- a bank shot against Democratic Manhattan District Attorney Alvin Bragg, who is prosecuting a dubious case against former president Donald Trump while being accused of being soft on actual violent crime.

New York Times responded with haughty defensiveness, rallying around both the city and prosecutor Bragg in "Republicans Attack Bragg, Spotlighting Crime Victims in New York" Wednesday, as reported by congressional reporter Luke Broadwater and Jonah Bromwich, who covers New York criminal justice.

One Republican bashed him as "pro-criminal." Another called him a "terrible" prosecutor with a habit of losing cases. A third suggested he was in the pocket of a wealthy Jewish financier frequently demonized by the far right.

That "wealthy Jewish financier" would be billionaire and leading Democratic fundraiser George Soros. After downplaying Soros's pro-Democratic election funding in an article earlier this month, this Times article never even bothers to confirm the connection between Soros and Bragg, leaving the implication that the Republican mention of him is motivated by random anti-Semitism.

But Soros pledged $1 million to support Color of Change PAC at almost the same time the PAC announced they would put $1 million into Bragg's successful DA campaign, making Republican criticism legitimate. Isn't the press usually more curious about political donations -- or is that just for conservatives who receive funding from, say, Charles Koch?
Waters went on to complain that "The Times conflated anti-Soros protestors with anti-Semitism" by noting that " a man held a sign with the name of the financier George Soros, a Jewish Holocaust survivor, along with the image of a Star of David and dollar signs." But rather than actually address the point, he playued whataboutism: "Speaking of 'dollar signs,' there was no comment from Democratic Rep. Ilhan 'all about the Benjamins' Omar, whose own anti-Semitic comments were aggressively downplayed by the same paper." He then claimed without evidence that "it's possible the sign is being held by a Democrat to help the narrative along."
A May 22
post
by Joseph Vazquez cheered how a highly biased right-wing poll demonstrated how relentless attacks against Soros by the MRC and other right-wingers are apparently succeeding in demonizing him:
A majority of Americans are rejecting the media's attempts to shield leftist billionaire activist George Soros from criticism and cast his opponents as anti-Semites.

A new survey by Rasmussen Reports and Ron Coleman's ColemanNation podcast of 1,002 U.S. likely voters revealed that "Most American voters have a negative opinion of liberal billionaire George Soros, and nearly half agree with [Twitter owner] Elon Musk's words comparing Soros to a comic-book villain." Specifically, 51 percent of respondents reported viewing Soros "unfavorably," which included 39 percent who had a "very unfavorable" impression of the billionaire. This poll's release comes days after Musk set Twitter on fire for comparing Soros to Marvel supervillain Magneto, saying Soros "hates humanity" and for Soros for seeking to "erode the very fabric of civilization."

Despite all the media bluster to make Soros into some kind of a victim, Americans clearly aren't buying it. "Forty-seven percent (47%) of voters agree with [Musk's] quote, including 35% who Strongly Agree that Soros 'hates humanity,'" according to the survey taken between May 16-18, 2023.
Vazquez went on to quote "Bongino Report Content Manager Matt Palumbo" attacking Soros, but he didn't disclose that Palumbo moonlights by writing propaganda for arrested Chinese billionaire Guo Wengui.
Tom Olohan used a June 6 post to tout an anti-Soros book by a right-wing author (whose ideology Olohan didn't disclose):
A "one-eyed King among the blind," "some kind of god, the creator of everything," "brilliant" and "clever;" these are just some of the disturbing bona fides a new bookanalyzes that leftist billionaire George Soros has acquired for himself over his decades-long activist career.

"Soros is right; America is under attack; its Constitution, independence, and democracy are under attack by Soros and his army," writes American Center for Democracy Founder and President Rachel Ehrenfeld in her new book The Soros Agenda (2023). Ehrenfeld's work details the ungodly fortunes (over $32 billion) spent by Soros to transform society into his distorted view of an "open society," a leftist utopia undergirded by anti-Americanism, Marxist economics, climate change extremism, abortion-on-demand and racial strife.

Ehrenfield does not shy away from controversial topics in this work, linking Soros to several color revolutions and to anti-Israel groups, while also providing evidence that Soros lacks compassion and despises his background. She also delves into the lack of transparency that is characteristic of many Soros initiatives.

The main task that Ehrenfeld undertakes with this work is to demonstrate connections that are regularly obscured or ignored by establishment media outlets, while Soros-funded fact-checkers rebuke those who do report on Soros' actions.
Olohan made no effort to let anyone respond to Ehrenfeld's attacks -- he hates Soros as much as she does, after all.
The next day, Nicholas Schau complained that the right-wing anti-Soros machine was exposed:
NPR ludicrously claimed that the leftist Electronic Registration Information Center (ERIC) was not influenced by George Soros funding, despite NPR itself being funded by the leftist billionaire.

In an article published June 4, NPR complained about waning support for ERIC — an organization focused on voter registration — in Republican states and ridiculously attributed the ire over its ties to a so-called "far-right misinformation machine." However, according to the Capital Research Center (CRC), there is real evidence that Soros' network provided funding for the organization, which was established as a project of The Pew Charitable Trusts. According to CRC investigative researcher Parker Thayer, "NPR's insistence that there is no connection between ERIC and George Soros is laughable and refuted by their own article."

Specifically, as Thayer pointed out, "[NPR] admit[ted] several paragraphs into the article that Soros's private foundation provided money to the organization that created the ERIC but spen[t] the rest of the same article insisting that there is no connection."
Schau didn't disclose that the CRC has a biased right-wing ideology, nor did he explain why ERIC's mission of encouraging voter registration and modernizing the election process is purportedly a bad thing, let alone "leftist." He also offered no proof that any of the money Soros donated to "the organization that created the ERIC" went directly toward creating ERIC. Finally, Schau didn't deny the existence of a right-wing anti-Soros machine -- hard for him to do when he's obviously part of it.
Posted by Terry K. at 10:40 AM EDT
Updated: Sunday, September 10, 2023 3:16 PM EDT