Flashback, Part 3: MRC Still Hyping Kneejerk Defenses Of Guns
Topic: Media Research Center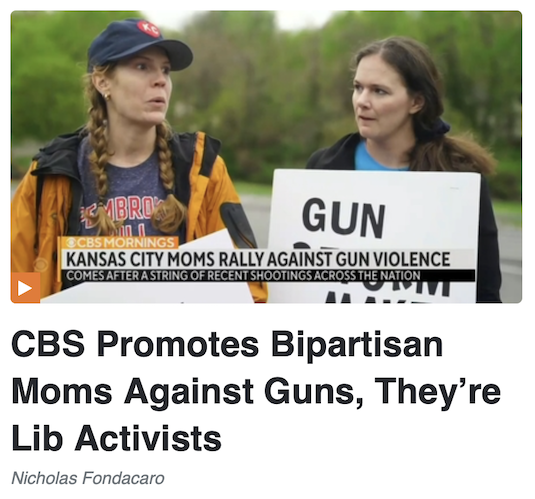 Our flashback series on the Media Research Center's kneejerk defense of guns continues with Nicholas Fondacaro using an April 18 post to bash "The View" for expressing concern that an elderly white man shot and killed a black teenager who mistakenly rang the doorbell at his house:
Never letting a bad situation go to waste, the ladies of ABC's The View spent the beginning of Tuesday's episode exploiting the tragic and allegedly unlawful use of deadly force by an elderly white man against a black teenager in Missouri. According to them, it was "unfortunate" that people had the right to self-defense at all, and insanely proclaimed that elderly people who couldn't physically fend off an attacker shouldn't be allowed to own guns.

During the incident in question, 16-year-old Ralph Yarl was shot after he rang the doorbell of 85-year-old Andrew Lester thinking it was the house he was supposed to pick up his siblings from. According to reports, no words were exchanged and there was no evidence of an attempted forced entry before Lester shot Yarl twice with his revolver through the glass door. Prosecutors also allege that there was an unspecified "racial component" to the shooting.

With the details as reported, Missouri's self-defense laws (particularly their castle doctrine) didn't seem to apply. But nuance and attention to detail weren't things The View excelled in.

Co-host Sara Haines repeatedly advocated for the elderly to have their Second Amendment rights stripped from them if they felt they couldn't fend off an attacker with their bare hands:

[...]

In reality, those too weak to defend themselves physically were arguably the ones who needed guns for self-defense the most.

Haines then lashed out at the National Rifle Association, despite the fact they were not defending Lester. According to her, this incident "fuels the profit of more gun sales" and the NRA wanted to roll back "the accountability of the people shooting."
Yes, Fondacaro is defending the man's use of his gun for "self-defense" despite admitting that's not what actually happened.
On April 20, Fondacaro lashed out at criticism of states that have permitless concealed-carry laws:
In the liberal media's crusade to eliminate gun rights, no complaint is too absurd to be presented to their viewers as a serious point. CBS Mornings was guilty of this Thursday as co-anchor Tony Dokoupil singled out Alabama, Missouri, and Texas (the locations of recent mass shootings) for not requiring residents to obtain permits to buy rifles and shotguns. But only seven states out of 50 have that requirement.
If you'll recall, the MRC attacked a "Soros-backed" prosecutor for dropping a gun charge against a man who later committed a massacre -- but didn't mention that the charge was carrying a concealed weapon without a permit.
The next day, Alex Christy was upset that a commentator pointed out that Fox News likely played a role in feeding the elderly man with fear of crime and black people -- something the man's grandson agreed with -- to the point where he killed a black teen who merely rang his doorbell:
MSNBC's Stephanie Ruhle used the Thursday edition of The 11th Hour to give credence to the idea that Fox News was responsible for shooting of Ralph Yarl by an 84-year old man after he wrong the doorbell. Former FBI assistant director counterintelligence Frank Figliuzzi took it one step further and demanded Fox and "the firearms industry" feel "financial pain."

Beginning the show by going through a list of recent shootings that were the result of either identifying the wrong car or a ball rolling into someone's yard before coming to Yarl, Ruhle decalred "There is another deep troubling element to all of this and it relates to the shooting of young Ralph Yarl. The grandson of the 84-year-old man charged in that shooting put it this way."
Christy then complained that the commentator said that Fox News should feel the pain of inculcating people that way, just as it had to with the $787 million settlement with Dominion for spreading election fraud lies (which the MRC tried to insist wasn't a big deal because right-wingers will believe whatever it sees on the channel regardless):
Figliuzzi then gave a chilling case for censorship, "Yeah, this is where I'm a strong advocate of financial pain for those who spew out propaganda. We just saw Fox News, you know, paying, you know, just under a billion dollars because of what they've been doing and the question is whether or not that is enough pain or not to make a difference."

What is Figliuzzi's definition of propaganda? He never says, but disagreeing with MSNBC on guns or crime is not at all the same as repeating conspiracy theories about voting machines.
When a "View" co-host criticized Fox News over the shooting, Fondacaro viciously smeared her as a "racist" for doing so in an April 21 post:
Despite her whining to the contrary, View co-host Sunny Hostin is a staunch racist and shows it often from her ABC platform. On Friday's edition of the show, she spewed her toxic racism again when she suggested the problem with gun owners in America was that they had white skin and were "radicalized" by Fox News, thus a danger to the country.

Spurred by recent reported shootings by trigger-happy property protectors against innocent people, fill-in moderator Joy Behar wondered: "So what is going on and why are these people shooting first before they even know why somebody mistakenly went into their driveway?"
Once again, Fondacaro's alleged evidence that Hostin is a "staunch racist" involves him failing to understand how metaphors work.
Later that day, Fondacaro whined that CBS highlighted a group of moms trying to stop gun violence are "either long-time liberals or don't have a strong political history." Fondacaro didn't explain why the moms who "don't have a strong political history" should be attacked.
On April 24, Stephanie Hamill bashed the TV show "Gray's Anatomy" for "predictably push[ing] the anti-gun agenda while peddling the 'weapons of war' myth," pushing her side's pro-gun agenda in response: "And, of course, no mention about the lives that could have potentially been saved and injuries avoided had there been a good guy with a gun to immediately intervene. Also, there was no mention of the crimes committed with guns in states and cities with strict gun control laws."
After yet another mass shooting in Texas, Mark Finkelstein tried to change the subject in a May 4 post to the shooter being an "illegal immigrant":
When it comes to crime, [David] Jolly and his Democrat friends focus almost entirely on guns--rather than on the people who commit crimes. A significant portion of serious crimes in America were committed by illegal immigrants; the suspect in the mass Texas shooting among them.

[...]

If MSNBC were actually interested in reducing serious crime in America, it would be clamoring for candidates who will fight illegal immigration. Instead, the liberal media prefers to focus on "gun violence," and use it in an attempt to elect Democrats.
Christy spent a May 9 post complaining that MSNBC's Joe Scarborough pointed out that right-wing kneejerk defense of guns:
MSNBC's Joe Scarborough opened up his Monday night primetime special with a solemn, yet outrageous and profoundly unserious rant where he accused Republicans, "cowards," "pathetic souls," and "vacuous creatures" of being the modern equivalent of "slaveholders and segregationists."

In Scarborough's view of things, "Politicians idly stand by and watch as America's children and their parents are slaughtered… All because these cowards fear gun lobbyists more than they fear the next Uvalde, Parkland, or Sandy Hook."

That accusation would be bad enough, but as is his nature, Scarborough proceeded to escalate, "Like those enablers of slaveholders and segregationists, these timid, empty, pathetic souls care more about beating back next year's right-wing primary challenge than they do saving young children's lives. But there is no doubt that these vacuous creatures willnot escape history's thunderous verdict."
Christy didn't rebut anything Scarborough said -- he just complained it was said.
Posted by Terry K. at 11:04 PM EDT
Updated: Thursday, September 21, 2023 8:27 PM EDT