Flashback: MRC Started The Year With The Usual Kneejerk Defense Of Guns
Topic: Media Research Center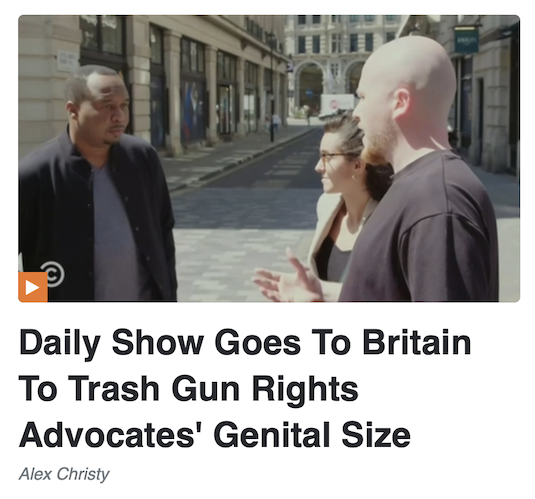 We know the Media Research Center is all about kneejerk defense of guns despite the carnage they help cause. But it's been a while since we checked in on how it's defending guns, so we'll back the the beginning of the year to examine the record:
This kneejerk defense merged with the MRC's weird hatred of Democratic Florida Rep. Maxwell Frost in a Feb. 15 post by Christy:
Twenty-six-year-old Rep. Maxwell Frost travelled over to Comedy Central's The Daily Show on Tuesday for an interview temp host Sarah Silverman to discuss an assortment of left-wing goals, one of which was gun control with Frost urging people to vote for "morally just leaders who actually give a damn about children's lives."

Silverman began by telling Frost just how much she is in awe of him, "You have been, and I find this so impressive and inspiring, especially to people out here, you've been a gun reform advocate since you were 15 years-old. Spurred on by Sandy Hook, which was in Connecticut. You're from Florida and you organized the March For Our Lives."

Finally, getting around to a question, she then asked, "It's the five-year anniversary of the Parkland shooting. There was a school shooting just last night at Michigan State. Now that you are in Congress, what do you think can be done? How can we break the cycle?"

For all the talk about Frost's youth, he continued the old tradition of claiming that the only reason why major gun control legislation fails in Congress is because of the National Rifle Association:
Christy didn't disprove anything Frost said about the NRA, instead grousing that he was "clinging to the idea that it is the NRA's money and not its membership that would simply find another organization should the NRA cease to exist." He concluded by sneering: "The bad news for Frost and Silverman is that ordinary Second Amendment defenders are not about to entrust their rights to somebody who says they don't give a damn about children's lives." However, he didn't dispute the accuracy of that statement.
Nicholas Fondacaro lashed out at more gun statistics he didn't like in a March 14 post:
With President Biden announcing new executive orders on guns Tuesday, CNN Newsroominvited Jennifer Mascia, senior writer for The Trace (an anti-gun rights publication), to share her dubious study. According to Mascia, a CNN contributor, gun manufacturers were directly in control of gun deaths in America as she suggested "when gunmakers ramped up production, gun deaths rose." Of course, CNN gushed for this purported evidence to back their anti-gun rights agenda.

CNN's Erica Hill boasted that Mascia had dug through ATF data to find the supposed number of guns in the U.S. "465 million guns have been produced in the last 125 years for the American market. And it's mostly – the vast majority are handguns. Whereas, you know, 30 years ago our gun culture was very much hunting and recreation. Now, it's concealable handguns for self-defense," Mascia said.

What CNN hid from viewers was the fact that that figure didn't take into account the number of firearms that were no longer in circulation for various reasons. Mascia did note that in her report but didn't mention it on the air (by one estimate she noted, it was roughly 352 million).
Fondacaro then asserted that Mascia made an "outrageous accusation that gun makers were driving gun deaths":
In her study, Mascia seemed to suggest that gun makers held the puppet strings when it came to the correlation between guns produced and gun deaths: "When we charted gun manufacturing and imports alongside annual gun deaths going back to 1968, we found that when gunmakers ramped up production, gun deaths rose."

But what Mascia's graph (shown above but not the one CNN went with) shows was a correlation between the number of guns produced in a year and the number of deaths that year. But if we were to follow her logic, looking back at the exponential growth in the number of guns in circulation, no correlation exists. Why would gun death go down when the number of guns was increasing every year?
When it was pointed out that handguns saw a surge in sales starting in the early 1990s, Fondacaro continued to read from the gun lobby's talking points:
But what was going on in America 30 years ago in the late 80s and early 90s? Out-of-control crime in American cities around the country. The correlation then becomes a chicken-and-the-egg scenario: did making guns lead to violence or did violence lead to more people buying guns thus production met demand? There's also the correlation of increased moves for gun control driving sales and demand, which we saw with President Obama and she notes in her report (although she tried to tie it to race).

To prove the latter, let's look at Mascia's own research. In 2020 and 2021, gun production and deaths spiked. What was going on at that time? Coast-to-coast riots in cities across America with progressive politicians and prosecutors letting out violent criminals, including ones charged with gun crimes.

During the pandemic, when there was a rash of attacks on Asian Americans, that demographic exploded in terms of first-time gun owners. CNN even reported on this.
And what was driving that "rash of attacks on Asian Americans"? Irrational right-wing fear -- driven in part by then-President Donald Trump -- that Asians were to blame for the COVID virus. Fondacaro didn't mention that part. He went on to try to dismiss the large number of gun suicides:
Another tripping point in Mascia's deductions was the fact that suicides have historically made up about two-thirds of all gun deaths in America; it's something even PolitiFact admits. In fact, Mascia actually tried to discount the correlation. "…[W]e found that the relationship between gun production — particularly handgun production — and suicides is stronger than gun deaths overall. But correlation is not causation," she reported.

To account for this, Mascia argued that just having a gun in your home increased the likelihood of shooting yourself, either accidentally or committing suicide. And as a surprise to know one, those who get in a car and travel have an increased chance of getting in a car accident. That's not to discount how the suicide rate is intentionally rolled into the gun deaths rate when they discuss "gun violence." We also know suicides surged during the pandemic because of the isolation and loneliness people were suffering from, which helps to explain the gun deaths in the last couple of years in her graph.
But most motor vehicle deaths are by accident -- few people use a car intending to kill themselves . By contrast, every gun suicide is a deliberate act, one that might not have happened had there not been ready access to a gun.Which means Fondacaro is the one who's tripping here.
Fondacaro concluded: "Mascia's assertions only work if you look at them in a vacuum and don't take into account what happening in the country at these times." So once again, context is important at the MRC, though it likes to complain when conservatives are called out for not adding it.
Posted by Terry K. at 11:21 PM EDT
Updated: Friday, September 1, 2023 10:36 AM EDT