CNS-Mark Levin Stenography Watch, Lack-Thereof Edition
Topic: CNSNews.com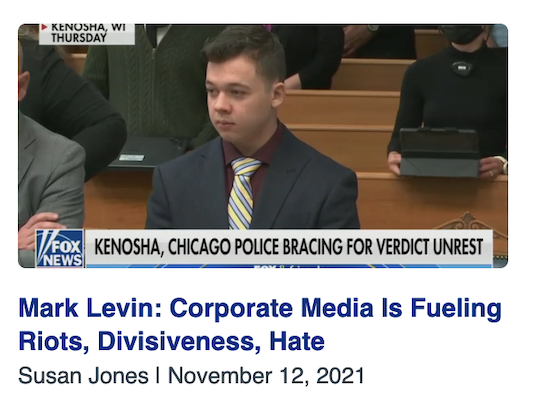 CNSNews.com closed out its already lackluster year of Mark Levin stenography with a surprising whimper. Here's what CNS did in the final two months of 2021:
That's it -- just four articles, making for a total of just 52 articles for 2021, less than half of the average for previous years. That last article appeared on Nov. 12 -- and none have appeared since, meaning that CNS has gonenearly two months as of this writing without a piece of Levin stenography.
What happened? Did Levin's check to the MRC not clear? CNS didn't even publish the softball intervew Levin did with Media Research Center (and CNS) chief Brent Bozell to promote his new book, which did appear over at the MRC's NewsBusters site. CNS' fall intern -- who did many of the Levin stenography posts over the past few months -- was on the job until early December, meaning that her absence doesn't explain the lack of Levin posts. That Nov. post was considered a "news" article and written by "news" reporter Susan Jones.
And because CNS only does Levin stenography, there was no mention of the fact that Levin pre-emptively -- and falsely -- declared that Democrat Terry McAuliffe was trying to steal the election for VIrginia governor. After all, CNS will never hold Levin accountable for anything.
What will 2022 bring on the Levin stenography front? Will Levin send some cash CNS' way to goose that promotional engine into life again? We shall see.
UPDATE: Someone must have been reading our minds -- while we were writing this post, a Levin stenography item appeared at CNS. Thus endeth the longest time we can remember CNS devoid of Levin stenography.
Posted by Terry K. at 4:50 PM EST
Updated: Monday, January 10, 2022 5:12 PM EST