The Death Of CNS
The Media Research Center fully turned its back on journalism by quietly blowing up its "news" operation (and firing several longtime employees) to turn CNSNews.com into a right-wing blog not bound by journalistic standards.
By Terry Krepel
Posted 8/29/2023
---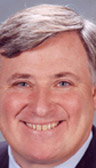 Terry Jeffrey
The last time CNSNews.com posted original content was on April 20, with the site effectively frozen in time for a few days. On the evening of April 24, however, the CNS website went dead with all links disabled.

What happened? No announcement was made at any MRC website -- not even he CNS website -- or even on the CNS Twitter feed as to why a "news" website it had operated for around 25 years had been abruptly taken down without notice, and longtime staffers like Terry Jeffrey, Michael W. Chapman, Susan Jones, Melanie Arter and Patrick Goodenough probably deserved a better fate than to have years of work simply erased from the internet.

Finally, it was revealed that the MRCTV website now had a CNS page, introduced with a notice at the top of the website stating: "Welcome CNSNews readers! Effective immediately, CNSNews is being merged with MRCTV to form a new conservative media platform, designed to deliver news and commentary on all of the top issues of the day." The CNSNews.com domain later started redirecting to the CNS page at MRCTV, and that the legacy CNS website was moved to an archive.

The MRC's shutdown of CNS was shocking but perhaps not surprising. The way it did it, though, may be even more shocking.

CNS was founded by the MRC in June 1998 -- meaning that it was killed two months short of its 25th anniversary. Most of the people working there at the time of its shutdown had been with the MRC for quite some time:

The only other major on-staff contributor, commentary editor Georgiana Constantin-Parke, had only been with CNS a few months before shutdown. The only person of this group who appears to remain at the MRC is Bannister.

That means the others have apparently been relieved of their MRC jobs after years of employment -- and relieved in a very rude and abrupt manner. Whatever happened at CNS happened quickly; there was no evidence of a impending shutdown beforehand, with stories continuing to be posted as usual through April 20, when the site ceased being updated. Then, after being in stasis for a few days, it was abruptly wiped away, with the domain being redirected to the CNS page on MRCTV. An alert box on MRCTV -- which took a few days to become visible to all readers -- promised to create "a new conservative media platform" through the merger of CNS and MRCTV, but it still looks like rant-filled MRCTV with an added CNS box of Bannister blog posts. Hardly a new "media platform," and it speaks to the haste in which the dismantling of CNS was done.

In short: Longtime MRC employees were summarily dismissed and their work effectively erased. They were not allowed to say goodbye or to celebrate the work they did. Heck, the MRC couldn't even be bothered to issue a press release to announce the shutdown and thank those longtime staffers for their years of work (or even to explain their fate). Ironically, as ConWebWatch documented, the final column by Catholic-priest-who-really-wants-to-be-a-right-wing-pundit Michael Orsi, published a day before CNS' shutdown, perhaps unintentionally foreshadowed things as it focused on how a deceased body should be treated

That tells us that something more is at play. Did someone at CNS do something that drew legal scrutiny? Is the MRC hard up for cash and desperate for places to cut? (According to its 2022 annual report, 13% of the MRC's budget was spent on CNS.) Is there a link between this and all the staffers fleeing the MRC to work for Fox News? Inquiring minds want to know. (Have a tip? Let us know.)

Despite the shocking treatment CNS got in being shut down so abruptly, it isn't surprising. Online metrics suggest that CNS' website traffic had been dropping over the months before shutdown, its audience was aging, and other right-wing websites draw much more traffic. Also, having longtime employees running it meant that they may have been stuck in their old ways. It seemed to be caught between two worlds: It wasn't as nimble and aggressive as other right-wing "news" operations, yet its fuddy-duddiness wasn't used to its advantage, staying content to merely peddle right-wing talking points (and Ted Cruz press releases as an apparent favor to Jeffrey's daughter, a Cruz staffer) instead of doing any sort of original reporting that would boost its credibility. Indeed, over the past few years, CNS was becoming little more than NewsBusters in an inverted-pyramid format.

Perhaps the biggest piece of evidence that the death of CNS was not a surprise: nobody seems to miss it. There were no news stories in other media about the shutdown -- not even in other right-wing media. The only place to seems to have noted the shutdown is ... ConWebWatch.

The MRC spent millions of dollars over the past 25 years building a "news" operation and a brand that ultimately went for naught and was blown up quickly in a day. Doesn't seem like the way one should treat something so expensive.

Merging it into MRCTV is an interesting choice, though, given that it's effectively the MRC's hot-takes division whose most popular segment (such as that is) are the video rantings of Brittany Hughes. That is most definitely not a recipe to be treated seriously.

Still, it's odd that the MRC effectively refused to publicize this move if the goal was to maintain a similarly functioning "news" operation to its standalone website; it may be that it has been gutted and CNS will be maintained simply as a brand name on MRCTV for things deemed to be "news" content from other MRC operations. And it may be that, as his bio states, Bannister really is the editor (whatever that means) for this newly gutted CNS, if not its only designated employee.

CNS, however, has become nothing but a right-wing blog -- to which the CNSNews.com domain now redirects -- featuring the biased rantings of Bannister.

Interestingly, Bannister has been pulling the same biased reporting tricks that a fully staffed CNS did -- apparently as a condition of funding it has received. A May 5 post fulfilled Jones' old job of reporting on the April's employment stats -- an unusually positive report without Jones' usual bias -- carries the tagline "The business and economic reporting of CNSNews.com is funded in part with a gift made in memory of Dr. Keith C. Wold." That article was joined, however, by another claiming that "The number of jobs created in each month of 2023 has been revised down in subsequent Bureau of Labor Statistics (BLS) reports, making the current month's growth look better in comparison.." A June 2 Bannister post on May's unemployment numbers was back to the usual biased shenanigans, under the headline "Unemployment Rate Rose in May as Number of Employed Fell for First Time in 6 Months." Apparently, the Wold money mandates talking down positive economic news when a Democrat is president.

Bannister repeated one of CNS' biased reporting tricks -- cherry-picking statistics to make Democrats look bad -- in a May 4 post headlined "CEO Survey Ranks Texas #1 State for Business, California #50 - 9 of 10 Worst Have Dem Governors." That article also carried the Wold-money tagline.

Bannister did more cherry-picking -- this time to make a certain former Republican president look good -- in a May 10 post:
In April, consumer prices for all items increased a seasonally-adjusted 0.4% from March and were 4.9% higher than they were a year earlier, the Bureau of Labor Statistics (BLS) reported Wednesday.

While the all-items Consumer Price Index (CPI) increase of 4.9% for the 12 months ending in April was the smallest year-over-year rise since the period ending April 2021, inflation thus far during the Biden Administration is still more than three times higher than it was under his predecessor, Donald Trump.
Bannister made no mention of the fact there was was a global pandemic that messed with the economy, and he censored the fact that inflation in the U.S. is lower than in most other major countries.
Bannister also continued his anti-ESG obsession:
The CNS blog is also continuing to be a whore to its parent, just as the "news" operation was. Bannister touted his boss in a June 12 post:
"Another Joe Biden middle finger to America," Media Research Center (MRC) Founder and President Brent Bozell reacted Monday, retweeting a post by Pres. Biden declaring America an LGBTQ nation - and displaying a "Pride" flag - at the White House.

"Today, the People's House – your house – sends a clear message to the country and to the world. America is a nation of pride," Biden tweeted, along with the flag photo looking out from the White House at the crowd at Saturday's Pride celebration on the South Lawn.
Meanwhile, because the MRC got a pot of money some years ago "in memory of Dr. Keith C. Wold" -- a longtime MRC funder whose family members have served on the MRC's board of trustees -- to use for reporting on business and economics at CNS, the right-wing blog that currently passes for CNS is apparently stuck writing posts about that, albeit with the usual CNS mandate to downplay good economic news when it happens under a Democratic president. A July 7 post by Bannister picked up Jones' old cherry-picking-bad-news strategy:
Led by continued growth in government, the unemployment rate fell 0.1 point to 3.6% in June – though, non-farm employment and wages recorded lackluster gains – according to seasonally-adjusted data released Friday by the U.S. Bureau of Labor Statistics.

Compared to May, employment in the non-farm sector was up 209,000 jobs last month – falling far short of the monthly average increases for both the first six months (278,000) of this year and full-year 2022 (399,000).

Employment in government increased by 60,000 in June, as employment continued to trend up in state (+27,000) and local government (+32,000). Overall, government has added an average of 63,000 jobs per month thus far in 2023 – more than twice the average of 23,000 per month in 2022.

Faltering market conditions reduced more American workers to part-time status in June, as the number of persons employed part-time for economic reasons increased by 452,000 to 4.2 million, partially reflecting an increase in the number of persons whose hours were cut due to slack work or business conditions.
It wasn't a group of bullet points after the eighth paragraph of his post that Bannister got around to mentioning that more Americans were working.
A July 12 post by Bannister seemed disappointed that inflation is easing, if the headline is any indication: Despite Cost of Shelter, Inflation Eases Compared to Year-Ago, when 9.1% Increase Was Highest in More than 40 Years."
Bannister reprised another dishonest reporting trick in a July 21 post:
States with Republican governors dominate the lists of both the states with the lowest, and record-lowest, unemployment rates, according to statistics for June 2023 released Friday by the U.S. Bureau of Labor Statistics (BLS).

Out of the 10 states with the lowest unemployment rates last month, eight boast Republican governors, as Maryland (#5) and Maine (#8) were the only Democrat-led [sic] states to make the cut:
As ConWebWatch has noted when CNS did this previously, most of those Republican-led states tend to be sparsely populated compared to other states.
In summary: The MRC, which claims to be a watchdog on journalism, has given up on creating its own journalism, which was effectively a model for how it believe journalism should be done -- that is, with a pronounced right-wing bias. Rather than continue to feed that model, it blew CNS up, apparently deciding that paying a right-wing blogger who doesn't have to be concerned about niceties like fairness and scrupulous adherence to facts is much cheaper and draws more eyeballs.
The move also discredits CNS' parent as well, because there are no longer anything approaching actual journalists in the building to provide any sort of guidance, however warped and biased, about how journalism actually works. The MRC officially becomes the right-wing activist hot-take factory it always wanted to be.
The latest from