WND Touted Quack Doctor's Video On 'Mass Psychosis'
Topic: WorldNetDaily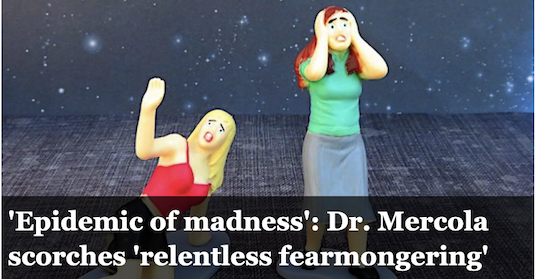 The anti-vaxxers at WorldNetDaily eagerly embraced dubious doc Robert Malone's evenmore dubious concept of "mass formation psychosis" in an attempt to discredit COVID vaccines. As part of that, it promoted a version of the bogus theory coming from an even more discredited doctor. An anonymous Jan. 2 article stated:
Popular Dr. Joseph Mercola says we're in the middle of "an epidemic of madness" that occurs when a "large portion of society loses touch with reality and descends into delusions."

It's happening he says due to the "relentless fearmongering coupled with data suppression and intimidation tactics of all kind."

He cited a 20-minute video, "Mass Psychosis – How an Entire Population Becomes Mentally Ill," created by After Skool and Academy of Ideas, explains the tactics used to seed and nurture mental illness – on a grand scale.

A number of mental health experts have expressed concern over the blatant panic mongering during the COVID-19 pandemic, warning it can have serious psychiatric effects.

Dr. Mercola cites S.G. Cheah's report which said, "Even when the statistics point to the extremely low fatality rate among children and young adults (measuring 0.002% at age 10 and 0.01% at 25), the young and the healthy are still terrorized by the chokehold of irrational fear when faced with the coronavirus."

"It's one of the reasons why you're seeing so many people who'd happily approve the silencing of any medical experts whose views contradict the WHO or CDC guidelines," Dr Mercola suggests. "'Obey the rules!' becomes more important than questioning if the rules were legitimate to begin with."
WND won't tell you that Mercola is a documented quack witih a history of making false and even illegal claims and pushing drugs of questionable value. Instead, the anonymous writeruncritically touts Mercola's quacky claims:
It's adults who are inflicting this emotional trauma on an entire generation, Dr. Mercola insists.

Worst of all, mass delusion is leading us into slavery.

"The mass delusion must also be addressed because it's driving us all, sane and insane alike, toward a society devoid of all previous freedoms and civil liberties, and the corrupt individuals in charge will not voluntarily relinquish power once we've given it to them," he says. "Totalitarianism actually begins as psychosis within the ruling class, as the individuals within this class are easily enamored with delusions that augment their power."
The anonymous WND writer made no effort to ponder if the quack Mercola was the one suffering psychosis through his need to lie to people and fleece them to enrich himself.
Posted by Terry K. at 4:40 PM EST