People Love 'Barbie' Movie, So MRC (Mostly) Backed Off Bashing It For Being 'Woke'
Topic: Media Research Center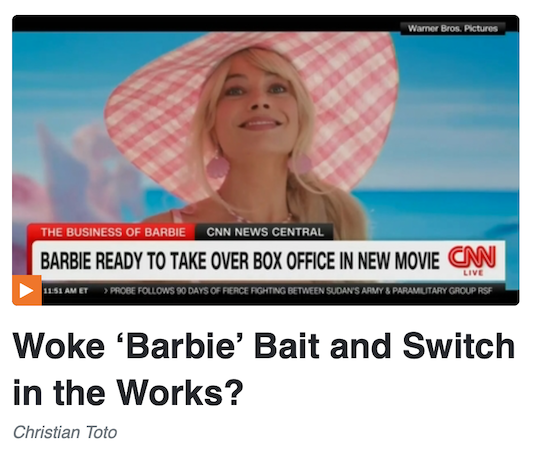 The Media Research Center has had mixed feelings about the Barbie doll in recent months -- it whined about the existence of a transgender Barbie, but it praised the creation of a Down syndrome Barbie (and even gently criticized toxic right-wing influencer Steven Crowder for mocking it). So the new 'Barbie' movie was bound to result in the creation of manufactured outrage at the MRC. Christian Toto spent his July 15 column fearmongering that the movie might be (gasp!) "potentially woke," whatever that means:
Meanwhile, the actors are more than happy to push the film's potentially woke elements, disinterested in how it could impact the movie's bottom line.

Yet the film's marketing machine isn't promoting its feminist bona fides. The movie's trailers focus on fashion, fun, giddy interactions and humor.

[...]

It's not hard to read between the lines. Director/co-screenwriter Greta Gerwig often uses her work to explore gender issues, from "Lady Bird" to "Little Women." The early previews suggest she did it again.

None of this shares if the movie is good, bad or indifferent. We'll have to wait until July 21 to find out.

Yet the message discipline for "Barbie's" marketing team has been nothing short of outstanding. Most potential movie goers won't read the quotes from Ferrell, Gerwig or Nef. They'll be too busy sharing the cute clips and frothy trailers on social media.

If "Barbie" is the first woke blockbuster, it'll be partly thanks to a bait-and-switch press push.
When the ladies of "The View" made fun of the predictable right-wing panning of the film for not fitting its predetermined narratives, Nicholas fondacaro complained in a July 25 post:
In the montage of reactions, which included Fox News's Rachel Campos-Duffy from July 3 (three weeks ago) and Senator Ted Cruz (R-TX) (from last week), Daily Wire Shapiro's reaction was the only one from after the movie was released. Out of his almost 43-minute-long review on Twitter, this was the 14 seconds they pulled out:

I find it upsetting when material that is based on children's IP and marketed to little girls actually ends up being angry feminist claptrap that alienates men from women, undermines basic human values, and promotes falsehood all at the same time.

"It's a movie!" moderator Whoopi Goldberg shouted. "It's a movie about a doll! I thought y'all would be happy! She doesn't have any genitalia, so there's no sex involved. Ken has no genitalia, so he can't be doing -- It's a doll movie!"

[...]

It's worth noting that the show itself was also sponsored by a Barbie movie-themed commercial for Progressive insurance.
As more mocking of Shapiro's 43-minute meltdown over the film -- which included him setting fire to Barbie dolls while dressed as Ken in one scene from the movie -- poured in, Fondacaro used a July 27 post to feature Shapiro complaining about being mocked:
The joking aside, Shapiro said the most upsetting thing going on was "the insane gaslighting by people like Whoopi Goldberg" in terms of suddenly suggesting the movie was not important at all:

They play this dumbass game. It's a really ridiculous clown-nose-on-clown-nose-off game: "Well, it's so political, it's so important, everyone should see it, it has such important things to say about the state of modern womanhood." And then we're like, "Yeah, what it has to say is garbage and stupid and wrong and bad for girls." And they're like, "It's just a movie about a doll. It's just a movie about a doll. Why are you so upset about a movie about a doll?"

I don't know, why are you so upset that I'm upset about a movie about a doll?

"Because it's not just a movie about a doll you idiots, obviously. You're really liars. I mean, you know it's not a movie about a doll only, it's a movie about men and about women and about feminism and about the patriarchy. You know who would tell you that? Greta Gerwig, who made the damn thing," he told them off.

Shapiro also trained his sights on The View's faux conservative, Alyssa Farah Griffin, who attacked him for purportedly feeling emasculated by the movie, but he had a cold hard truth for her: what really was emasculating was her becoming "the designated conservative" her "pseudo friends dump on every single day and where you win points of favor and they pat you on the head and give you little Scooby treats if you say the right thing."

He also made the expert point that they "spent a lot of [their] airtime on this. So, yeah. Obviously, it was important enough for you to comment on."
Fondacaro didn't mention that Shapiro set Barbie dolls on fire during his original, mockworthy meltdown.
Next up in meltdown mode was Tim Graham, who spent his Aug. 4 column complaining how his wife dragged him to the movie:
It's not a movie I had any interest in seeing, whether it was a movie made for grade-school girls or a satirical sendup for the angry feminists.

But my wife wanted to see it, so off we went. It was the worst movie we've seen since "Elvis." It's a disjointed mess. Just like "Elvis," we sat through it despite the temptation to skedaddle.

It's like a series of bad "Saturday Night Live" sketches that are placed at the end of the show. Any movie that ends with a triumphant first visit to the gynecologist? Eminently skippable. "It's like Pinocchio, with tampons" did not make the newspaper blurbs.

Mattel wanted to make a "Barbie" movie to sell more Barbies, but they couldn't just make a cartoon for little girls. No, it had to make an ironic adult blockbuster mocking itself with a preposterously plastic indictment of the patriarchy. Christian Toto counted ten utterances of "patriarchy" in this movie -- and none of them made all the promotional material that inundated TV watchers. It snuck up on you at the cineplex.

It made me think of leftists like Todd Gitlin writing about capitalist "hegemony," about how capitalism is so malignantly adaptable that it absorbs socialist critiques and somehow evades its own collapse. So the mega-corporation that makes Barbie dolls subjects the audience to a teenager yelling at Barbie: "You represent everything wrong with our culture! You destroyed the planet with your glorification of rampant consumerism, you fascist!"

Barbie is not a fascist. She's a toy. But yes, she's a flashy and colorful toy, with many accessories. If they made Maoist Barbie, she'd only come with one outfit and a little red book. Surely, the movie will lead to more Barbie-doll sales. Rampant consumerism still wins.

[...]

This feminist screed could have been worse. It could have ended with Barbie triumphantly getting an abortion. But that could represent one less little girl reaching for a Barbie doll.
Graham curiously failed to mention how his wife liked the movie -- which suggests that she did, in fact, like it. As many people did, given that it has seen more than $600 million in box office revenue in the U.S. alone. It's so popular and well-liked, in fact, that the MRC has basicallly given up on trying to attack it. In an Aug. 10 post on "Barbie" being banned in Kuwait, Tierin-Rose Mandelburg -- who is not afraid to spew hate and anything and everything -- voiced her surrender in a parenthetical paragraph that was the second paragraph of her post:
(Disclaimer: We aren't here to bash the Barbie movie as we know some people loved it. Good for them. We are here to recognize the fact that the themes and characters in "Barbie" do not align with some religions.)
Nevertheless, she bashed the movie anyway, endorsing Kuwait's ban based on purported homosexuality in thte movie:
While the Barbie film isn't entirely based on sexuality and gender, it does feature a gay actress, Kate McKinnon, and a transgender actor, Hari Nef. Not to mention, Gosling's performance of Ken paints him in a very feminist nature. Men acting in this way is controversial in Middle Eastern culture.

[...]

Ultimately, these Middle Eastern countries likely have bigger things to be worrying about, it's nice to see them stand their ground on what sorts of ideologies should and should not be accessible and promoted throughout their nations.
We knew Mandelburg couldn't keep her hate completely hidden.
Posted by Terry K. at 12:09 PM EDT
Updated: Sunday, September 10, 2023 9:39 PM EDT