WND Mad That Quack Doctor Has To Find Another Bank
Topic: WorldNetDaily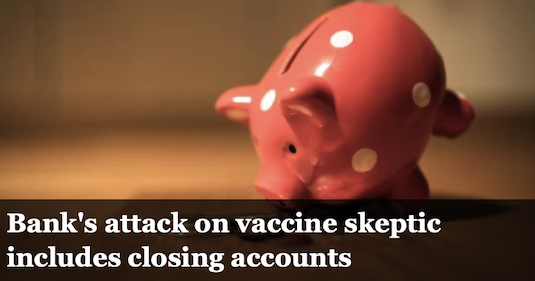 Joseph Mercola is one of WorldNetDaily's favorite quack doctors -- he has spread misinformation about COVID vaccines and masks, it touted his hyping of totally imaginary "mass formation psychosis," and it pushed his weird conspiracy theory that Will Smith's Oscar slap of Chris Rock was a "cleverly disguised publicity stunt" to promote a drug. So when a bank decided to no longer be associated with Mercola's quackery, WND complained about it. Bob Unruh wrote in a July 26 article:
An old-line banking corporation has launched an attack on vaccine skeptic Dr. Joseph Mercola by closing his business account, according to a report from the Daily Caller News Foundation.

The publication said it obtained copies of documents showing the accounts closed by JPMorgan Chase include those for Mercola's business, Mercola Market, officers of his company and an officer's wife.

The report explained Mercola Market is a Florida-based health business.

The reason for the closures was unspecified.

It was on July 13 that the banking corporation told the account holders they had until September 10 to finish any transactions under those accounts.

The accounts were in the names of Mercola Market, CEO Steven A. Rye and his wife, as well as CFO Amy Legaspi.

[...]

"I believe they cancelled all of the accounts because of Dr. Mercola's (our employer) opinions," Rye told the foundation. "He … co-authored the best selling book The Truth About COVID-19 which exposed the likelihood that this virus was engineered in a laboratory funded by the NIH. He correctly predicted the vaccines would not prevent transmission or infection of COVID-19. He has been directly censored by the Biden administration and is being targeted by politically weaponized agencies."

Despite, or perhaps because of, Mercola's work to distribute accurate information about the COVID-19 pandemic and vaccines, the British nonprofit Center for Countering Digital Hate cited him for alleged "disinformation."
But "accurate information" is something Mercola is probably least associated with. As QuackWatch detailed, Mercola is best known selling dietary supplements of dubious value and spreading misinformation and conspiracy theories about medical issues. He has been repeatedly warned by federal officials against making false and illegal claims about the supplements he sells.
Unruh told his readers none of that, of course, nor did he acknowledge that JPMorgan Chase, as a private business, has every right to not do business with anyone -- which would include a sleazy quack like Mercola.
Posted by Terry K. at 5:46 PM EDT