MRC's DeSantis Defense Brigade Watch, Homophobic Video Defense Edition
Topic: Media Research Center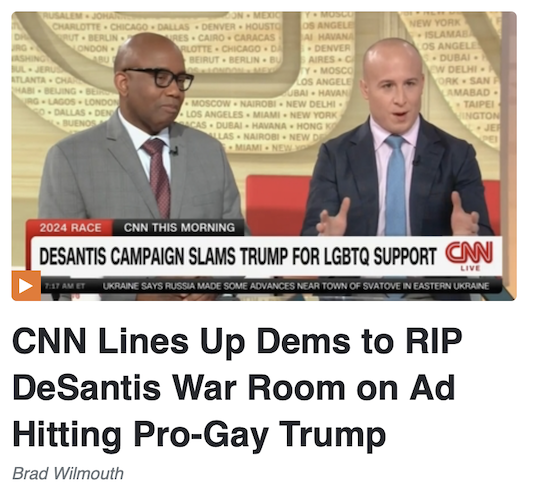 The DeSantis Defense Brigade at the Media Research Center continues to hate it when people call out what a terrible and nasty candidate and overall person Ron DeSantis is:
When a pro-DeSantis PAC released a wildly anti-LGBT ad specificially designed to show how much DeSantis hates transgender people and how Trump allegedly doesn't hate them enough, the Defense League snapped into action. Brad Wilmouth touted its clickbait potential in a July 7 post:
When it comes to the Republican half of the presidential race, CNN is going to hate all the candidates. On Monday's CNN This Morning, the anchors were outraged at a eye-grabbing ad shared by the DeSantis War Room twitter account. It asserted Donald Trump was pro-LGBTQ and then showed scare headlines of how DeSantis outraged the gay groups. It seemed designed to outrage leftists for more clicks.

Co-host Phil Mattingly set up the discussion: "We saw this Ron DeSantis superPAC put out an ad attacking former President Trump for his support for LGBTQ rights -- I think we've got some of that. I want to play at least a little bit of it."

After playing a clip of the ad which highlighted headlines touting some of Governor DeSantis's actions in Florida regarding gay-related issues, Mattingly threw shade at the ad's designer:

[...]

CNN only picked liberals to respond to this. Former Congressman Max Rose (D-N.Y.) unleashed the typical "hate-filled" and "xenophobic" adjectives, and said there's no way this would work.
Wilmouth seemed quite excited about this ad being "designed to outrage leftists for more clicks."
Tim Graham loved the ad too, and he compalined that others didn't in a July 8 post:
PBS host Laura Barron-Lopez played a snippet of a pro-DeSantis ad touting how he's horrified the liberals as "extreme" on LGBTQ issues (as if they aren't radicals). Republicans will lose the general election, the journalists agreed.

Susan Page of USA Today started it off: "It's one of the things that DeSantis has done, like signing a six-week ban on abortion. That may help him in Republican primaries, although so far, it`s not helping him much. It will haunt him if he gets into the general election as the Republican nominee, because that attitude toward LGBTQ rights is quite at odds with where American public opinion is today."

At least Talev underlined the ad didn't come from the DeSantis campaign, but a DeSantis superPAC shared it, and "if the purpose of this was to show that Donald Trump is to the left and that he has embraced gay rights, that's where the ad would have stopped. The purpose of the ad is to begin there and then to define Ron DeSantis as the sort of champion of anti-gay, anti-trans positions. And so it begins as being about Donald Trump, but in the end, it`s not really about Donald Trump. It's much more about positioning Ron DeSantis."

[...]

Barron-Lopez concluded: "That video is definitely, as you said, Margaret, very anti-LGBTQ, anti-transgender, and not necessarily something that will help Ron DeSantis or former President Trump on the campaign trail in the general electorate, if they make to the general electorate."

Democrats can support "gender-affirming care" for children and Drag Queen Story Hour in public schools and they're never outside the mainstream. The journalists on PBS are unanimous.
Graham didn't explain what is so "mainstream" about vicxious hatred of transgender people. And neither Graham nor Wilmouth mention that even a conservative LGBT group found the ad offensive, and they failed to follow up on the subterfuge around the ad; this and other videos -- including one featuring a Nazi-style sonnenrad -- were created by the PAC, then laundered through anonymous Twitter accounts for distribution.
It wasn't all defense, though; Luis Cornelio cranked out what was effectively a DeSantis campaign press release in a July 10 post:
A leading 2024 presidential candidate promised to abolish the Big Tech-Government censorship collusion regime if elected.

In a Sunday interview on the Fox News Channel's Sunday Morning Futures, Florida Gov. Ron DeSantis (R) pledged to crack down on the anti-free speech cabal perpetrated by the Biden administration's collusion apparatus with social media platforms.

"We will end the weaponization of government," a fired-up DeSantis told Fox News anchor Maria Bartiromo, referring to the left's blunt use of government to promote its political agenda and censor people that disagree with them. Censorship, DeSantis argued, will stop under his watch.

"We're going to clean house at the Department of Justice," DeSantis added, before highlighting the Hunter Biden laptop scandal. "I look back at, like, the Hunter Biden censorship which was a huge, huge deal to happen in the 2020 election. And yet, those were Donald Trump's own agencies that were colluding with Big Tech. I would never allow that to happen. I would fire those people immediately."
Cornelio didn't disclose how much the DeSantis campaign paid him to write this bit of rah-rah fluff.
Posted by Terry K. at 8:52 PM EDT
Updated: Monday, September 11, 2023 9:41 PM EDT