MRC's DeSantis Defense Brigade Watch, Black History Edition (Continued)
Topic: Media Research Center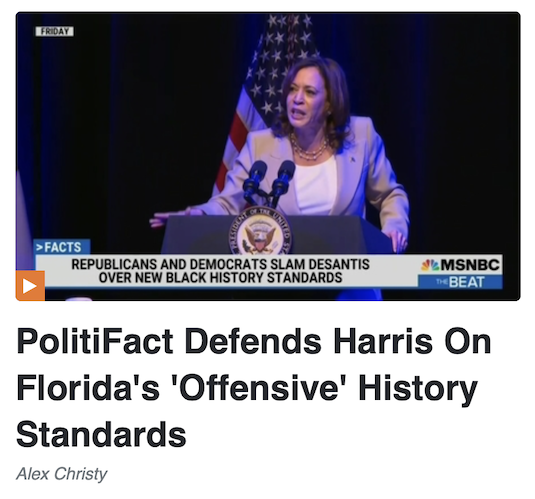 As the Media Research Center's DeSantis Defense Brigage rode to the defense of Florida Gov. Ron DeSantis over state standards for teaching black history that claimed slaves learned skills while enslaved that they used later in life, Curtis Houck cheered fellow right-wing outlets for helping it defend DeSantis in a July 24 post that also included a coverage count:
Starting Friday morning and running through Monday morning, the major broadcast networks spend nearly 20 minutes (19:43) on their flagship morning and evening newscasts cheering lies peddled by Vice President Kamala Harris over the "controversial" new Florida Department of Education standards on African-American history that they insist "rewrite[s] history" and slavery as a good thing.

ABC, CBS, and NBC were shameless in their childish, fact-free partisanship and swooning over Florida facing "growing outrage," "sharp criticism," and being "slammed," "under fire," and "under scrutiny." But an actual inspection of the standards in the 216-page document (which National Review's Charles C.W. Cooke did masterfully) reveals Harris and the liberal media willingly peddled an odious lie.

Cooke wrote that Harris's claims that Florida was promoting slavery "is an astonishing," "brazen," and "evil lie" that's "so deliberately and cynically misleading — that, in a sensible political culture, Harris would be obligated to issue an apology."

[...]

Townhall's Guy Benson even pointed out the sentence about "skills" was not only "a minuscule fraction of what the curriculum calls for," but "factually true" with the line in question mirroring "an encyclopedia published with the impriumatur of Oxford and Columbia universities' scholarship."
None of these writers apparently disputed that the standard exists -- they simply tried to explain it away. And Houck didn't disclose the right0wing ideology of Cooke and Benson ; the MRC regularly lectures that claims in the "liberal media" shouldn't be taken at face value, and one can assume that the same applies here as well.
Houck had a meltdown in a post the next day:
ABC chief White House correspondent and Biden apple polisher Mary Bruce leveled an scurrilous insinuation and lie during Tuesday's Good Morning America as, not only did she mention Governor Ron DeSantis's (R-FL) Florida Board of Education in the same breath as the horrific lynching of Emmett Till, but she suggested President Biden declaring three Till sites a national monument would ensure accurate teachings of black history (unlike in the Sunshine State).

The segment started off innocently with co-host Robin Roberts declaring before she tossed to Bruce: "We're going to go now to President Biden set to sign a proclamation this afternoon that will establish a national monument honoring Emmett Till and his mother Mamie Till Mobley."

And after Bruce's hitjob of a report, Roberts didn't engage and kept the focus on the Tills, saying his mother was "so courageous...to have an open casket" at his funeral.

[...]

After pointing out Biden "is roughly the same age that Till would have been," Bruce made the insanely partisan turn by insisting this announcement "comes as we are seeing this controversial and very polarizing debate in this country over the teaching of black history."

"That move by the Florida Board of Education to teach some slaves may have benefitted from the skills they developed is sparking a firestorm," Bruce added.

She concluded with more spin from her friends in the White House: "But, Robin, this White House says monuments like this to Till will help teach the complete story of our nation's history[.]"

First, the phrase "it comes as" was a classic trope used to tie two things together, whether or not they're actually related. Second, it's only "controversial and very polarizing" because some academics and much of the media had outsourced their history education to a blatant fraud.
That "blatant fraud" is the 1619 Project, which in fact largely holds up. Houck cited Cooke's ideologicalclaims again, then helped DeSantis play victim by asserting that "the linkage was no accident given the liberal media's purposeful attempt to bury DeSantis and smear Florida."
A post by Alex Christy once again made a point of context when it works for right-wing narratives, attacking PolitiFact for finding that Vice President Kamala Harris' criticism of the standards is correct:
PolitiFact waded into the controversy surrounding Florida's new history standards by rating Vice President Kamala Harris "mostly true" for her statement that the state is teaching "enslaved people benefited from slavery." To reach such a conclusion the trio of Sofia Bliss-Carrascosa, Louis Jacobson, and Amy Sherman had to tie themselves into a giant pretzel by simply downplaying evidence contrary to Harris's allegation.

After summarizing the positions of Harris on one hand and Governor and potential 2024 rival Ron DeSantis and Republicans on the other, the authors write, "Although the new standards include many conventional lesson points about the history of slavery, they also include a sentence that enslaved people developed skills that 'could be applied for their personal benefit' — and this has drawn heated rebuttals from historians, who consider it factually misleading and offensive for seeming to find a silver lining in slavery."

Later in the article, they add "The rest of the document includes specific standards about slavery, including the development of slavery and the conditions for Africans as they were brought to America. It also covers how slave codes resulted in enslaved people becoming property without rights, abolitionist movements, state and federal laws, revolts by slaves, and the Civil War." (emphasis added)

Further still, the trio quote two members of the working group, who are both black, that came up with the standards as correctly stating "the criticism took 'a few isolated expressions without context.'"

[...]

PolitiFact can't have it both ways. Either Florida teaches that slavery was awful because it deprived people of their rights or it teaches that slavery was benevolent. As the authors admit, the part about skill acquisition is just one of many parts of the new standards, meaning the "mostly true" rating for Harris is way too generous.
Christy defended DeSantis and the standards again in a July 27 post:
Late Wednesday night saw people close to Florida Gov. Ron DeSantis defend the state's new history guidelines on slavery by pointing out that the Advanced Placement course that the media demanded the state adopt has very similar standards. However, Thursday's viewers of CNN News Central were not informed of these latest developments as host Jim Sciutto conducted a softball interview with Alpha Phi Alpha General President Willis Lonzer III where he accused DeSantis of trying to "soften the brutality" of slavery.

Lonzer was on to discuss his fraternity's decision to pull its convention out of Florida over the state's allegedly "racist" policies when Sciutto asked him, "can you help folks understand exactly what the change is in how aspects of slavery will now be taught in Florida schools? Just so folks who may not have followed this closely understand exactly what the change in language was."

According to Lonzer's summation of the changes, Florida is trying "to suggest that those who were enslaved benefited from being in slavery, as if they came into this chattel slavery system, without any skills or any type of labor perception. And that's quite the opposite."
Jeffrey Lord spent his July 29 column playing whataboutism to defend DeSantis and attack Democrats in lashing out at criticism of the standards:
The irony here? The volumes of irony? Nowhere in this Post editorial, nor in Bouie's column or from MSNBC - nowhere - does it mention exactly which American political party came into being supporting the idea - made into policy - that slaves should be owned as "chattel by other human beings who stole their freedom, labor and bodily autonomy."

[...]

Who, exactly, was benefitting from slavery - and how?

Answer: The Democratic Party was benefitting politically from slavery. Supporting slavery - and after that segregation and Jim Crow laws - is what won Democrats elections.

[...]

On and on - and on and on - goes The Post and Times and MSNBC silence on the real history of the Democratic Party. Instead, when it comes to analyzing the Florida Board of Education's rules as supported by Governor DeSantis, they simply fall silent on the serious, indisputable history of race in America.
Lord did seem to concede that no Democratic Party platform since 1860 endorsed slavery, but he seems to be unaware that not only has the party evolved significantly since then, it effectively traded places with the Republican Party on racial matters, as Democrats who supported segregation migrated to the Republican Party in the 1960s. He then attacked Democrats for trying to counter racism:
Just as slavery supporters and segregationists gained election-winning political support for the Democrats, so now are their political descendants in the Democratic Party and the broader American Left still profiting from dividing Americans by race. That would be done by using the race-dividing grandson of slavery and the son of segregation known today as "identity politics."
Lord concluded by claiming that the Democrdatic Party "needs to whitewash history to pretend it is something it has decidedly never been. And still isn't." But Lord is whitewashing how Republicans are the ones currently more likely to act in a racist manner.
Posted by Terry K. at 9:29 PM EDT
Updated: Tuesday, September 26, 2023 9:36 PM EDT