MRC Continues History As Fox News Defender, PR Operation
Topic: Media Research Center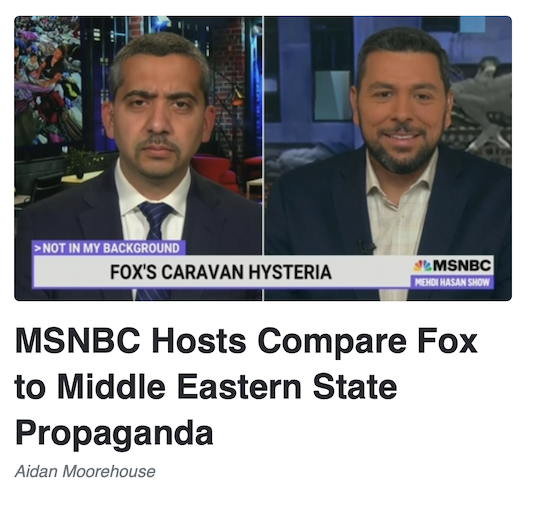 The Media Research Center is, in no small part, the Fox News Defense Center. Over the past year, it has published numerous posts that are essentially Fox News press releases:
The MRC has kept up those defense efforts over the past several months, attacking anyone who would dare to criticize the channel and its bias. A May 18 post by Alex Christy attacked a former Fox News correspondent for arguing that people like Tucker Carlson could be imprisoned for spouting replacement theory conspiracies that the racist Buffalo massacre:
Former Fox News chief political correspondent Carl Cameron joined MSNBC Deadline: White House on Tuesday to discuss the aftermath of the mass shooting in Buffalo by a white supremacist. According to Cameron, it is time to consider throwing certain, current Fox personalities in jail.

[...]

Thankfully for Fox, the First Amendment will protect them from people like Cameron. Luckily, for MSNBC that same First Amendment also protects them from people like Cameron who want to be the final arbiters of what is and is not misinformation.
Of course, the MRC defended Carlson and insisted that replacement theory wasn't racist and was a conspiracy. Three days later, Christy complained that "Cameron was at it again, suggesting Tucker Carlson has lost his First Amendment rights and that Fox should be deplatormed," grousing further that he "tied Fox to foreign disinformation campaigns." Christy failed to mention that Carlson is very much a pro-Russia, anti-Ukraine propagandist.
On June 13, Tim Graham whined that NPR reported on an effort to discourage advertisers from using Fox News:
National Public Radio has made it clear over the years that it despises Fox News. On June 9, the morning before the primetime Pelosi Panel hearing, Morning Edition promoted a radical leftist group of censors that wants Fox News beheaded. Of course, NPR never called them "leftist" or anything ideological on air as they aim to starve Fox News of digital ads. (The online story uses "left-leaning" in paragraph nine.)

[...]

Depriving the conservative media of any revenue is simply another day for "democracy" at NPR.
Graham didn't disclose that the MRC runs a very similar operation designed to deprive non-conservative media of revenue, and he sure didn't describing as an attack on democracy.
The same day, Aidan Moorehouse grumbled:
After an hour of marketing his own aggressive brand of no-holds-barred progressivism, MSNBC's Mehdi Hasan decided to conclude his eponymous Sunday evening show with a snide and staged exchange with fellow radical Ayman Mohyeldin, comparing Fox News to state-run Middle Eastern propaganda networks.

Hasan began by asking Mohyeldin, "Do we have midterm elections coming up?" He then played a series of clips from Fox News from the past week warning of the large migrant caravan making its way to the U.S. southern border.

After the montage, Hasan snarkily proclaimed: "Yes, if it's a midterm year, it has to be a migrant caravan year," insinuating Fox would not have covered the story if the midterm elections weren't fast approaching.

[...]

There's no doubt that Fox News is right-leaning, but to pretend that the Republican Party is a monolithic ruling class — within the D.C. Beltway or without — is patent nonsense. And on the topic of state-run media, didn't both Hasan and Mohyeldin previously work for the Qatari-funded Al-Jazeera?
Note that Moorehouse would only condede that Fox News is "right-leaning" while attacking both Hasan and Moyheldin as "radical" based on nothing more than merely criticizing Fox News and, apparently, sharing a certain previous employer.
In an Oct. 12 post, Christy got mad that late-night host Seth Meyers called out Fox News fearmongering over inflation, desperately playing whataboutism in response: "It was notable that Meyers did not go after any of the Air Heads on CNN or MSNBC and their embrace of the Democratic agenda, which is sad considering CNN thinks Dum Dums are anyone who opposed The 1619 Project." When MSNBC commentator David Jolly simiarly called out Fox anti-government fearmongering -- calling it heroin in the veins of Fox News viewers-- Mark Finkelstein ranted in a Jan. 7 post:
But, as seems apparent, if the FBI and other government agencies conspired with Big Tech and other media to suppress the Hunter Biden laptop story, and silence the voices of conservatives, using Twitter and other social media platforms as their cats' paws, then those agencies have shredded their own integrity. That needs to be exposed so that necessary reforms can be made.

Jolly is in essence calling for a cover-up of those abuses.
Christy played Fox defender yet again in a Feb. 11 post:
MSNBC's host of The 11th Hour Stephanie Ruhle was not happy that Fox News reacted to President Biden's State of the Union by calling him a liar and to help her in her quest against this narrative, she welcomed professional Fox News watcher Juliet Jeske to claim Fox viewers are in a "cult" who need "deprogramming"

Those creepy remarks came after Ruhle wondered why Jeske does what she does, "So, the work that you're doing is, obviously, interesting to someone like me and my audience, but that Fox News audience. That right-wing audience, is that who you're trying to get to?"

For Jeske, it is not Fox viewers, but:

Friends, families, coworkers, and colleagues of people who are already deeply entrenched in Fox. Number one, to prevent them from getting sucked in. To help them navigate dealing with someone who's in that cult mentality because I would call it a cult and to help them figure out why their relatives and loved ones are saying these things and deprogramming someone or deradicalizing them is a very difficult and long situation to go through.

[...]

Ruhle wanted to focus in on that claim [that Republicans want to cut Social Security and Medicare], "I mean for fact's sake, yesterday, the president himself went down to Florida and word for word, read from Rick Scott's plan. So, explain to me how they keep pushing these lies to their audience? A, did they not have a legal and standards department? And B, like, what gives? Their audience is just going to believe this?"

Jeske then claimed Fox has "absolutely no shame. They'll say whatever they need to say to promote their agenda and mostly through lying by omission, like leaving out stories completely."

Lying by omission is exactly what Biden, Ruhle, and Jeske did when they ignored that Republicans leaders have said that cuts to those programs are not on the table.
Christy lied by omission by ignoring the fact that Republicans have a long history of publicly expressing their desire to cut Social Security and Medicare.
Posted by Terry K. at 11:00 PM EST
Updated: Wednesday, March 8, 2023 11:04 PM EST