Newsmax DirecTV Victimhood Watch, With Added Ruddy Falsehoods
Topic: Newsmax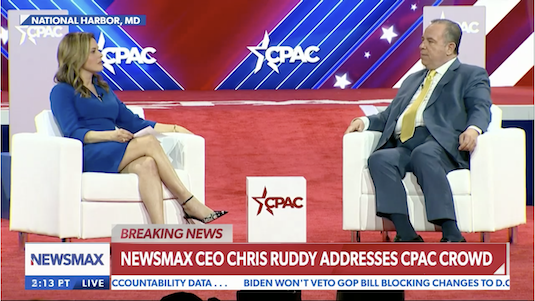 Newsmax entered week 6 of self-proclaimed victimhood over getting dropped by DirecTV with more of the same:
With these 10 articles, Newsmax has published at least 238 articles attacking DirecTV for dropping it since Jan. 25, when it occurred.
Meanwhile, the head of Newsmax went to CPAC to mislead about his victimhood. Luca Cacciatore wrote in a March 2 article:
Newsmax CEO Christopher Ruddy sat down with Mercedes Schlapp on Thursday to discuss the network, its recent troubles with satellite provider DirecTV, and the ominous trend of media silencing alternate viewpoints.

At the Conservative Political Action Conference in National Harbor, Prince George's County, Maryland, Ruddy cited Nielsen ratings showing that Newsmax, a popular conservative news organization, is the fourth highest-rated news channel, a top 20 channel overall, watched by 25 million Americans on cable alone.

"It's really not our brilliance. It's the fact the American people want more choices in news," the network's founder declared, later noting that "the liberals and the left basically own everything in the media world."

"Why should the left have so many news choices, but conservatives only have one?" he continued. "Fox, let's admit it, is changing. It's good to have more voices, and I think Newsmax plays a very critical role in offering those."
Ruddy is lying. DirecTV replaced Newsmax with another right-wing channel, The First.
In part of the video Cacciatore didn't transcribe, Ruddy repeated the talking point that there are as many as "two dozen" news andinformation channels he calls "liberal." As we've pointed out, Ruddy's definition of a "liberal" channel is wildly and dishonestly overbroad, given that it includes things like the Weather Channel and Comedy Central
Posted by Terry K. at 1:43 PM EST