CNS Cheers Restrictive Catholic Hospitals, Scorns Non-Restrictive Catholic Colleges
Topic: CNSNews.com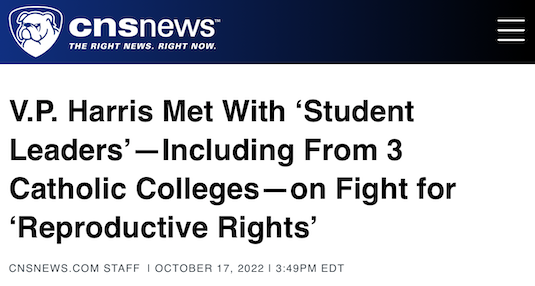 Because the people who run CNSNews.com like to consider themselves more Catholic than the pope, they like to inject their opinions on all things Catholic. Editor Terry Jeffrey's Oct. 12 column cheered the spread of Catholic hospitals that refuse to do abortions, offer care for miscarriages and ectopic pregnancies or dperform sterilizations or tubal ligations following a Washington Post report on it:
If you or a loved one were being admitted to a hospital, would you want it to be managed and staffed by individuals who "respect the sacredness of every human life from the moment of conception until death"? Or would you want it managed and staffed by individuals who do not?

Because the respect for human life articulated in the USCCB's "Ethical and Religious Directives for Catholic Health Care Services" does in fact derive ultimately from the natural law, this respect for human life was expressly embraced by ethical doctors in the era before Christ.

[...]

Should Catholic hospitals be forced to act contrary to Catholic teaching?

"For those communities where patients have no other option besides a Catholic hospital, the federal designation of 'sole community hospital,' which carries with it supplemental funding, should include stronger requirements to ensure that patients are informed about where to obtain needed services and aided in obtaining those services," says the report.

"In emergency situations, sole community hospitals should be expected to provide the needed care," it says.

The battle over freedom of conscience is nowhere near over in this country.
Jeffrey didn't explain how "freedom of conscience" forbids a Catholic hospital from treating a miscarriage or ectopic pregnancy, allowing the woman to die or be severely injured in the process.
An anonymously written Oct. 17 "news" article, meanwhile, complained that a White House gathering on reproductive rights included students from Catholic colleges:
Vice President Kamala Harris met with 75 "student leaders" from 66 colleges and universities on Friday "to discuss the fight to protect reproductive rights."

The group of students included representatives from three Catholic colleges.

These were Emmanuel College in Boston, Xavier University of Louisiana, and Georgetown University in Washington, D.C.

Emmanuel's website describes it as "a Catholic, coeducational, residential, liberals arts and sciences college in Boston" that was "[f]ounded in 1919 by the Sisters of Notre Dame de Namur as the first Catholic college for women in New England."

Xavier University of Louisiana says on its website that it is "the nation's only Catholic and historically black university" and "was founded by a white nun who was determined to admit students of all faiths and races."

Georgetown's website says: "Georgetown University is the oldest Catholic and Jesuit institution of higher learning in the United States. John Carroll's founding of Georgetown College coincides with the birth of our nation."
CNS seems to be upsetr that these students apparently haven't been indoctrinated hard enough, or something.
This seems to be an echo of a Sept. 15 column by dishonest Catholic Bill Donohue, who complained that Catholic colleges don't hate LGBT students enough.
Posted by Terry K. at 7:27 PM EST
Updated: Monday, November 14, 2022 7:30 PM EST