Newsmax DirecTV Victimhood Watch
Topic: Newsmax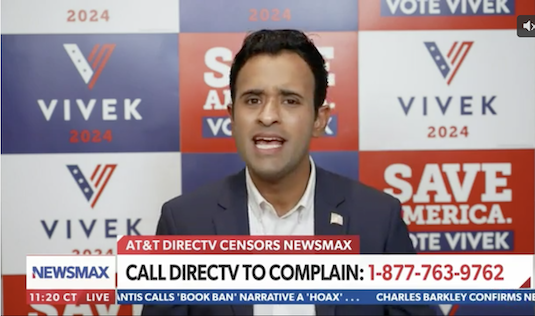 Week 5 of Newsmax's massive victimhood campaign over getting dropped by DirecTV continued with more of the same on a slower pace:
This list is a little deceiving because it hides how much things had slowed down in week 5. Of these 15 articles, nine were posted on Feb. 28; the other six were posted on Feb. 25 and 27 (no articles were posted on Feb 26).This brings the total number of "news" articles attacking DirecTV since it dropped Newsmax on Jan. 25 to 228.
Again, Newsmax columnists attempted to help make Newsmax's case. James Hirsen complained in a Feb. 24 column:
To truly amass power, a would-be autocrat or totalitarian regime will typically suppress any criticism or dissent that might emanate from those who may wish to challenge such authority.

How is the sinister goal of silencing vast numbers of individuals or organizations reached? By controlling and/or eliminating the free flow of news and information within a society.

Examining Newsmax's removal from DirecTV's platform is critical in understanding what has happened to the Fourth Estate, what stage in the totalitarian process we are presently in, and what are the means by which we can make our way back to freedom.

[...]

How much ideological discrimination of speech should a free people tolerate?

Here's the simple answer.

None.
Of course, DirecTV replaced Newsmax with another rightwing channel, The First, meaning there is absolutely no "ideological discrimination of speech" happening here. But Hirsen didn't tell his readers that, because that would have blown up his entire column.
Posted by Terry K. at 6:47 PM EST