MRC Can't Bash Rihanna At Super Bowl, So It Bashes 'Black National Anthem' Instead
Topic: Media Research Center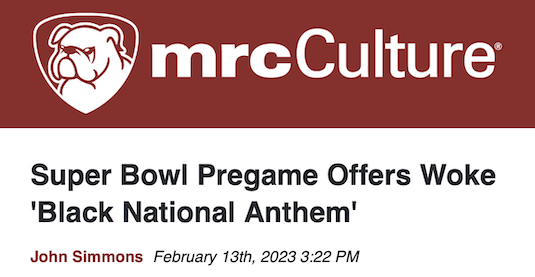 When Rihanna was announced as the performer at the Super Bowl halftime show, the Media Research Center -- which loves to freak out over Super Bowl halftime shows -- tried to get ahead of things. John Simmons pre-emptively ranted in a Sept. 26 post immediately after the announcement:
Do you feel it coming in the air, hearing the screams from everywhere? That's the sound of all the people that are ecstatic that woke singer Rihanna will be performing at the Super Bowl LVII halftime show.

[...]

While her status as an icon and her talent are not in doubt, she has a long history of supporting anything woke.

In June, Rihanna, along with Twitter co-founder Jack Dorsey, pledged $15 million to organizations that combat climate change and its particular effect on people LGBT members and minorities (because climate change is homophobic and racist).

Furthermore, her beauty company, Fenty, released a series of ads that showed gender-bending men wearing lipstick. She's also an avid supporter of abortion, but that shouldn't be a surprise in today's celebrity culture.

Hopefully, her concert doesn't have any underlying woke messages in it and we can just enjoy a halftime show simply as a concert. But given her track record -- and the fact that this is an NFL-organized event -- that might be too much to ask.
Bur Rihanna's halftime show came and went, and the MRC found nothing to get outraged about. So Simmons ranted instead about "Lift Every Voice And Sing" being sung before the game:
Kickoff hadn't even happened in Super Bowl LVII before we got a heavy dose of progressive agendas being shoved down our throats - along with nachos and wings.

There were two major elements of the pregame ceremony that has something to do with wokeness:

1) Singing Of The Black National Anthem: Singer Sheryl Lee Ralph performed her rendition of "Lift Every Voice and Sing," marking the first time that the song - also widely referred to as the unofficial "Black National Anthem" - was sung before the Super Bowl.

Of all the backwards ways in which progressives try to elevate black voices so that they are viewed as "equal," this might be the most counterproductive method they choose.

If one ethnic group sings an anthem that only represents themselves and not the rest of the country, doesn't that mean they are choosing to further the divide they claim is a problem that needs to be addressed?

[...]

Our national anthem is one of the few elements of culture where Americans recognize that no matter how we disagree, we are all citizens of the same country. If we are going to start having every ethnic group have its own national song, we're not going to be a united country for very long.
Yes, Simmons thinks a song that first appeared in 1900 is "woke." He cited no lyrics from the song he considered to be overly "woke" or objectionable.
Simmons went on to complain that the all-female crew who conducted the annual flyover of the stadium had "a lot of wokeness mixed into it. After all, a progressive organization like the NFL will do anything to magnify the voices and accomplishments of oppressed groups like women." Simmons didn't explain why that was a bad thing.
This meltdown complements the MRC's defense of religious commercials aired during the Super Bowl that were paid for right-wing interests.
Posted by Terry K. at 10:13 AM EDT
Updated: Saturday, March 18, 2023 10:32 AM EDT