An Exhibition of Conservative Paranoia
Exhibit 82: The Only Good Superman Is A Straight White One
The Media Research Center melts down over the idea that Superman can be an alien of color or bisexual. It's similarly upset that Robin is no longer heteronormative and that Supergirl is "woke."
By Terry Krepel
Posted 5/27/2022
---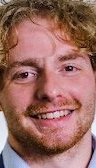 Gabriel Hays
The Media Research Center has gotten upset over Supergirl and Batwoman for failing to be heterosexual or touching on real-life issues. Then, it melted down over Marvel superheroes failing to follow the straight-white-male orthodoxy. Now the MRC has returned to lashing out at the DC universe, making it clear that the only allowable depiction of Superman is one of a straight white American -- even though he's an illegal alien, in the literal sense of the term, from the planet Krypton.

In a February 2021 post, Gabriel Hays sneered (yes, we know, his default mode) at the idea of a black Superman:
Raise your hand if you think Superman needs to be rebooted as an super-powered African American Black Lives Matter activist who has devoted his life to eyeball-lasering white supremacy and freeze-breathing all over those who would stand in the way of reparations. Anybody? Nobody?

Well, then, you're probably not going to be too excited about the next cinematic iteration of the "Man of Steel" which will be written by radical race author Ta-Nehisi Coates. If you don't recognize the name, the gentleman is now a political essayist-turned-screenwriter whose views center on seeing white supremacy wherever he looks. Is this really the perfect choice to come up with the next story about America's favorite superhero?

Apparently so. The Hollywood Reporter stated that film production giant Warner Bros. – which owns the movie rights to Superman and other beloved DC Comics characters – has hired Coates "to pen the script for a feature reboot of Superman that will be produced by J.J. Abrams." Sources told THR this will be a "Black Superman story."

Wow. Perhaps Superman will save the country from evil "White Supremacist" Capitol rioters, but then lend his laser vision to setting fires in the name of BLM; that's if he's really committed to representing America's new revolutionary sense of justice.

[...]

Sounds like the man of steel will be saving people based on their victimhood status. If you're a disabled African American trans female pansexual, oh, Superman will show up. But if you're a white investment banker who's hanging from a cliff? Well, be patient, Kal-el may take his time.
Lindsay Kornick went from there in a May 2021 post, grumbling at the idea that a black Superman requires -- gasp! -- a black director:
Back in February, The Hollywood Reporter announced that the film production company Warner Bros. hired the race-baiting author Ta-Nehisi Coates to pen a new script for a "Black Superman story." Now the site has updated with more details on the project which is proving to be surprisingly controversial even to the woke scolds.

The latest article released on May 5 dives into more behind-the-scenes details of the project, including the process of hiring a director. Insiders state that talks with potential directors have already begun with the main caveat being that the director must be black. The report even goes out of its way to exclude the film's producer J.J. Abrams as a candidate purely because it would be "tone-deaf."

[...]

What's really tone-deaf is the message studios like this send claiming that stories about different races can only be told by different races. I suppose we can expect "separate but equal" movies for the future, especially since Warner Bros. seems determined to go down this new woke path.
After highlighting Twitter criticism of the idea, Kornick concluded: "It just goes to show that you can never please the woke crowd, so you should never even try. But Warner Bros. will clearly only learn that lesson if this movie fails to leap tall buildings in a single bound. Let's hope the Superman legacy doesn't crash and burn with it."
But if the idea of a black Superman was offensive to the MRC, how about a Superman who's not heterosexual? Hays called in his favorite right-wing ex-Superman to help him sling some hate at the idea of a bisexual Superman in an Oct. 12 post:
Take it from a real man of steel, this new bisexual Superman that has generated controversy in recent days is in no way brave or heroic, but conformist. The fact that DC Comics has decided to make a bisexual Superman shows that comic book creators aren't pushing the envelope but just hopping onto the general cultural "bandwagon."

That's former Superman Dean Cain's assessment of the latest update to the beloved caped crusader.

The new bisexual Superman, named Jon Kent, is actually the son of the original Superman, or Clark Kent's (Kal-El) son. The first issue involving the son of Superman showing off his bisexual preferences will hit store shelves on November 9 and is titled Superman: Son of Kal-El.

Of course, Cain, who played the comic book legend in the popular nineties TV show Lois & Clark: The New Adventures of Superman, was not impressed. In fact, he told the hosts of Fox News Channel's Fox and Friends: First that this bisexual Superman is lame and most definitely not a "bold and new direction" for the character, as the media hailed the comic.

"They said it's a bold new direction, I say they're bandwagoning," the 55-year-old actor and Hollywood conservative said on the FNC program.

Yeah, it's bandwagoning. For the last several years, practically every piece of Hollywood or entertainment media has promoted a non-heterosexual theme. Even DC Comics has broken this ground before, announcing that their current rendition of Batman's trusty sidekick Robin is bisexual as well.
Yes, Hays freaked out about that too (see below). And Cain is no "real man of steel" -- he's the actual conformist by insisting on viewing the franchise through his biased right-wing lens. If he didn't, he wouldn't be given any more of those Fox News hits that make up the bulk of what's left of his acting career these days.
Even worse, Superman's tagline is being altered, with "the American way" being switched to "a better tomorrow." Lydia Switzer had the outrage honors in an Oct. 20 post, centered on a CNN conversation between Brian Stelter and John Berman:
The conversation then turned to the new Superman, the son of original Superman Clark Kent. Jon Kent is bisexual and reportedly cares about the climate crisis and refugees. The Superman motto, "Truth, justice, and the American way," has also received a rewrite: "Truth, justice, and a better tomorrow."

"That's days of programming on Fox News," mocked Berman.
Switzer didn't dispute that characterization of Fox News' handling of the story -- which is, in fact, pretty much what happened. She continued:
According to Stelter, "the American way" as an ideal is ethno-nationalistic – defining America in terms of ethnicity. Even American values are racist. Of course he would prefer something "vague and simple" for the woke reimagining of a superhero "messiah figure."

Berman and Stelter then continued to demean those who dislike this change. "Are you against a better tomorrow?...Tonight at 9:00 P.M," Berman joked.

The message is clear: the leftist hosts on CNN couldn't be happier about the liberal takeover of culture, even at the expense of the values of one of America's most treasured heroes.
But as Wonkette pointed out, Superman's motto in the original comic did not mention "the American way," and even the late 1940s Superman film serial referenced only "Truth, Tolerance and Justice." The "American way" phrase didn't appear until the 1950s TV series.
Hays returned in an Oct. 21 post to parrot the whining of a DC Comics colorist -- not even a writer or story creator, just a colorist -- quitting in manufactured disgust:
Perhaps DC Comics' woke agenda will be its own kryptonite. One can only hope.

In the latest chapter of the comic book company's Marxist rehabilitation of Superman, a gentleman who actually works on the comic book illustrations for the Man of Steel is quitting the company. He can't take the woke BS anymore, in his own words saying the company is "ruining these characters."

Well, that's an understatement.

[...]

Anyways, one brave man decided he couldn't put up with this anymore. DC Comics Colorist Gabe Eltaeb said he will not be renewing his contract with DC Comics.

Eltaeb announced his decision during a YouTube livestream video with comic book creator Ethan Van Sciver, a former DC Comics employee. Eltaeb told his co-host and the audience, "I'm finishing out my contract with DC. I'm tired of this shit, I'm tired of them ruining these characters; they don't have a right to do this."

Geez, we're sorry to hear that. But we're also grateful that Eltaeb is open about this. It's nice to hear that some people who work in these pop culture labs aren't mindless proggies.

[...]

Eltaeb mentioned that the last straw was when they changed the motto. "What really pissed me off was saying truth, justice, and a better world. F–k that, it was Truth, Justice, and the American way," he said.

He explained that changing the line was a sign of disrespect and ingratitude towards great Americans, men like his grandfather who served in World War II. "My Grandpa almost died in World War II; we don't have a right to destroy shit that people died for to give us," he said. "It's a bunch of fucking nonsense."
Hays had to further enshrine Eltaeb's victimhood by transcribing his profane rant:
They call us bigots and racist and shit. I would ask them, find me in the fucking mainstream, not on the fringes, one fucking book, one fucking t-shirt, one movie that says that leftism is bad and conservatism is good, find it for me. They fucking won't. They're not letting people have a voice, they're the fucking bigots.
Yep, Eltaeb is definitely not a writer. But he is the kind of self-made victim that the MRC loves.

Hays then signed off: "Geez, clearly that's a man who's extremely frustrated with today's media landscape. Hopefully, there are more like him who will push back before they start cancelling things that are even more important to Americans than Superman."

Apparently, Eltaeb and Hays believe that right-wing self-victimhood is "the American way" too.

In a Jan. 27 post, Hays took unseemly glee over the series' allegedly lackluster sales:
Look, down in the sewer! It's a rat! It's a turd! No, it's woke Superman sales!

Perhaps not all is lost. The decline of woke comic book sales is a hopeful omen that the progressive utopia will not be achieved.

According to nerd culture outlet BoundingIntoComics.com, DC Comics' recent attempts to turn beloved character Superman into a progressive pansy who's too ashamed to fight for truth, justice and the American way (it's now "truth, justice and a better tomorrow"), are flatlining, at least according to 2021 sales comic books sales data. Woke Superman is not a hot ticket item.

ICv2.com, a comic book sales tracking website, revealed that the new flagship Superman series – in which Kal-el's bisexual son has taken up the mantle of the caped crusader – didn't even crack the top five comic book category for last November. It placed sixth.

But if that sounds like a subpar performance for a flagship comic based on the most popular superhero in history, the December sales for Son of Kal-El were so much worse. According to the website, that month's issue, "Superman: Son of Kal-El 2021 Annual #1," didn't even make it into the top 50 comic book range for December 21 in terms of units sold.

Just to put it into perspective, the new Superman doesn't even sell as well at Batgirl, Spawn and Moon Knight. Who the heck is Moon Knight?
That is selective reporting on Hays' part. The first five issues of the "Son of Kal-El" series -- including issue #5, in which said lack of heterosexuality was revealed -- got reprints last fall. Hays went on to rant:
Of course, let's remind ourselves why America's greatest superhero is quickly becoming irrelevant. Again, they made Kal-El, a hero Americans have loved for decades, step down for his millennial son. Yeah so now we're privy to stories about Superboy having to leave his avocado toast behind in order to save the day, or perhaps we'll have to suffer reading about him taking a "self-care" day, while the world burns.

Hey, no one should complain about that. Enough with the mental health stigma, guys!

They also made him bisexual. Within the first five editions of this new "flagship" DC series, the new Superman is dating a male reporter. Zip! Bang! Crash! What an exciting development!

[...]

Get the globalist BS outta here. The only thing gay Superman is fighting for is the deepest, darkest corner of the local used bookstore's free book bin.
By the way, Hays also didn't mention that Bounding Into Comics is a right-wing comics site (we didn't realize there was such a thing, yet we're not surprised) that is apparently a leader in what has been dubbed Comicsgate, a right-wing movement to shout down liberal themes in superhero comics. We assume Hays is fully on board with this censorship campaign.
Robin's not heteronormative!
The MRC already had a problem with DC Comics characters failing to be heteronormative, and when Batman's sidekick Robin ceased to be heterosexual, Hays whined about in in an Aug. 12 post:
Holy shoehorned sexual deviancy, Batman! The Dark Knight's greatest sidekick, the Boy Wonder himself, Robin has finally come out of the closet. What, really? Yep, in one of the latest Batman comics from DC, Robin is interested in men.

Oh, thank goodness for that.

According to nerd culture outlet Polygon, Tim Drake, AKA Robin, came out in the latest volume of DC's new anthology series, Batman: Urban Legends. This unique series takes detours from Batman's main story and focuses each volume on a specific character in the DC Batman universe. This latest volume apparently includes a story beat on the sex life of Bruce Wayne's most trusted crime-fighting friend.

[...]

Imagine how exciting the next installment concerning Robin's sex life will be. Does the date go well? Does Robin get cold feet? Is Bernard actually the Joker hiding an evil plot behind an innocuous dinner date? Oh yeah, the suspense is just killing us.

Joking aside. It's just the latest pop culture staple pandering to the ever-present, ever-complaining LGBTQ crowd. Maybe DC can stay relevant for a few more years, until the woke crowd demands that the Dark Knight himself becomes gay or some other sort of non-hetero sexuality.

Though, for real old school Batman fans, there's no need to get too angry about Robin being gay, bi or pansexual. At least this new queer Robin is not the Robin introduced in the 1940s. That Robin was Dick Grayson. Nor was it the second Robin, Jason Todd. Tim Drake is the third Robin iteration who was introduced in 1989. There's some consolation ... maybe?
If Hays thinks DC is "pandering" to a certain crowd for this character interpretation, Hays' homophobic meltdown -- declaring that if you're not a solid masculine heterosexual, you're committing "deviancy" -- is pandering too. It's also clear that Robin doesn't fit into Hays' imagined effeminate stereotypes of LGBT people. We know who we're rooting for in a fight between Hays and Robin.
Supergirl is woke!
The MRC loves to hate-watch "Supergirl," whining about its insistence on working the issues of people who aren't white heterosexuals into its superhero plots. It's a new TV season now, and with original hate-watcher Lindsay Kornick having moved on to spread her bias at Fox News, Karen Townsend was stuck hate-watching the show for a Sept. 21 post:
It must be white guilt week for network television shows as the fall season gets underway. Even in the world of superheroes, the white characters are taken to task for not being woke enough for their black counterparts. The struggle is real.

In the episode of The CW's Supergirl titled "Blind Spots," which aired on September 21, the newest superhero, Guardian, realizes it is time to step up and protect victims who "look like" her. Kelly Olsen (Azie Tesfai) is overwhelmed when a low-income housing development suffers from an explosion and collapses to the ground. Many residents suffer injuries and breathing difficulties from the dust and debris, including a young boy she has taken under her wing.

Kelly finds it difficult to get Supergirl and the others interested in her fight on behalf of the residents as they are hospitalized. The white city councilwoman who represents the housing project is also injured at the scene but she is able to use extortion to obtain a very expensive experimental drug to heal quickly. She threatens to pull the grants the hospital is in line to receive if she isn't given the drug. She's an evil character as she considers the building collapse to be a gift. Now she doesn't have to be bothered by low-income housing and she can provide high-tech companies with more office space when the area is rebuilt. She is gentrifying the neighborhood.

Kelly confronts her superhero friends and they quickly apologize for their lack of awareness of the plight of black Americans.

[...]

At the end of the show, there is a scene where Kelly is relaxing at home after her very long day fighting racial injustice. She is wearing a t-shirt with the text "Say her name" on the front. On the back is the word "Justice". This is something that Black Lives Matter activists say at rallies. On her coffee table are two books. One is Robin DiAngelo's "White Fragility" and the other is Ta-Nehisi Coates' "Between the World and Me".

Supergirl has a long liberal history. With each season the stories have become more so. The addition of Guardian, a black lesbian female superhero, is the latest character in charge of virtual-signaling the audience. She is coming on strong this season.
Being a right-wing "media researcher" who gets paid to hate-watch TV shows means never having to apologize for anything, apparently.
The latest from