MRC Not Helping Much With Newsmax's Victimhood Narrative
Topic: Media Research Center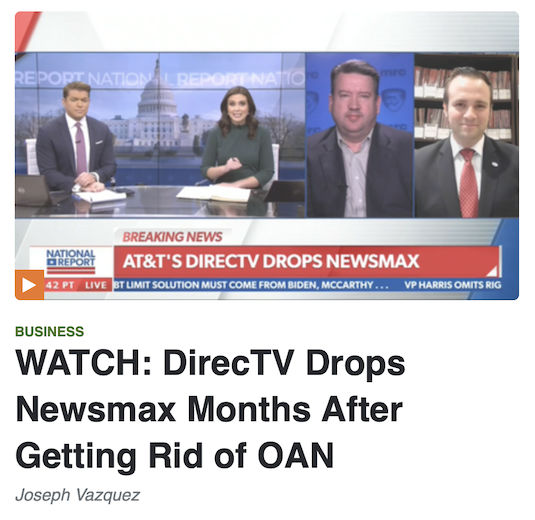 When DirecTV dropped right-wing channel One America News last year in the wake of defamation lawsuits the channel faced over false claims about election fraud it aired during the 2020 election, the Media Research Center did surprisingly little with it, offering only perfunctory victimhood over the cancellation and a bare minimum of coverage. The MRC has taken the same approach over DirecTV dropping Newsmax in a fee dispute. It did start out strong, however, in a Jan. 25 post by Joseph Vazquez touting how MRC employees went on Newsmax to push the channel's talking points:
There appears to be a trend going on at liberal video programming distributor DirecTV. The company dropped Newsmax from its channel lineup just months after it nixed One America News from the platform.

Newsmax reported Jan. 25 that DirecTV "cut" the outlet's "signal, immediately shutting the network off from more than 13 million customers of the satellite service, DirecTV Stream, and U-Verse." Newsmax said it was "seeking a fee with a 75% discount to its market value, and compared to fees currently paid by DirecTV, almost all 50 channels below Newsmax in ratings get higher fees."

Newsmax Media CEO Christopher Ruddy didn't mince words about the implications of what DirecTV did: "'This is a blatant act of political discrimination and censorship against Newsmax.'"

[...]

"Is this a new form of red-lining where Big Media is trying to keep conservatives out of the marketplace?" asked MRC Business Vice President Dan Schneider. "Newsmax is a highly-rated network that has proved its market value. Conservatives should be very concerned about what's going on."

On Wednesday morning, NewsBusters Executive Editor Tim Graham and Managing Editor Curtis Houck joined Newsmax's National Report to react to DirecTV's decision. Speaking to hosts Shaun Kraisman and Emma Rechenberg, Houck also said it was "very concerning" and noted that Newsmax is closer to CNN and MSNBC in the ratings than the two far-left networks are to the Fox News Channel.

For his part, Graham called out the fact that, while liberals object to Newsmax being allowed on TV packages, Americans haven't had a choice as to whether their tax dollars go to fund far-left news outlets in NPR and PBS.
Vazquez noted the lawsuit OAN failed against DirecTV over getting dropped, but he didn't note that OAN lost a key ruling in the lawsuit just a couple weeks earlier.
Vazquez peddled more pro-Newsmax talking points in a Jan. 27 post:
Even a liberal media outlet raised questions about DirecTV's standard of fairness in how it's treating Newsmax in comparison to the leftist channels distributed on its platform.

Newsweek's Jan. 26 headline didn't beat around the bush: "Newsmax Ratings Compared to Vice Raises Questions About DirecTV Fairness." Newsmax reported after having its signal cut that it was "seeking a fee with a 75% discount to its market value, and compared to fees currently paid by DirecTV, almost all 50 channels below Newsmax in ratings get higher fees."

After propping up DirecTV's excuse that it didn't give Newsmax a "carriage fee" due to supposedly low ratings, noted Newsmax's point that the leftist "Vice TV receives full carriage and license fees from DirecTV, despite having an audience of [only] 60,000, according to USTVDB figures."
Actually, Newsweek has moved conservative in recent years, meaning that Vazquez's description of the operation as "liberal' is inaccurate. And as we've noted, Vice is included in a package of other channels by its owner, A&E Networks, and DirecTV pays one fee to get all of that provider's channels. Further, Vazquez failed to report in either of these posts that DirecTV replaced Newsmax with another right-wing channel, The First, which means any argument about viewpoint censorship is moot.
Jeffrey Lord seved up his own right-wing victimhood spin in his Jan. 28 column:
There is nothing really new here. Whether it is barring some conservative speaker from speaking on a college campus or de-platforming an entire conservative TV channel or demanding that the late Rush Limbaugh, Sean Hannity or any other talk radio or TV host be yanked off the air, the objective is always the same: in the name of democracy, shut down free speech, the central pillar of any democracy.
In contrast to Vazquez, Lord gets credit for not only noting that DirecTV repaced Newsmax with another right-wing channel but also disclosing that "I am a NewsMax contributor."
The MRC then went silent for a month. But Vazquez resurface with a March 2 post to spread a conspiracy theory:
It appears that DirecTV dubiously dropping Newsmax and One America News within months of each other may be connected to the lawsuit by Dominion Voting Systems against the two news outlets.

AT&T, which holds the majority ownership stake in DirecTV (70 percent), is overseen by its liberal Board Chairman William Kennard, who's been accused of directly interfering in the decision by DirecTV to drop OAN April 2022. This development happened just under a year after it was reported that Dominion Voting Systems, the voting tech company that was the subject of controversy during the 2020 election, had launched billion-dollar lawsuits against both OAN and Newsmax in 2021 for spreading what NPR called "misinformation" about "rigging the ballots." DirecTV has since deplatformed both outlets.

Kennard is one of the three executive board members of Staple Street Capital, the middle market private equity firm that — along with the Dominion Voting Systems management team — acquired Dominion Voting Systems in 2018. Kennard's executive role at Staple Street Capital — of which he reportedly joined in 2014 — involved "principally focus[ing] on the communications and media sectors and other regulated industries." Kennard also joined AT&T's board in 2014, and was named AT&T chairman just three days after the tumultuous 2020 election.

In other words, the chairman of the company that owns the programming distributor that dropped OAN and Newsmax, is also an executive board member of the firm that owns the voting company that's suing both outlets.
Note how Vazquez tried to undercut Dominion's allegations -- which are, in fact, valid enough that its lawsuit against Newsmax is continuing -- by dishonestly framing them as "what NPR called 'misinformation.'" He also didn't metion that Newsmax retracted false claims made on the channel about a Dominion official.
Vazquez didn't explain why a "news" outlet that has demonstrably forwarded false information so eghregious that it's being sued over them is solehow entitied to a permanent slot on DirecTV to keep spreading falsehoods.
Meanwhile, the MRC's "news" division, CNSNews.com, has barely noted the situation, publishing only columns by Craig Shirley and Bill Donohue (both of which were also published by Newsmax) decrying the situation and devoting no "news" articles whatsoever to the story.
Posted by Terry K. at 8:49 PM EDT