MRC Still Eager To Call Rep. Omar Anti-Semitic, Though It Only Reluctantly Acknowledged Kanye West Is One
Topic: Media Research Center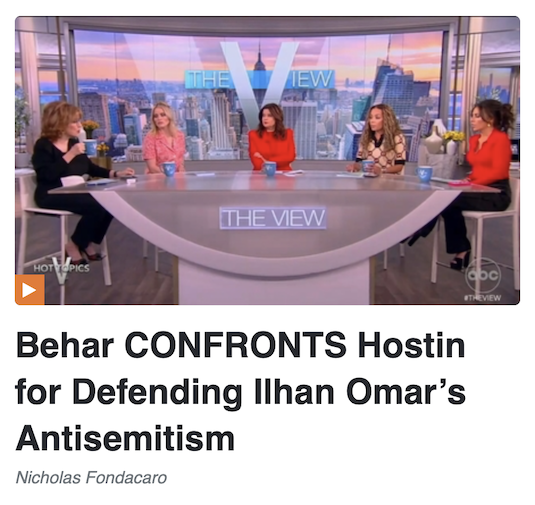 We've documented how the Media Research Center eagerly tarred Democratic Rep. Ilhan Omar as "anti-Semitic" over her criticism of Israel (and not explaining how the two are equal), even though it was highly reluctant to label Kayne West anti-Semitic over his direct attacks on Jews. As new Republican House speaker Kevin McCarthy moved toward kicking Omar off House committees as revenge for Democrats denying committee seats to extremists like Marjorie Taylor Greene, the MRC hauled the label out again. A Jan. 29 post by Mark Finkelstein complained that MSNBC's Mark Finkelstein referenced "the danger that Trump poses to this country" during a visit to Auschwitz and brought up how Trump leans into white supremacism with Doug Emhoff, husband of Vice President Kamala Harris, which Finkelstein countered with Omar whataboutism:
In decrying anti-semitism in the US, the only example Emhoff gave was of the tiki-torch-carrying white nationalists at Charlottesville. And—in a clear shot at Trump—he decried "so-called leaders who see this stuff, hear this stuff, and they know better. And they don't say a word. They don't say a word because some lack courage."

Not a peep from Emhoff about black anti-semitism —something that is by no means limited to the likes of Kanye West or Kyrie Irving. This 2022 analysis of black anti-semitism in America cites a study indicating that 36% of black Americans hold "strong anti-semitic beliefs" a percentage that rises ro 42% among black liberals.

And then there is Arab-American anti-semitism, as exemplified by Squad members Ilhan Omar and Rashida Tlaib. Again, not a word on that from the Second Gentleman.
Finkelstein didn't mention how his employer had trouble criticizing the anti-Semitism of West and Irving, nor did he acknowledge that Trump does, in fact, use anti-Semitic tropes.
The same day, Kevin Tober cheered that in "random act of journalism," Omar was asked about her "anti-Semitic comments" in an appearance on CNN:
Finally, Bash turned to Congresswoman Ilhan Omar and went through the comprehensive list of anti-Semetic comments she's made over the years which are responsible for her pending removal from the House Foreign Affairs Committee.

"I'm told that Republicans presented a list in their meeting, in their private meeting this past week, included in that list, is that you said that Israel hypnotized the world. You said that Israel is an apartheid regime," Bash noted.

Continuing to list her disgusting comments, Bash recalled how Omar said "politicians with pro-Israel stances were all about the benjamins, which you very notably apologized for, that you support the BDS movement, which a lot of people think is rooted in anti-semitism, compared the U.S. and Israel to Hamas and the Taliban. I want to give you a chance to respond to all of that, which they say is a clear pattern."
Tober didn't explain how Omar's criticism of Israel equates to anti-Semitism.Alex Christy played the same evidence-free equivocation in a Feb. 2 post:
The Thursday edition of Andrea Mitchell Reports on MSNBC was in full spin mode as Republicans prepared to kick Rep. Ilhan Omar off the Foreign Affairs Committee for her history of anti-Semitic statements, but according to Mitchell it was simply "criticism of Israel." Meanwhile, Washington correspondent Yamiche Alcindor alleged that Republican hypocrisy is the real story.

Mitchell kicked off her show by explaining, "This breaking news, now you've just watched it on the House floor. A heated debate is under way leading up to Republicans planning to hold that vote this hour to remove Democratic Congresswoman Ilhan Omar from the Foreign Affairs Committee over her frequent criticism of Israel. She later apologized for some of those-- her comments but stood by others. Omar is a Somali refugee and one of the first Muslim Americans to serve in Congress."

What is the criticism behind allegations of hypnotism, dual loyalty, and financial puppeteering? And what does being a Muslim and Somali refugee have to do with anything?

Still, a few minutes into the segment, Mitchell returned to the latter idea and, ignoring that Adam Schiff and Eric Swalwell are neither Muslims nor immigrants from Somalia, asked Alcindor, "So, Yamiche, Congresswoman Omar is saying that she's being targeted because she's an immigrant, because she was Somali-born. She showed that picture of herself as a 9-year-old refugee."
Instead of explaining why he believes any criticism of Israel is anti-Semitic, Christy complained that Alcindor accurately observed that Trump "has said all sorts of things that people see as anti-Semitic," then tried to play whataboutism with that by linking to a old Fox News article noting that Barack Obama appeared in a picture 20 years ago with Louis Farrakhan and huffing, "Alcindor should stay on topic because she probably does not want to take that argument to its logical conclusion." Yes, whataboutism would be a logical conclusion for Christy.
The next day, the MRC made Omar its designated enemy of the day. Tober attacked an MSNBC segment in who "went into an anti-Semitic and anti-Israel tirade accusing the state of Israel of being a terrorist state and turning the West Bank into an apartheid state," which he claimed "sounded like it was written by anti-Semites like Ilhan Omar." Later that day, Christy returned to whine that NBC's Seth Meyers called out McCarthy's pettiness in kicking Omar off committees and calling it right-wing cancel culture:
After playing clips of Rep. Marjorie Taylor Greene talking about Critical Race Theory, Meyers transitioned to a new topic, "So that's who the GOP thinks should be able to serve on committees. Meanwhile, today they voted to kick Minnesota Congresswoman Ilhan Omar, a refugee and one of the only two Muslim women in the House, off the Foreign Affairs Committee for the simple reason that they don't like her or her point of view."

[...]

As for Omar, simply applying the same standard to Omar that Democrats applied to Greene is not "cancel culture."
Christy did manage to refrain from calling Omar "anti-Semitic."
A Feb. 3 post by Finkelstein raged at Scarborugh for daring to suggest that Omar's criticism of Israel may not be anti-Semitic:
Today, Morning Joe 's virtue-signaling spotlight turned to the ouster, by a vote of Republicans, of far-left Representative Ilhan Omar from her seat on the House Foreign Affairs committee.

Scarborough spoke of some of Omar's past comments having been "considered" to be antisemitic.

"Considered?" As a sitting Member of Congress, Omar said that support of Israel by US politicians was "all about the Benjamins."

When Omar was subsequently asked who she thought was paying American politicians to be pro-Israel, she replied: "AIPAC"—the American Israel Public Affairs Committee.

Although Omar subsequently mouthed an apology, as recently as this past weekend she claimed that when she made the statement, she was unaware of the "Jews and money" trope. Riiiiight.
Nicholas Fondacaro cheered that "The View" co-host Sunny Hostin (whom he brands as "racist" because he doesn't understand how metaphors work) got a verbal beatdown from the other co-hosts for defending Omar:
With co-host Whoopi Goldberg taking here usual Friday off, most of The View cast seemed to feel empowered to confront racist Sunny Hostin after she tried to defend Ilhan Omar, the antisemitism Minnesota Democratic Congresswoman who, after spewing hate for years, was punished on Thursday for when she was stripped of her position on the House Foreign Affairs Committee. Hostin was caught off guard, scrambling to take swipes as co-host Joy Behar led Sara Haines and Alyssa Farah Griffin in the pile-on.
In the last of five posts on Feb. 3, Tim Graham had a right-wing anti-Omar author on his podcast to help him bash her:
As the House voted to remove far-left Rep. Ilhan Omar from the House Foreign Affairs Committee, the bluest media (like Morning Joe) said they would stand proudly with Omar and against GOP "hypocrisy." Scarborough would only say Omar's antisemitic rantings were "considered antisemitic," and hey, she apologized. CNN put on Alexandria Ocasio-Cortez to suggest the GOP were committing "stochastic terrorism" and Omar was being punished for being a Woman of Color.

Benjamin Weingarten joins the show to explain the whole scene. He's Deputy Editor at RealClearInvestigations, a Senior Contributor to The Federalist, and author of American Ingrate: Ilhan Omar and the Progressive-Islamist Takeover of the Democratic Party. We discussed Omar's dishonest claim on CNN on Sunday that she had no idea that her mockery of Americans being bought off by Jewish money was an antisemitic trope, and how Omar had to unruffle feathers in Minneapolis about her rants before she ever moved to Washington.

Weingarten credits Republicans for laying out in a resolution all of the reasons Omar deserves to be removed from a committee on American foreign policy -- starting with her tweet suggesting America has committed "unthinkable atrocities" just like terrorist groups Hamas and the Taliban. In a speech last year, he said our media "smears those who disagree with it as not only deplorable, and irredeemable, but terroristic."
Jeffrey Lord used his Feb. 4 column to cheer Omar being removed "because of her blatant and repeated anti-Semitism," going to use her to smear Democrats as a whole:
But the bottom line is that as created and as it has evolved the Democrat Party [sic] of today exists in a culture of race and racism. Everything is about race.

Which can easily explain why this latest episode with The Squad has happened in the first place. Congresswoman Omar is not viewed by The Squad as what, in fact, she is: an American. And a Member of Congress. Neither of which terms have any relationship to skin color. No. The Squad demands that she be judged on her skin color.

[...]

Where is the liberal media when it comes to educating Americans that the Democratic Party of staunch support for Jews and the Jewish state has now dissolved into a sewer of anti-Semitism?
Says the guy who gave a pass to Trump leaning into anti-Semitism because he pushed right-wing pro-Israel talking points.
UPDATE: In contrast to its lashing out at Hostin, the MRC was completely silent when podcaster Joe Rogan defended Omar by insisting her "all about the Benjamins" remark was "not an anti-Semitic statement" and that "she's just talking about money." Then he arguably went further than Omar did, claiming that "The idea that Jewish people are not into money is ridiculous. That's like saying Italians aren't into pizza. It's f—ing stupid. It's f—ing stupid." But then, the MRC spent a good chunk of last year defending Rogan after he got called out for spreading COVID misinformation, so his anti-Semitic leanings get the same pass from the MRC it gave to Trump.
Posted by Terry K. at 9:21 PM EDT
Updated: Thursday, March 16, 2023 11:47 AM EDT