MRC Melts Down Over Reimagining Velma As Neither White Nor Heterosexual
Topic: Media Research Center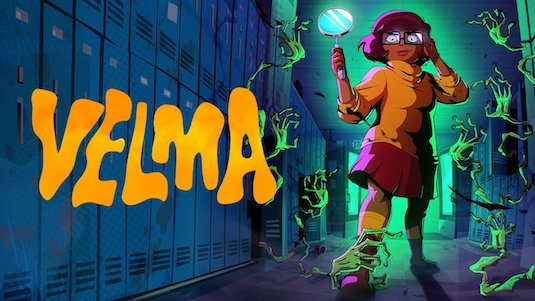 The Media Research Center doesn't like LGBT people, and they really don't like fictional LGBT people. So when new projects portray Velma of the "Scooby-Doo" series as openly non-heterosexual, the MRC had a new reason to rage. Joseph Vazquez huffed in an Oct, 8 post:
Google showed users how much it supports Warner Bros. taking the classic Scooby-Doo TV series and turning one of its core characters into a rainbow mafia symbol of the woke left.

The New York Times slobbered in an Oct. 5 story that the script of a new Scooby Doo flick confirms "that Velma Dinkley, the cerebral mystery solver with the ever-present orange turtleneck, is canonically a lesbian."

Velma's appearance in "Trick or Treat Scooby-Doo," according to The Times drivel, "was the first time the long-running franchise openly acknowledged her sexuality, thrilling some fans who were disappointed that it took so long."

Apparently Google was "thrilled" too. When users search Google for Velma, an avalanche of pride flags plasters their computer screens.

[...]

The Google-Velma story is the latest chapter in Big Tech's ongoing campaign to promote the leftist LGTBQ lobby.
Yes, Vazquez thinks any media outlet that doesn't spew the same kind of hate he does at LGBTQ people is "drivel."
When Mindy Kaling's more adult-oriented series reimaging Velma as a different ethnicity (and, yes, not heterosexual) came out in January, Elise Ehrhard was there to hate-watch it in a Jan. 16 post:
Every year now, Hollywood takes beloved intellectual properties, "reimagines" them through a woke lens, and sucks out any charm, joy or winsomeness from the original franchise.

The latest show to pull this stunt is HBO Max's new animated series Velma, the brainchild of overrated left-wing "comedian" Mindy Kaling. The first two episodes premiered on Thursday, January 12.

Parasitically feeding off nostalgia for the cherished Scooby Doo characters, Velma is a nasty, anti-white, anti-man, anti-human mess that needs to be erased from the brain after watching it.

The creators thought they were being "original" by changing the racial and ethnic backgrounds of the main characters and then proceeded to turn all those characters into awful, unlikable people.

Velma is now South Asian, but more importantly, the new Velma is mean. Shaggy is black and pathetically simps for vicious Velma's unrequited attention. Oh, and his name isn't even Shaggy anymore. It's Norville. Daphne is East Asian and a drug dealer.

Fred is still white and, of course, he is portrayed as a dumb man-child. Velma even humiliates him in a courtroom because he cannot cut his food with utensils.

[...]

Mindy Kaling, get help.

Of course, Velma and Daphne share a lesbian kiss in the second episode. The only two things most shows know how to do nowadays is hate on whitey and make characters gay.
Ehrhard continued to hate-watch the show, and a Jan. 20 post took glee in how otherswere criticizing the show and whining about a new episode:
HBO Max's Velma is currently one of the most hated shows in television history, earning some of the lowest audience scores ever on Rotten Tomatoes< (six percent audience score).

Last week, its first two premiere episodes were an orgy of nastiness and hate, so much so that it was impossible to imagine the show could go any lower.

But with the release of episodes three and four Thursday night, it reached a new nadir. Episode four, "Velma Makes a List," specifically hit rock bottom.

In this new episode, the town's middle-aged sheriff and mayor asks Velma to rank the "top five" hottest girls at her high school in order to protect them from a serial killer. The killer is targeting pretty high school females.

Since attractive girls are getting killed, the older men decide Velma could help by teaching the "hot girls" how to look ugly.

Velma fails in her mission and the teens, who are around 15 years old, remain beautiful. The girls consider her attempts to make them homely and frumpy a form of "slut-shaming." Apparently, the writers are very confused and think attractiveness and sluttiness are somehow synonymous.

When Velma reveals the girls, presuming they followed her advice, the mayor is clearly turned on:
Meanwhile, actual non-ideologues pointed out that the series was being review-bombed by haters and that it was also centered on apparent dislike for Kahling, whose Velma was refashioned as the kind of character she typically plays, and of South Asian characters in general.
Ehrhard was paid to hate-watch every single episode, and she cranked out yet another fit of bile in a Feb. 10 post:
Season one of HBO's Max's animated train wreck Velma wrapped up last night and never redeemed itself after its vile opening episodes.

The show premiered in January and quickly made headlines as one of the most hated shows in television history, insulting audiences with bad writing and disrespect for the original cartoon.

After watching all ten mean-spirited episodes, I can only hope creator and actress Mindy Kaling never helms an animated series again.
In her list of five reasons she hated the series, it's telling that Ehrhard put "hatred of white people" at the top of her llist.
Meanwhile, HBO Max apparently saw the attacks for their specious and manufactured nature and renewed the show for a second season -- which, of course, caused Ehrhard's head to explode in a Feb. 15 post:
One of the most hated shows in television history is somehow getting a second season.

On Monday, the Chairman and CEO of Warner Brothers Television Group, Channing Dungey, confirmed to Deadline that HBO Max's Velma is being renewed.

HBO Max is owned by Warner Brothers Discovery.

The decision to follow-through with the second season, despite near universal rejection of the woke cartoon by viewers, is mind-boggling.

Ehrhard did surprisingly admit that hate-watchers targeted the show:

Some of the initial interest in the cartoon may have come from viewers hate-watching the series to see if it was truly as bad as reported. Numerous popular critics took to YouTube to roast it after its premiere.

It's doubtful such hate-watchers will tune in for a second opening, however. One was more than enough.
Ehrhard concluded by whining that "the company is determined to promote a woke agenda at any cost to its bottom line, much like its competitors, such as Disney+." She didn't explain why people who aren't white and heterosexual must be hated as "woke," whatever that means.
Posted by Terry K. at 9:45 PM EST