MRC's Maxson Spreads Even More Anti-Vaxx Fearmongering, Misinformation
Topic: Media Research Center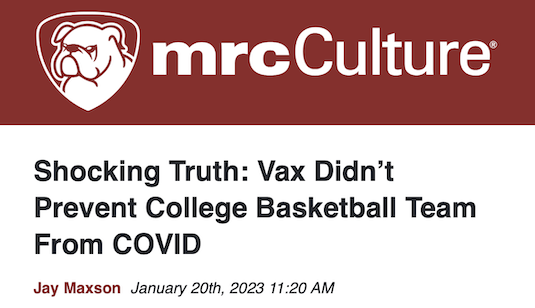 Jay Maxson is the Media Research Center's resident anti-vaxxer, spreading fearmongering and misinformation (if not outright lies) to scare his (or her) fellow right-wingers against getting COVID vaccines. And despite having been proven to be a liar and misleader, the MRC is still giving Maxson an unchallenged platform to do more of the same, and he pushed one of those falsehoods in a Jan. 5 post:
The mere mention of young, vaccinated athletes possibly suffering serious health problems as the result of COVID shots is strictly verboten by left-stream media at the mercy of Big Pharma. Mediaite slapped down Charlie Kirk this week for raising the idea that Damar Hamlin's cardiac arrest could possibly be related to vaccination.

The Blaze "fire starter" Jason Whitlock insists, however, the subject should be fair game for discussion, in light of Monday's incident when the Buffalo Bills' player nearly died after tackling an opponent.

Kirk suggested that a vaccine might be responsible for Hamlin's injury. "This is a tragic and all too familiar sight right now: Athletes dropping suddenly," he said on Twitter.
Maxson then got mad that "Mediaite's Michael Luciano delivered the Left's obligatory verbal flogging of Kirk for his repeated attempts "to cast doubt on the effectiveness and safety of Covid-19 vaccines." But he offered no proof that Kirk and Whitlock are right and the critics are wrong.
A Jan. 18 post by Maxson went on to portray people indoctrinated in false anti-vaxx extremism who faced the consequences for believing such liees as victims of the evil "COVID Cartel":
The "COVID Cartel" has censored and canceled American skeptics of the vaccine for nearly three years, but last night several of them told their horror stories on Jason Whitlock's Fearless special. Silenced no more, many of these victims of Big Government, Big Pharma, Big Tech and Big Media revealed shocking and heartbreaking realities that should never happen in this country.

U.S. Sen. Ron Johnson (Rep-Wis.) called the cover-up of harms caused by the vaccine "corrupt" and "maniacal." He said the pandemic provided "a golden opportunity to create a climate of fear in order to gain power and control of the citizens." Along with a persistent state of denial about the collateral damage of the health of many Americans.

In an op-ed last year, Sen. Johnson said the timing of scapegoating the unvaccinated for the ongoing pandemic was no coincidence.

The most poignant portion of the 3-hour-plus Fearless special was the story of Green Bay Packers' Hall of Famer Ken Ruettgers (in photo), his wife Sheryl and her support group for women suffering ill effects caused by vaccinations. She thought the vaccine was safe, but a day after her shot in 2021, she experienced tingling of her lymph nodes, swelling and burning on her scalp. A baffled neurologist seriously suggested she take the booster shot and just see what happens.
Despite the fact that actual medical experts -- as opposed to the right-wing politicians and sports guys Maxson is citing -- say that such reactions are rare and not a reason to not take the vaccine, went on to cite Ken Mauer Jr, an " NBA official who was fired for refusing to vaccinate, also appeared on Fearless. He said people are being hurt and losing their lives because of adverse reactions, and said he stood on the principle of freedom. A Christian, Mauer says he's proud to be part of the opposition to the vaccination." Of course, being Christian has nothing whatsoever to do with a desire to put one's health at risk.
Maxson ranted in a Jan. 20 post that several members of a college basketball team coming down with COVID was somehow evidence that the vaccines are worthless:
So the COVID vaccines aren't really fool-proof? Get outa here! Maybe there's something the deniers know that the "experts" don't know. Take Northwestern University's men's basketball program; its scheduled game against Iowa Wednesday was postponed, and Saturday's upcoming game against Wisconsin has been cancelled due to a COVID outbreak on the Wildcats team.

Only six healthy players were available for the Wildcats' next game against Wisconsin, which announced Thursday night the game "will not be played due to COVID-19 health and safety protocols within the Northwestern program."

This wasn't supposed to happen. COVID, thanks to the incredibly safe and effective vaccines and booster shots, was a thing of the past. Or so we were told by the federal government and censorship-happy Big Tech.
Maxson is being deliberately obtuse and misleading. Continued mutation of COVID means that new variants more easily work around vaccine protection, and protection wears off over time, meaning that people need to get boosters to maintain maximum protection. But even if a vaccine does not completely protect from catching COVID, it does reduce symptoms and the chances of hospitalization and death.But Maxson doesn't care about facts; he (or she) just wants to fearmonger and lie:
Meanwhile, media lemmings across the country who tore unvaccinated athletes apart for not getting jabbed with the incredible shots have egg dripping down their faces. And that's because vaccines are no more reliable now than they were in the past.

Nearly 700 million doses of vaccinations have been given in the U.S., and just three days ago the CDC was crowing about how safe and effective they are. Problem solved. Not. The CDC's number is a statistic. The Northwestern COVID outbreak is personal for each of the players who were unsuccessfully vaccinated.
In a Feb. 24 post, Maxson touted an attempt by an anti-vaxxer group (not that it was accurately identified as such) attacking the NFL over vaccine mandates:
COVID vaccinations are safe and effective, no problem mon. Or so we've been told ad nauseum by government officials and media lemmings. The NFL has been urged by the Health Freedom Defense Fund (HFDF) to suspend vaccination mandates and to screen for heart issues over serious vaccine side effects. Screening is urgently needed, the Fund said in a letter to the NFL, because vaccines can cause myocarditis, especially among young males.

HFDF is a nonprofit seeking to rectify health injustices by advocating for freedom, choice and bodily autonomy. The Fund's letter to the National Football League Players Assocation cited eight studies on the subject matter and the U.S. Food and Drug Administration's warning labels on Pfizer and Moderna vaccines that the drugs come with the risk of pericarditis.

During previous seasons, the NFL heavily pressured all players to be vaccinated. Those few who refused became pariahs. Leslie Manookian , president and founder of the HFDF, told the players union head, DeMaurice Smith, "Safety signals illustrate that the near and long-term health outcomes of the COVID-19 vaccines remain uncertain."
Maxson went on to quote Manookian uncritically blame vaccines for the on-field collapse of NFL player Damar Hamlin, despite no actual evidence to that effect. Then he found an anti-vaxxer doctor to spread his propaganda:
One can almost hear the screeching lefties on television condemning this letter that flies in the face of their nonstop "safe and effective" campaign. Nevertheless, Dr. Anish Koka, a Philadelphia cardiologist, said it's not "unreasonable for the NFL Players Association to at least consider the fact that young healthy men now are such low risk of COVID, do you want to take the risk of myocarditis related to the vaccine?"

Dr. Koka is skeptical about screening all the NFL players because it could affect the free agent market. This argument is thin, however, because practically all NFL players have been vaccinated, free agents included.

[...]

The HFDF recommendation deserves a response from and honest consideration by the NFLPA. It should not be dismissed out of hand by shrill media lapdogs for the government's "safe and effective" mantra.
Maxson is a lapdog for people who put misinformation before facts. Doesn't anyone at the MRC bother to fact-check Maxson's work before publishing it?
Posted by Terry K. at 11:16 PM EST
Updated: Monday, May 8, 2023 12:48 PM EDT