MRC Sticks To Narratives, Censors The Truth About Twitter Hearing
Topic: Media Research Center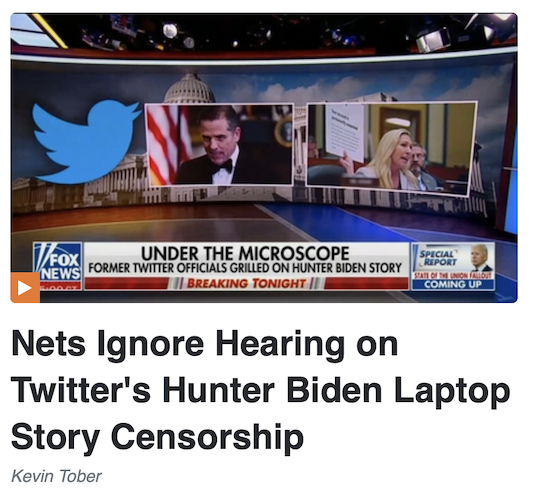 House Republicans gave the Musk-fluffers at the Media Research Center the hearing they wanted to attack the pre-Musk management of Twitter over purported censorship. It didn't quite go the way they planned -- but you wouldn't know that from the MRC's coverage of it. Renata Kiss started off the biased coerage by cherry-picking a statement by Republican Rep. to declared that he "own[ed] a former Twitter official:
Congressman Jim Jordan (R-OH) said the quiet part out loud at Wednesday's House Oversight Committee hearing on The Twitter Files.

The House Committee on Oversight and Accountability held its first Twitter Files hearing Wednesday morning. The hearing featured testimony from former Twitter Head of Legal, Policy, and Trust Vijaya Gadde, former Twitter special counsel and ex-FBI agent James Baker and former Twitter Trust and Safety chief Yoel Roth. Each apparently worked with the FBI to censor the Twitter Files.

"I think you guys got played," Jordan said after Roth claimed it wasn't his personal decision to take down the story. Jordan called him out on the alleged narrative and explained that it appears the FBI played Twitter and the company willingly fell in line. "I think you guys wanted it to be taken down. I think you guys got played by the FBI, and that's the scary part."

Jordan added that the "real takeaway" is that five days after Twitter took down the Hunter Biden story, "51 former intelligence officials send a letter and say the Hunter Biden story has all the classic earmarks of a Russian information operation."

He further emphasized that the FBI apparently deceived Twitter. "The information operation was run on you guys and then by extension run on the American people. And that's the concern," Jordan said.
Kiss censored the fact that Roth told Jordan that it was others in the tech industry -- not law enforcement -- who raised warnings about possible misinformation about Hunter Biden, which corroborates an FBI agent who said the same thing.
When CNN pointed out that the FBI no actual role, Alex Christy lashed out in a Feb. 8 post:
House Republicans held their first hearings into Twitter's handling of the New York Post's 2020 story on Hunter Biden's laptop on Wednesday and CNN's Inside Politics didn't see what the big deal was. Host John King sarcastically commented that it "sounds quite ominous, right?" while correspondent Donie O'Sullivan claimed "we haven't seen the smoking gun of alleged collusion between the FBI and Big Tech."

After introducing the hearing, King played a clip of Oversight Committee Chairman James Comer at the hearing declaring, "Immediately following the story's publication, America witnessed a coordinated campaign by social media companies, mainstream news, and the intelligence communities to suppress and delegitimize the existence of Hunter Biden's laptop and its contents. That morning, Twitter and other social media companies took extraordinary steps to suppress that story."
Christy went into spin mode, insisting that "While the FBI's fingerprints may not be directly on this story, this is real life and smoking guns are not always readily available" and hyped how "over 50 'experts' claimed the Hunter laptop story was disinformation." in fact, as Kiss' earlier article more accurately stated, they said it had "all the classic earmarks of a Russian information operation" -- a significant difference, and not an unreasonable conclusion especially given that the story was being pushed by pro-Trump outlets like the New York Post.
Gabriela Pariseau cherry-picked another Republican's questioning: "No one expected former Twitter special counsel and ex-FBI agent Jim baker to have all the answers, but when Rep. Byron Donalds (R-FL) questioned him on Twitter and "in-kind contributions," it appeared Baker had none of the answers" -- while in reality, Donalds was asking irrelevant questions about whether Twitter was going to "quantify the amount of in-kind contributions associated with taking down the New York Post story." Pariseau also rehashed the MRC's pet conspiracy theory: "A 2020 MRC poll found that 45 percent of President Joe Biden's voters weren't fully aware of the New York Post story precisely because the media and Big Tech whitewashed it. Had Americans been fully aware of the scandal, 9.4 percent of Biden voters would have abandoned him, flipping all six of the swing states he won to former President Donald Trump, giving Trump a victorious 311 electoral votes." As we've documented, that poll was conducted by The Polling Company, which was founded by Trump adviser Kellyanne Conway, which raises questions about its accuracy and fairness.
Kevin Tober served up the usual complaint that non-right-wing outlets weren't advancing right-wing narratives -- and that fox News was -- in his own Feb. 8 post:
On Wednesday, the House Oversight Committee grilled former Twitter executives over their censorship and suppression of the Hunter Biden laptop story, with two of the executives even admitting it was a mistake to have suppressed the story and suspended the New York Post for publishing and posting it on their platform. Predictably the three broadcast networks ignored the story.

Instead of reporting on it, the three broadcast networks spent time covering local weather reports (ABC), and a school bus crashing into a daycare center in Canada (CBS) & (NBC).

Meanwhile, Fox News Channel's Special Report had the story and led with it at the top of the broadcast.
Tober went on to huff, "This is an important story with national political implications." But neither Fox News (at least in the report excerpt provided) nor the MRC reported on the biggest news to come out of the hearing: As president, Donald Trump pressured Twitter to delete a tweet by model Chrissy Teigen that called him a "pussy ass bitch."
As more people mocked the hearing for the partisan showboating that it was, the MRC got more incensed. Mark Finkelsteain whined in a Feb. 9 post:
​​​​This was gaslighting at its liberal-media worst. Trashing the Twitter hearing held yesterday by the GOP-led House Oversight committee, Morning Joe would have you believe that far from seeking to suppress Republicans and help Democrats, Twitter— 98.47% of whose donations went to Democrats in 2020 — actually bent over backward to help Donald Trump!

The most egregious example of Twitter's pro-Dem bias was its suppression, in the days leading up to the 2020 election, of the New York Post's reporting on Hunter Biden's laptop. But the panel literally laughed that off.
When Scarborough pointed out that Twitter never stopped Trump from spreading the lie that he murdered an intern when he served as a congressman, Finkelstein huffed that Section 230, which the MRC is trying to get rid of, "prevents him from suing Twitter for having published Trump's accusatory tweets. It doesn't stop Scarborough from suing Trump."
Alex Christy served up his own whine about people noting inconvenient Twitter-related facts:
Podcaster and NYU marketing Professor Scott Galloway joined Thursday's CNN This Morning where he launched into a wild denunciation of the GOP-led hearing on Twitter, the FBI, and the Hunter Biden laptop story. Galloway labeled Republicans as "a conspiracy of dunces" and "idiots" while laughably claiming the fact that Twitter's previous leadership was full of progressives is evidence they were biased in favor of Republicans.

[...]

Galloway then claimed that the First Amendment doesn't apply to Twitter and "the only real targeted assertion that they really need to defend was that they coordinated with the FBI. They did not coordinate with the FBI."

Even if that is true, it ignores the indirect pressure they put on Twitter prior to the New York Post's Hunter Biden laptop story and other installments of the Twitter Files were the FBI did directly pressure Twitter to remove tweets.

Not quite done distributing hot takes, Galloway next claimed Twitter's was actually biased in favor of conservatives:

If there's any censoring going on, if there's any bias, it's towards letting the president organize an insurrection on their platform and that they weren't being as diligent as they should have been around censoring certain content. There is a certain both side-ism. I do believe the Twitter executives probably lean progressive and as a result they engage in both side-ism and let content and people on the right get away with things they wouldn't let people on the left, but it's a private company. They get to decide this.

Really? Twitters suspended The Babylon Bee for a joke about Rachel Levine and if Twitter was biased in favor of conservatives, then why did Galloway ask if Elon Musk's commitment to free speech was because he wanted to "kill a puppy."
Christy seemed oblivious to the fact that just a half-hour earlier, his colleague Finkelstein was defending Trump spreading lies that Scarborough committed murder as free speech.
Curtis Houck up a non-coverage update, noting that while ABC and NBC morning shows ignored the story, "CBS Mornings gave viewers two minutes and 35 seconds on the hearing that, while it barely scratched the surface, raised the bar" but also complained that it excerpted far-right Rep. Lauren Boebert's wacky rant: "A sitting president was banned. Who the hell do you think that you are?"
The MRC finally referenced the hearing discussing Trump's attempt at censorship in a Feb. 10 post by Christy, when Seth Meyers brought it up (and other inconvenient facts):
NBC Late Night was not happy with Republicans on Thursday for holding hearings into Twitter's suppression of the Hunter Biden laptop story, claiming "no one actually gives a [bleep]" and trying to pretend that Republicans are greatly upset Twitter took down tweets containing nude photographs of Hunter Biden.

After playing a clip of Rep. Byron Reynolds asking why certain tweets were removed and former head of Trust and Safety Yoel Roth replying that they were non-consensual nudes, Meyers sarcastically claimed, Excuse me, Mr. Roth, but the American people are demanding to see Hunter Biden's nudes."
Christy didn't mention that the key reason Twitter posts about Hunter Biden were initially censored was because people like right-wing actor James Woods were posting nude pictures of him; nonconsensual nudes are prohibited on Twitter then and now. Christy grudgingly served up the big Trump reveal (and more whining about the nude p[hotos):
In an attempt to prove his point, Meyers declared, "Twitter did field requests from the Trump Administration, the actual government at the time, to remove content that Trump didn't like. In fact, it was reported yesterday by Rolling Stone that Twitter kept an entire database of Republican requests to censor posts and in the hearing, a Democratic member of the committee, Maxwell Frost, brought up one of those examples, which led to some explicit language being read into the Congressional record."

After playing a clip of Frost speaking about a request from the Trump White House to remove a Chrissy Teigen tweet calling Trump a "pussy ass bitch," Meyers joked about C-SPAN's lack of a bleep button before declaring, "Once again, Joe Biden could not have asked for a more flattering contrast. Republicans are using their time in the House to throw tantrums about their Twitter accounts getting suspended and Hunter Biden's nudes."

It is easy for Meyers to pick at the low-hanging fruit when he jokes about Reynolds's inquiries into tweets containing nude photos, but Twitter really did suppress the New York Post story, something they never did for a Rolling Stone article about Trump or one of his children and conservative accounts were suspended for "hate speech," or, more accurately, running afoul of new left-wing rules about gender.
The example of "hate speech" he linked to was about a Babylon Bee post sneering about an imaginary "Man of the Year" award for transgender Biden official Rachel Levine. Referring to Levine as she presents herself is harding a "new left-wing rule about gender" -- it's just common courtesy and n ot being a jerk. And Christy said nothing about the chilling effect Trump's demand on Twitter has on free speech.
Paetin Iselin rehashed all of these talking points, as well as the MRC's election conspiracy theory, in a Feb. 10 podcast, insisting that the story is still relevant. She didn't see any relevance in Trump demanding that Twitter censor Teigen, since she didn't mention that at all.
Posted by Terry K. at 10:16 PM EST