Newsmax's Trump Defense Brigade Against The Raid
When the FBI raided Donald Trump's Mar-a-Lago compound searching for the classified documents he absconded with, Newsmax cranked out dozens of stories to defend him, and it even put Dick Morris on full defense alert.
By Terry Krepel
Posted 10/17/2022
---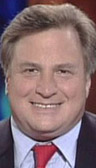 Dick Morris
When the FBI executed a search warrant on Donald Trump's Mar-a-Lago resort looking for classified documents that he refused to return after leaving the presidency, Newsmax -- one of his most loyal media supporters -- went into freakout mode, cranking out not only Trump's defense but also defenses of him by other Trumpies and attacking the search itself.

First up was an Aug. 8 article by Jack Gournell uncriticially quoting unsupported attacks on the raid from Trump and his attorneys as politically motivated. That was followed the rest of the day by a bunch of articles, mostly based on appearances by Trump supporters and lackeys on Newsmax TV, making similar unsupported attacks:

The day after the raid, on Aug. 9, Newsmax remained on spin patrol with an article by Jeffrey Rodack about a video Trump posted seeking to distract from/capitalize on the attention, which he spun as "a campaign-style ad on social media calling America 'a nation in decline,' but vowing it will become great again." That was joined by an article by the apparently unironically named Charlie McCarthy quoting "two prominent Democrat lawyers" issuing tweets suggesting that the raid "could prevent the former chief executive from holding any political office in the U.S." Then came the daily avalanche of Trump lackeys and others in full spin mode:

Newsmax did, however, attempt a little bit of balance by including points of view that weren't from Trump lackeys:

Newsmax then went into darker territory by attacking the judge who signed off on the search warrant with an Aug. 9 article by Nicole Wells accusing him of having "ties to convicted pedophile Jeffrey Epstein." Wells didn't mention that Trump also had ties to Epstein, as did a key Trump defender Newsmax has been promoting, Alan Dershowitz.

Newsmax's coverage on Aug. 10 was led by an article by Eric Mack uncritically repeating Trump's unproven allegation that FBI agents planted evidence during the raid. That was followed by the usual daily parade of Trump lackeys:

Newsmax did mix in a couple other articles for the illusion of balance, focusing in part on who among the Trump camp might have alerted the FBI to the documents being improperly stored there:

Its coverage on Aug. 11 -- three days after the raid -- relegated Attorney General Merrick Garland's statement that he approved the raid to a wire story, then featured the usual stenography of pro-Trump toadies:

Newsmax did offer a little more balance this day, though: One article noted that "Former White House acting chief of staff Mick Mulvaney said 'somebody very close' to Donald Trump tipped off the FBI before the bureau's raid at Mar-a-Lago, another noted a Washington Post report that "classified documents relating to nuclear weapons" were being sought in the search, and yet another article surprisingly highlighted how hated Republican Rep. Liz Cheney "blasted her fellow GOP lawmakers for the ''sickening'' attacks they have directed at the FBI agents who executed a search warrant at former President Donald Trump's Mar-a-Lago home, saying the comments are putting lives at risk."

The top stories on Aug. 12 involved the pro-Trump talking point of the day, that the classified documents seized from Mar-a-Lago were supposedly declassified by Trump before he left office. One article touted how Trump claimed he had "the power to classify and declassify documents," while another, by McCarthy, hyped that "White House documents that former President Donald Trump brought with him to Mar-a-Lago had been declassified, Trump allies said," while burying the balancing viewpoint that "Trump foes, however, reject the notion a president can declassify documents so easily" in the last few paragraphs of the article. McCarthy also whined that "Former CIA Director Michael Hayden made a comment on social media that seemed to promote execution for leakers of nuclear secrets."

Then it was Trump sycophancy time:

There was also one more piece of Trump misdirection stenography, courtesy of Jeffrey Rodack:
Former President Donald Trump said former President Barack Obama kept 33 million pages of documents, many of them classified, and speculated that quite a few pertained to nuclear weapons.

Trumps comments came in a statement released Friday: "President Barack Hussein Obama kept 33 million pages of documents, much of them classified. How many of them pertained to nuclear? Word is, lots."

A New York Post column claimed Tuesday that at the end of his presidency, Obama took 30 million pages of his administration's records, vowing to digitize them and put them online. The column, by author James Bovard, said the National Archives reveals that no pages have been digitized or disclosed.
In fact, the Obama records that were moved to Chicago are unclassified and remain in possession of the National Archives; the classified documents remain at a National Archives facility in Washington, D.C. Obama has no personal possession of any of those documents.
Newsmax served up more of the same on Aug. 13:
It did, however, also publish a wire story noting a report that "A lawyer for former U.S. President Donald Trump signed a statement in June that said all classified material held in boxes at Trump's Mar-a-Lago residence had been returned to the government" -- an apparent false statement, which governmental agencies tend to frown upon.
Even more pro-Trump stenography was delivered on Aug. 14:
There was also an article on a statement by press secretary Karine Jean=Pierre that the White House is not interfering or otherwise "involved" in the investigation into Trump.
On Aug. 15, McCarthy returned to serve up some painfully unironic stenography of Trump offering "to do 'whatever I can to help the country' during 'a dangerous time' following the FBI's raid of his Mar-a-Lago home." and that the "temperature has to be brought down" McCarthy didn't mention, of course, that Trump is primarily responsible for raising that temperature -- even though a few hours earlier, he wrote an article touting Trump's inflammatory claim that the raid was "a 'sneak attack on democracy' that was conducted purely for political reasons." The usual cascade of Trump lackeys followed:
And there was still more on Aug. 16:
Newsmax also served up a reader poll asking if the raid was "an abuse of power" and if FBI director Christopher Wray should resign, adding, "Newsmax will provide the results of this poll to major media outlets. Newsmax's results also will be shared with popular radio talk-show hosts across America." It's a meaningless poll because it's an opt-in poll for a highly biased audience.
Newsmax's blanket defense of Trump continued apace well beyond a week after the raid -- and largely devoid of any balancing viewpoint from law enforcement. Let's look at how Newsmax did that since we last checked.
Aug. 17:
(Wire story for purported balance: Pence Tells GOP to Stop Lashing Out at FBI Over Trump Search)
Aug. 18:
Aug. 19:
(Another wire story for balance: Pence Says He Didn't Leave Office With Classified Material)
Aug. 20:
To sum up: From Aug. 8, the day of the raid, through Aug. 20, Newsmax published by our count a whopping 92 articles defending Trump -- and there are likely a few we didn't catch. The number of articles Newsmax published offering balanced viewpoints was much lower. Then again, Newsmax has positioned itself as a pro-Trump channel, so the bias is baked in.
Newsmax's bias is all too clear -- it loves Trump and it will devote any amount of airtime and website space to defending him no matter what he does.
Defense from Dick Morris
After the raid, Newsmax writer Dick Morris had to shift his narrative from promoting the pro-Trump book he wrote (and Newsmax published) to defending Trump against being held accountable for his own actions and portraying the raid as a motivating incident for die-hard Trump supporters (and hopefully selling a few more copies of his book in the process). An Aug. 8 article detailed Morris' first post-raid appearance on Newsmax TV:
The FBI raid on Mar-a-Lago is not intended to send former President Donald Trump to jail as much as just damage him to keep him from running for president again, according to presidential adviser Dick Morris on Rob Schmitt Tonight." "The appellate courts, even if they find the district judge under a rock who will rule that way, the appellate courts would never agree to that.

"But what they are trying to do is to make Trump so damaged, such damaged goods, that Democrats and Republicans look for primary alternatives – and all of a sudden, they see virtue in Mike Pence or Ron DeSantis. Not that they're fomenting it. Those people are being used, but they're being used to try to generate a primary fight against Trump, because the Democrats feel that's the only way they can win."

[...]

Morris hailed Trump as a "ruthless S.O.B.," but one that plays within the rules.

"Donald Trump plays between the foul lines, on the playing field," Morris continued. "He never goes outside of it. He never engages in this kind of underhanded tactic. Even when he controlled the FBI and controlled the CIA, sort of, he doesn't do that. The Democrats do.

"I've worked side by side with Trump; he's a ruthless S.O.B., but on the playing field within the foul lines, not in extraneous stuff."
| | | |
| --- | --- | --- |
| Related articles on ConWebWatch: | | |
| | | |
Not actually true, but Morris is in hard-shill mode here. Morris did get in his usual shilling in another Aug.8 TV hit, declaring that "Republicans could pick up between 5-7 seats in the Senate this November, taking the majority in that chamber."

In an Aug. 11 Newsmax TV appearance, Morris lamented that Trump "will be indicted on a "technical violation" of the National Archives and Records law," just for egregious mishandling of classified documents:
"The archivist apparently cares whether the archives gather dust in the basement of Trump's house or the archives place, but they're still going to use any excuse they can to try to knock him out of the race," said Morris. "I don't think that will knock him out. It does not legally preclude him from running, but they can get a D.C. grand jury stacked with Democrats to indict [anyone] for anything."

The Democrats, he added, "need to knock Trump out and they will do anything they can."

And the raid at Trump's Mar-a-Lago estate, he added, "was just a brazen example of that, as they clearly see this as a zero-sum game."
After that, though, Morris was largely back to his usual shilling. In an Aug. 15 appearance, he baselessly asserted that "the hiring of 87,000 new Internal Revenue Agents is designed to "intimidate" American citizens into silence instead of criticizing the government." The next day, Morris cheered Liz Cheney's loss in her Republican primary, then tried to tie Cheney's work on the House committee investigating the Capitol riot to the Mar-a-Lago raid:
But the Jan. 6 committee, of which Cheney is a vice chair, has failed to prove that, so now the Democrats have turned to "Plan B," which was the raid of Trump's Mar-a-Lago home, said Morris, author of the book "The Return: Trump's Big 2024 Comeback."

"This was simply designed to get them in the door to Mar-a-Lago so that they can search for documents to try to prove that this was an insurrection, and that Trump led a revolution, so they can try to invoke the 14th Amendment," Morris said.

The Democrats know the courts likely will block that move, he added, but they hope that the accusation will be enough to keep the Republicans from nominating Trump, which won't likely happen.
Morris ranted in an Aug. 18 TV appearance:
Fearing they can't beat former President Donald Trump, or his movement, in elections, "Democrats have abandoned the political process" to stop him, presidential campaign adviser Dick Morris said on Newsmax.

"In my book, 'The Return,' I make the case that I think is very important: That the Democrats have abandoned the political process and are using criminal justice process and the judicial process to try to stop Donald Trump, and they weaponized the IRS and the FBI to be the enforcement arm of the Democratic Party," Morris, who has advised Democrat President Bill Clinton and Trump's presidential campaigns, said on Thursday's "John Bachman Now."

"The raid at Mar-a-Lago, the pretext was the archives. Who cares about the archives? They are in there to try to find documented evidence — or planted — to frame Donald Trump for the Jan. 6 riot, and to claim that somehow this was a revolution against the United States government, because they want to invoke the 14th Amendment that says that anyone who was involved in an insurrection against the government can't hold public office."
The following day, Morris declared that the raid "has energized" Trump:
"I've worked with so closely with President Clinton and with President Trump; and with Clinton, if people liked him, it energized him," Morris said during "Spicer & Co." Friday. "With Trump, if he's facing opposition, particularly due to the low-level opposition using dirty tactics, that energizes him, and I think that the effect of the Mar-a-Lago raid ... is energizing. I think he relishes being in a fight, and I think he really feels that his adversary made a huge mistake, and he's determined to capitalize on it."

Morris said he predicted something similar to the raid, some kind of major legal move, in his new book, "The Return: Trump's Big 2024 Comeback" but could not predict the Mar-a-Lago raid.

"It's kind of like Pearl Harbor. They predicted they'd attacked Guam; they didn't realize they'd attack Hawaii," he said. "I knew that they would raid; I didn't know they would raid the president's home.
An Aug. 20 article repeated Morris' claim on TV that "Democrats are giving up on replacing Trump in a 2024 GOP primary, and instead are focusing on using the legal system to preclude him from seeking another term in office," going on to downplay the Capitol riot:
"The Democrats are trying to manufacture the idea that Jan. 6 was such a rebellion because — and the timing of this is very significant to the Mar-a-Lago raid — because it came after Trump had a winning streak in primaries, thereby debunking the notion that he could be defeated by the ballot box," he said. "[The search warrant] was executed precisely 90 days before the midterm elections, so it did not run afoul of the FBI rule that you can't do anything to affect the election within 90 days."
Morris didn't mention that Trump isn't running for anything in the midterms.
More than two weeks after the raid, Morris was still in post-raid defense mode on Newsmax TV:
A month after the raid, Morris still couldn't stop talking about it, to the point that an article by Jay Clemons on a Sept. 12 appearance that seemed to mock Morris' relentless Trump-fluffing, noting that Morris "doesn't need much goading when it comes to making Trump-affiliated prognostications on Newsmax." Morris totally bought into a pro-Trump conspiracy theory in another Sept. 12 appearance:
Speculating to Newsmax on the documents the FBI took in its raid on Mar-a-Lago, Dick Morris tells "American Agenda" that the documents are a "smoking gun," illustrating collusion between the FBI and the Department of Justice.

"I believe that the primary motivation of the FBI in breaking in and seizing those documents" is that the agency is "trying to defend itself against Trump's condemnation," Morris says.

"I think," Morris continues, "Trump took those documents because he believed that they contain evidence of a smoking gun of FBI and DOJ collusion in the Russia-hoax scandal, in the tapping of his phone as president, and getting FISA warrants — on perjury grounds — to surveil his staff."

"I think the reason the FBI raided was to get those documents back before Trump made them public."
Morris wrapped failed right-wing prosecutor John Durham into his conspiracy theories in a Sept. 16 appearance:
Former President Donald Trump took boxes of documents to his Mar-a-Lago estate to "allow him to go after the FBI," not to keep himself from being investigated, Dick Morris, the author of the book "The Return: Trump's 2024 Comeback," told Newsmax on Friday.

"The issue here is not the documents Trump took, but what's in them," Morris told "National Report." "I believe that the evidence will eventually show that it includes a smoking gun proving the allegations made by John Durham, the special prosecutor, three days ago."
Morris is nothing if not a slavishly loyal pro-Trump shill.
The latest from