Months After He Left CNN, Stelter Derangement Syndrome Continues At The MRC
Topic: Media Research Center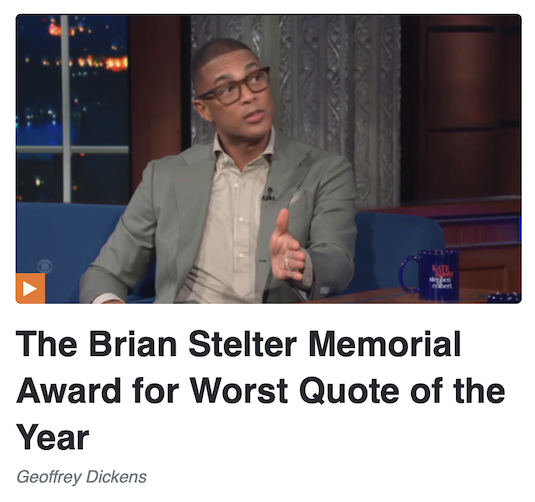 Brian Stelter left CNN months ago, but the Media Research Center -- which gleefully danced on the grave of his CNN career and his "Reliable Sources" show, which it hated because he criticized Fox News, something that is forbidden -- can't stop obsessing over the guy. Tim Graham huffed in a Nov. 27 post:
For a definition of what "far left" is, you could suggest that someone who sounds extreme sitting next to former CNN media reporter Brian Stelter. Check out left-wing extremist Nandini Jammi, whose "Check My Ads" racket seeks to separate all advertiser money from Fox News, Breitbart, and other conservative media outlets.
Graham didn't mention that his employer has a very similar operation of attacking advertisers on shows and channels it has deemed to be its ideological enemies, under the name of "Conservatives Fight Back." It's highly iunlikely he considers that project to be a "racket." Despite calling Jammi "far left" and a "left-wing extremist," he never explained how doing exactly what the MRC does earned her those labels. Graham even touched on this again in his Nov. 28 podcast.
So continually obsessed is the MRC with Stelter that it named one of tis a year-end awards "The Brian Stelter Memorial Award for Worst Quote of the Year." No explanation was given or a Stelter quote provided to justify the award. It also took another victory lap over Stelter's departure from CNN in another year-end post, and it even complained that one critic lamented Stelter's firing.
When Stelter showed up at the World Economic Forum to moderate a panel on media disinformation, the MRC really went nuts. Catherine Salgado complained in a Jan. 18 post:
A World Economic Forum panel at Davos 2023 endorsed censorship and enforced online narratives to fight supposed "disinformation."

The World Economic Forum (WEF) hosted a panel as part of its ongoing Davos 2023 conference titled, "The Clear and Present Danger of Disinformation." Ironically, the panel moderator was Brian Stelter, a former anchor for CNN, a network renowned for its constant lies and partisan half-truths.
Graham devoted his Jan. 18 podcast to Stelter's appearance:
Brian Stelter sighting! The former CNN host resurfaced at the World Economic Forum in Davos, Switzerland to moderate a panel on crushing "disinformation." He made it sound like a European version of his old show Reliable Sources, asking his fellow leftists how they manage a world in which Donald Trump is still proving that "lying works."

Naturally, those assembled -- including New York Times owner Arthur Gregg Sulzberger -- were encouraged by Stelter to discuss how "trustworthy" media sources (like the Times, apparently) should be highlighted and "hate speech" (conservative speech?) should be energetically suppressed by private companies and governing elites.
Neither Graham nor Salgado explained why disinformation should never be corrected or called out.
In yet another post that day, Kevin Tober gushed at how Fox News' Tucker Carlson "used the opening segment of the show to mock former CNN janitor and current Harvard University fellow Brian Stelter and all the other 'self-confident dumb people' who flocked to the World Economic Forum in Davos, Switzerland to thumb their nose at non-elites all over the world and America in particular. In classic Tucker fashion, he humorously ridiculed Stelter while also driving a point home." That point largely being about mocking Stelter.
That's right -- the MRC cranked out three separate posts attacking Stelter over this single appearance. On top of that, Joseph Vazquez had a Stelter-bashing aside in a post the next day: "Also, what was CNN has-been Brian Stelter doing hosting a WEF panel complaining how people need to start trusting 'established' information sources instead of so-called online 'disinformation' spreaders?"
The MRC was even annoyed with Stelter for entertaining questions from (non-bad-faith) critics. Curtis Houck wrote in a Feb. 24 post:
Former CNN's Reliable Sources host Brian Stelter made a rare return to a microphone Friday as he interviewed Megyn Kelly Show executive producer and Fourth Watch Podcast host Steve Krakauer about his new book, Uncovered: How the Media Got Cozy with Power, Abandoned Its Principles, and Lost the People. In just under an hour, the pair had a engaging and fascinating discussion about the media, CNN, Fox News, January 6, and& his post-CNN life.

But for readers here, the newsiest topic came when Krakauer cited the New York Post reporting on Hunter Biden's laptop as an answer to this question from Stelter: "What are the ones that stand out most to you? What — what — what did me and my colleagues at CNN screw up the most, in your view?"
When Krakauer brought up the selectively released "Twitter files," Houck seemed to complain that Stelter responded by pointing out that the Hunter Biden laptop story really was quite shaky when introduced and that Republicans whined that it wasn't immediately accepted:
Stelter began his defense by saying this was "Twitter's problem" and "separate from the press," so "[i]f Twitter screwed up, we should go after Twitter."

In the case of news organizations, he argued they "looked around and said, we don't have the laptop. We don't have evidence. We don't have evidence it's real and we know that are reasons to wonder if it's disinformation."

He then bemoaned the criticisms, saying they can be boiled down to, "all these assholes...called it disinformation" when the (supposed) truth is "[a] lot of us just wondered" if it was from Russia.

Stelter continued, saying they referred to said "former U.S. officials" because they "think it might be," so news outlets were "cushioned and cautious...because of Hillary e-mails, but because of the Russian attempt in 2016".
Houck shockingly concluded by saying something nice about Stelter: "To his credit, Stelter made his case at the end for the necessity of journalists to do more of 'show[ing] that we've walked all the way around the block before we've started to write about the block and, you know, that's my way of saying let's be fair to everybody...because if you're only writing about the story from the back yard, then you're missing a big part of the story.'"
Don't worry, that won't last -- Stelter is too significant a target for the MRC to actually embrace.
Posted by Terry K. at 9:42 PM EST
Updated: Thursday, March 30, 2023 1:22 PM EDT