CNS Continued To Sour On Trump After Midterms, But Perked Up For 2024 Announcement
Topic: CNSNews.com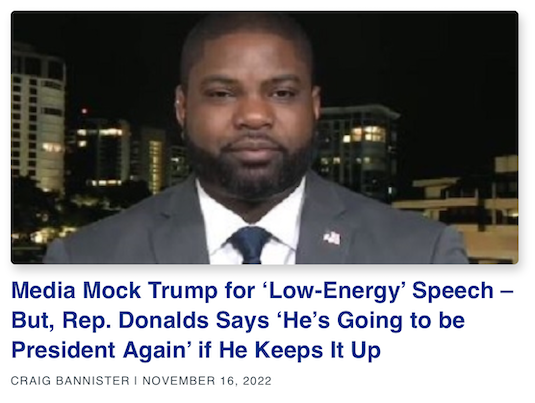 We've noted how CNSNews.com seemed to be souring on Donald Trump after the Republican candidates he endorsed performed poorly in the midterm elections. Days after the midterms, CNS was still feeling emboldened enough to take shots at him. A Nov,. 14 article by Susan Jones highllight Republican politician Chris Christie pointing out that "Trump has convinced some Republicans that the 2020 election "was stolen," but independent voters don't like it," adding that "I think what Republicans came to grips with Tuesday night was we're tired of losing and we're tired of Donald Trump dragging us to lose because of his personal vanities." Melanie Arter, surprisingly, was the one to drop the hammer on Trump in another article that day:
Maryland Gov. Larry Hogan said Sunday that former President Donald Trump has cost the GOP an election victory for the third time in a row.

"I have been talking about this for years, and it seemed as if I was the only one talking about it, but, today, there are a whole lot more people talking about it, and the way I would interpret it, look, this was -- this should have been a huge red wave. It should have been one of the biggest red waves we have ever had, because President Biden's approval rating was so low, one of the lowest historically," he told CNN's "State of the Union."

More than 70 percent of people thought the country was going in the wrong direction, and yet we still didn't perform, and I think commonsense conservatives that focused on talking about issues people cared about, like the economy and crime and education," the governor said.

"They did win, but people who tried to re-litigate the 2020 election and focused on conspiracy theories and talked about things the voters didn't care about, they were almost universally rejected, and I think it's basically the third election in a row that Donald Trump has cost us the race, and it's like three strikes, you're out," he said.

[...]

When asked what he thinks will happen if Trump announces a 2024 presidential bid, Hogan said, "Well, there's no question he's still the 800-pound gorilla, and it's still a battle. It's going to continue for the next two years. I would just say that we're two years out from the next election, and we're just trying to -- the dust is settling from this one. I think it'd be a mistake. As I mentioned, Trump's cost us the last three election, and I don't want to see it happen a fourth time."

Hogan said there's "no question" that if Trump does announce his candidacy for the 2024 presidential race, he could cost Republicans the Senate run-off in Georgia between Herschel Walker and Sen. Rafael Warnock.

"No question about that. I mean, that's not as consequential now. We still would like to win Georgia, but we're not going to win back the Senate as a result, and that's Donald Trump's fault," the governor said.
It wasn't all bad news, though; another Nov. 14 article by Craig Bannister cheered how comedian Dave Chappelle called Trump an "honest liar," which made him a star among "poor whites."
Things got further back on track with a Nov. 16 article by Patrick Goodenough serving up stenography to mark Trump's announcement for the 2024 presidential campaign. Bannister followed that up with a Trump apologist who denied that Trump's speech lacked energy:
Donald Trump's tone was exactly what needed to be – not "low energy" as liberal media claim – Rep. Byron Donalds (R-Fla.) said Tuesday after the former president announced his 2024 presidential candidacy.

"I thought it was the exact pitch he needed to do," Rep. Donalds concluded in an interview on Fox Business Channel's "Varney & Company," analyzing Trump's announcement.

Americans should have no doubt that Trump knows how to run the country, Donalds said. But, they do want to know what his tone will be and how he plans to conduct himself, if reelected, the congressman said:

[...]

"If this is what you see from Donald Trump for 16 months, he's going to be president again," Rep. Donalds predicted. However, Donalds has not yet said whether he will end up backing Trump or Florida Governor Ron DeSantis to be his party's 2024 candidate.

Still, as Human Events Senior Editor Jack Posobiec tweeted Tuesday, liberal media will criticize Donald Trump – no matter what his tone is:
And that low-energy effort was the last of CNS' coverage of Trump's announcement.
Posted by Terry K. at 8:29 PM EST
Updated: Friday, December 16, 2022 8:36 PM EST