MRC Labors To Dismiss BYU Racism Incident As A 'Hoax'
Topic: Media Research Center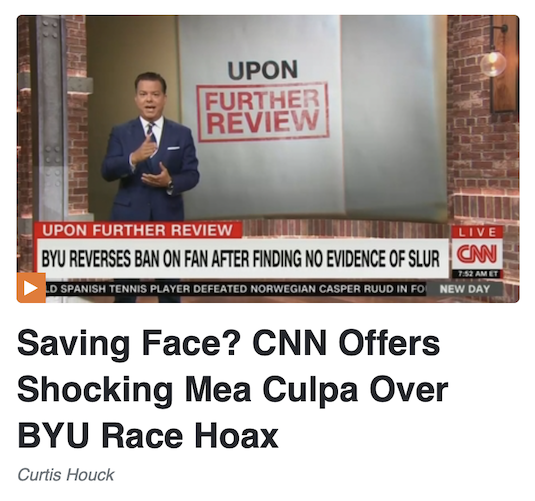 When Rachel Richardson, a player for the Duke volleyball team ,claimed she she heard racist taunts coming from the student section of her opponent, Brigham Young University, the Media Research Center worked hard to dismiss it and tried to frame it as a hoax -- armed only with denials from BYU.John Simmons spent an Aug. 31 post repeating a claim from the right-wing sports blog Outkick "suggests that this whole story might be a hoax" because... BYU police claimed they couldn't find anything:
Despite these accusations, BYU campus police and witnesses at the event are telling a different story.

After reviewing footage of the game and the people around where the incident took place, BYU Police Lt. George Besendorfer told the Salt Lake Tribune "When we watched the video, we did not observe that behavior from him (the unnamed student)."

Another police officer who reviewed the footage of the scene in question said "There was nothing seen on the game film that led me to believe" that the man "was the person who was making comments to the player who complained about being called the N-word."

Furthermore, multiple students interviewed by The Cougar Chronicle, a school paper that operates independently from BYU, reported that they do not remember that word being said or anyone acting in a derogatory way towards Richardson.

"There is zero evidence of a slur being said. Not a single witness, besides Ms. Richardson, has come forth. Not a single cell phone video," an anonymous source said who attended the volleyball game.

So for now, it looks like Richardson's case is pretty insignificant, and yet ESPN and other left-leaning outlets have yet to comment on this half of the story because they are too busy hyping up Richardson as their next victim of racism. More details may emerge that prove Richardson right, but for now it seems like she made an error on how she served her story.
Simmons failed to identify Outkick's right-wing bias.
Simmons' fellow MRC sports blogger, Jay Maxson, complained in a Sept. 2 post that BYU is reacting to allegations of racism in an appropriate manner:
Never mind the darn facts, Brigham Young University is way over-reacting to a racism hoax and punishing the innocent. One man falsely accused of racially taunting a black Duke University volleyball player in a game at Provo earlier this week has been banned from BYU's campus for life. A fan section at BYU's volleyball venue has also been moved further away from the court.

John Nolte of Breitbart called it fascism displayed by sniveling cowards.

[...]

This whole sorry saga is just another example of how, even when fake hate crimes are exposed, the whole university machine goes into overdrive to manufacture fake concern over non-problems. Just so they can feel good about themselves.
Macson didn't explain why universities should not respond to racist incidents, nor did he (or she) point outthe right-wing bias of Nolte and Breitbart.
Brad Wilmouth spent a Sept. 4 post complaining the incident was being covered and insisting it has been "discredited," citing only "university staff" who arguably have a bias to protect their employer:
Earlier this week, CNN, ABC, PBS and ESPN all promoted another racism story that appears to be a hoax, this time in response to claims that a black Duke University student was harassed with racial epithets as she played volleyball at Brigham Young University in Utah over the weekend.

Between last Sunday and Monday, five different shows on CNN devoted segments to the controversy, totaling almost 24 full minutes, but have so far not updated the story as more details have cast doubt on whether the incident actually happened.

[...]

It has since been reported not only that a police officer who was on scene observed no evidence that the harassment happened, but analysis of video footage by university staff found no evidence that the activity occurred. Furthermore, the student's godmother who helped spread the accusations is an aspiring politician in Fort Worth who has a history of using her Twitter page to make incendiary attacks on white people.
Wilmouth went on to gush that "Fox's The Ingraham Angle notably did a segment on the revelations that the case appears to be a hoax in spite of all the media coverage it received."
A Sept. 8 post by Maxson complained that USA Today called out right-wingers for desperately denying the incident:
Rachel Richardson's false race accusations against Brigham Young volleyball fans have been debunked by police investigators, but USA Today race writer Mike Freeman says the Duke athlete is now the victim of a "right-wing conspiracy theory." Just like QAnon or mass voter fraud.

Freeman's idea of "proof" that Richardson's recent claims of racial taunts and threats from BYU fans comes in the form of a post-match phone call to her dad. His logic is that she didn't seem her normal self, so the right-wing doubters and the police could not possibly be correct in their opposition. "After the game, she called, and this was a different call," her father, Marvin, told CNN. Not exactly compelling enough to overturn a thorough police investigation of what turned out to be Richardson reporting a fake hate crime.
Maxson offered no proof of the police investigation being "thorough," nor did he (or she) mention that the police are employees of the university so they would likely have an interest in downplaying the incident.Nevertheless, Maxson went on to whine that "The race-baiting sports writing beat has indeed slowed down since the Black Lives Matter madness of 2020. Freeman is trying to resuscitate it with this hard-hitting and off-target race blast" -- though, again, he has no solid, independent proof that the story is fraudulent.
Clay Waters embraced the "hoax" narrative in a Sept. 11 post:
An August 26 women's college volleyball match between Duke University and Brigham Young University in Utah was allegedly marred by a racist BYU fan yelling racist slurs at a black Duke player, according to her father.

The only problem: It evidently didn't happen, though that didn't stop BYU from banning a fan falsely accused of shouting the slurs. Now Brigham Young's comprehensive investigation uncovered no evidence that the incident ever happened. (None of the 5,500 spectators in attendance heard anything either.)

Yet the Times, so sensitive to right-wing "misinformation" during the Trump era and beyond, wasted no time jumping on the original allegations, not bothering to confirm the story on its own before spouting it off as truth in a breathless piece bylined from Vimal Patel, assuming the truth of the nasty accusation with no evidence.
Waters didn't mention the accusation that itis a "hoax" lacks solid evidence as well.
Maxson found another "thorough investigation" to promote in a Sept. 12 post -- a Fox News "reporter":
A Fox News report concerning the left-stream media's performance on the Rachel Richardson story reveals an ugly bias, not to mention pathetic examples of "journalism." Richardson is the black Duke volleyball player who, on Aug. 26, claimed she was the victim of racial taunting and threats in a match at Brigham Young. Police investigators found no evidence to corroborate her story, and the establishment media has not reported this inconvenient truth.

BYU Police Lt. George Besendorfer reviewed surveillance video of the alleged racist fan from the game, and he concluded "we did not observe that behavior from him." Will Cain reported on Fox News television that black BYU students in the arena heard no racial slurs either.

In a Fox News web story, reporter Joseph Wolfsohn released the results of his thorough investigation of media coverage. His findings are appalling.
Maxson didn't explain why the BYU police report should be trusted without question even thought, again, they are university employees and arguably biased.
Nobody at the MRC mentioned a statement by the West Coast Conference, of which BYU is a member, pointing out that "BYU's inability to locate perpetrator(s) does not mean the remarks were not said," nor have they mentioned that Duke officials are standing by Richardson. Still, the MRC has a narrative to push, and Curtis Houck did his part in another Sept. 12 post, insisting the claim has been "debunked" and a "hoax" while attacking a CNN update on the story:
CNN offered another clue Monday morning into how a properly-run CNN under Discovery and boss Chris Licht might look as New Day introduced a new segment called "Upon Further Review" to reexamine stories that, once facts emerged, showed something was different than the initial narrative. With the ever-pompous John Avlon at the helm, the first installment touched on the debunked claims of racist taunts from Brigham Young University fans to a Duke women's volleyball player.

[...]

What Avlon wouldn't admit was those defending Richardson indeed wanted the racist slurs to be true in order to further their preferred narratives about humanity or, more specifically, those that lean conservative (such as Mormons).

"Now, we need to note that the investigation does not call Rachel Richardson a liar or a fabricator. It leaves open the possibility that she sincerely believed that she heard repeated racial heckling and that some sort of misunderstanding occurred," he added, as if to offer an olive branch.
Houck is being paid to push a narrative, not be fair and balanced, so he'll never admit that the sources he uses to proclaim this a "hoax" are biased.
Posted by Terry K. at 8:49 PM EDT
Updated: Wednesday, October 12, 2022 9:02 PM EDT