MRC Unsurprisingly Hated Biden's Speech
Topic: Media Research Center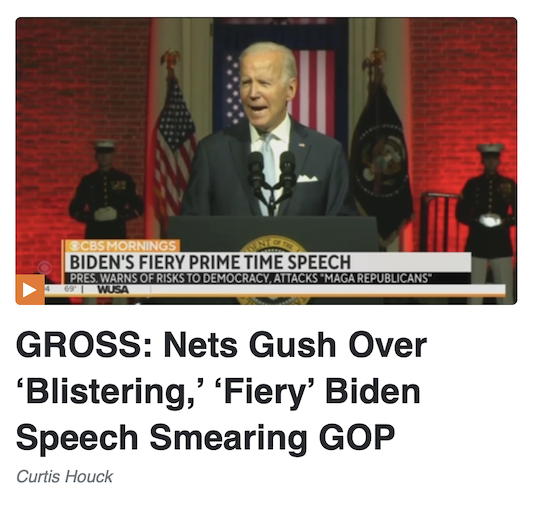 Like WorldNetDaily and its "news" division CNSNews.com, the Media Research Center did not like President Biden's speech calling out their fellow right-wingers as the threats to democracy they are. In a pre-speech post, Nicholas Fondacaro set up the right-wing narrative of Biden (and not thte highly divisive Donald Trump) as the real divider, and whine about CNN as well:
In another example of his open defiance of new CNN boss Chris Licht's order to be less egregious in their partisanship, Don Lemon spent part of his eponymous show on Wednesday arguing with Republican Scott Jennings and absurdly claiming that President Biden was "unifying" the country by calling Republicans fascists. He even suggested it was "the truth about what is happening in the country" and asked, "where's the lie?"

Jennings noted that Biden had abandoned his message of unity from his 2020 campaign and inaugural address. "Yes. But a lot has happened between now and his inaugural address," Lemon scoffed at the objection.
After the speech, the pro-Republican Bill D'Agostino started the whinefest by complaining that people outside his right-wing bubble liked it:
President Biden's Thursday night speech was a big hit on the pro-Democrat TV networks. CNN, MSNBC, and NBC News Now all carried the event and heaped effusive praise on their favorite president's rhetoric.

CNN and MSNBC were rife with the usual Democrat cheerleading that viewers have come to expect from left-wing cable. Panelists praised the speech as "fascinating," "optimistic," and "very, very patriotic."
Curtis Houck insisted it was "GROSS" (as he stated in all-caps in his headline) for Biden to call right-wing extremists what they are:
The "big three" networks of ABC, CBS, and NBC eagerly reported Friday morning how President Biden spent Thursday evening declaring former President Trump and his 74-million-plus voters not only dangerous but threats to national security (despite Biden's attempts to walk it back).

Instead of offering pushback or noting how the speech was an official White House event in Philadelphia with Marines flanking him, the morning news shows trumpeted his "blistering," "charged," and "fiery...speech" leveling of the GOP.
Alex Christy piled on CNN's Lemon again:
Don Lemon responded to President Biden's Thursday partisan screed by accusing GOP critics of playing word games, because in his mind there is a big difference between allegations that Biden called Republicans fascists and the fact that he called MAGA a semi-fascist ideology. Lemon further alleged that anybody who doesn't appreciate this difference is suffering from hearing loss.

Arguing with Republican strategist Alice Stewart, Lemon claimed, "So, Alice, we have been -- since he made that speech, we have been going, you know, back and forth about exactly what was happening, who is he calling. You know, the -- I think it was the semi-fascism. He made a clear distinction tonight."

[...]

Stewart is correct, for all Lemon's talk about MAGA Republicans and fascism versus semi-fascism, Biden also vilified pro-lifers and fear-mongered about contraception. That sounds like he was talking about more than 20 percent of the population.
Scott Whitlock huffed: "Doing the dirty work of Joe Biden, MSNBC vilified half the country on three separate shows, comparing the Democrat to Abraham Lincoln's fight to save the union or Franklin Roosevelt's rhetorical fight in 1940 against fascism. "
P.J. Gladnick tried to establish an alternate narrative, claiming that "As a reflection of just how poorly Joe Biden's dark speech in Philadelphia on Thursday about what he labeled as MAGA extremism was received, even a number of liberals criticized it." But he named only one person, a Washington Post columnist whom he did not prove was a "liberal." Tim Graham's podcast predictably stuck to the narrative:
President Biden gave a nasty primetime speech on Thursday night on how 'MAGA Republicans' are a threat to American democracy, and the media celebrated it as "reclaiming patriotism." He explicitly called out the entire Republican Party as threatening the future of democracy in America.
Christy joined the whine brigade against another CNN commentator:
CNN's S.E. Cupp traveled over to CNN International's Amanpour and Company on Friday, which is broadcast in the United States on PBS, to discuss President Biden's "semi-fascist" remarks. The allegedly conservative Cupp proclaimed the label to be "correctly" applied and it was "courageous" of Biden to do so.

Guest host Sara Sidner played a clip of House Minority Leader Kevin McCarthy condemning Biden for the remarks, which she saw as hypocritical, "Now, we certainly didn't hear McCarty saying anything like that for some of the comments that Donald Trump has made."

Under that logic no Democratic can criticize Republicans without also denouncing Biden, but double run rampant at CNN and PBS. Stil, Sidner wondered, "is he correct that he -- that when Biden used this language, that he, basically, accused all Republicans with a similar brush, or do you think that he actually hit the right tone?"

Cupp responded by declaring that he did, "I think he correctly identified a strain within MAGA—MAGA— world. I mean, it -- there are very few words to describe what Republicans are doing."

[...]

There is nothing less courageous than a Democrat calling a Republican a fascist given they know the media will defend them.
Not even a conservative like Christy smearing Democrats because his paycheck depends on it?
Graham then ran to his favorite "news" channel to whine about the speech some more:
NewsBusters Executive Editor Tim Graham discussed President Biden's primetime speech decrying 'MAGA Republicans' endangering democracy on Friday's Fox News at Night. Fox host Kevin Corke noted The Washington Post editorial board criticized the speech as more partisan than patriotic.

Graham slammed Biden for suggesting the entire Republican Party was a threat to democracy: "Good for The Washington Post editorial board for saying it was a nasty partisan speech. It doesn't actually accomplish what he thinks it was supposed to accomplish."
Mark Finkelstein complained about MSNBC guest host Tiffany Cross and guest Roland Martin endorsing Biden's speech, adding: "And note that Martin wasn't singling out ultra-MAGA Republicans as "evil." In inviting Martin to comment, Cross explicitly said that Trump's followers are 'mainstream, establishment Republicans [who] are echoing these calls for violence. All but threatening it.'"
Christy returned to whine some more:
CNN's John Avlon approached Tuesday's so-called reality check on New Day claiming to be a man of data as he defended President Biden's recent speech denouncing "MAGA Republicans." Yet, as Avlon lamented the "gnashing of teeth" from Republicans in response, Avlon again claimed Republicans are more extreme than Democrats.

[...]

After citing another poll, this one showing that only 33 percent of Americans want Donald Trump to run again, Avlon shifted to Biden's speech, "But somehow despite all of this, the outrage du jour was directed at President Biden's speech on defending democracy in front of Independence Hall in Philadelphia. Now, there was gnashing of teeth around the bizarre lighting and the presence of marines in the background, but the main GOP objection was that Biden was demonizing, quote, 'half of America.' Now, here's what the president actually said."

The clip showed Biden claiming that "not even a majority of Republicans are MAGA Republicans," but Avlon naturally omitted the part of Biden's speech were he also went after generic GOP policy, such as being pro-life. He also declined to call out his colleagues who have defended Biden by also seeking to expand the definition of extremist Republican to cover basic conservative policy.
It's worth noting that none of these MRC writers attempted a factual rebuttal of anything Biden had to sauy in his speech. And just because Christy doesn't think "basic conservative policy" is extreme doesn't mean it isn't.
UPDATE: Jeffrey Lord whined about the speech as well in his Sept. 3 column:
Without the slightest sense of self-awareness, President Biden's highly political speech in Philadelphia was delivered in front of two US Marines, sending the decidedly ironic message that the U.S. military was quietly behind Biden.

Recall when then-President Trump marched out of the White House to stand in front of the partially burned-in-a-riot St. John's Episcopal Church across Lafayette Park from the White House — and was accompanied by the Chairman of the Joint Chiefs of Staff Mark Milley? The media blew a gasket.
Lord went on to accuse supporters of the speech of engaging in "projection" -- while he's involved in his own projection by pretending that Trump never did anything "divisive."
Posted by Terry K. at 9:42 PM EDT
Updated: Thursday, October 13, 2022 3:16 PM EDT