WND Rehashed Old, Irrelevant Story To Fearmonger About Vaccine, Censors Relevant Facts
Topic: WorldNetDaily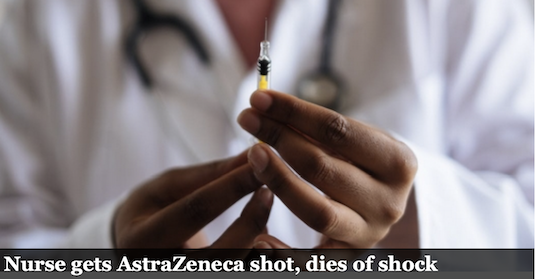 Apropos of nothing, Bob Unruh fearmongered in a Sept. 8 WorldNetDaily article:
One of the first patients to take the AstraZeneca COVID-19 shot was Megi Brakadze, 27, a nurse in Georgia, just over the border from Russia.

A day later, she was in a coma, her heart stopped, and physicians were unable to revive her.

hey blamed anaphylactic shock.

She had made a video at the time of her shot, explaining, "Vaccines are needed. We are powerless against the virus, we must vaccinate ourselves to avoid diseases or not get seri0usly ill. Although people are afraid, there is nothing dangerous about getting vaccinated. I urge everyone to get vaccinated."
Unruh omitted a couple of facts here. First, the AstraZeneca vaccine has not been approved in the U.S., where much of WND's (dwindling) audience resides, meaning that the story is irrelevant to much of its audience. Second, this incident happened in March 2021 -- more than a year and a half earlier. Thus, it cannot be considered to be "news."
Unruh made the mistake of getting his information for this alleged story from the highly discrtedited Gateway Pundit, which also hid the date the incident occurred. Unruh went on to uncritically quote from this discredited source:
The report said, "Doctors tried to restart her heart but were not able to revive her completely. For some reason, Megi's story did not make the headlines. It was not allowed."

The video explained the doctor's concluded her death was from anaphylactic shock.

It was confirmed by the Georgian Ministry of Health.
Netiher Unruh nor the Gateway Pundit offered any evidence to counter the report of the cause of Brakadze's death. But Unruh somehow did manage to avoid repeating the GP's false claim that "For some reason, Megi's story did not make the headlines. It was not allowed." In fact, as a reputable news organization reported, "Megi Bakradze's death and the investigation that followed has been headline news in Georgia for months, widely discussed in public and on social media" -- to the point that her death hindered vaccine campaigns in the country.
But both Unruh and GP omit the fact that -- as that reputable news organization also reported -- there's still a dispute over what link there is, if any, between the vaccine and Brakadze's death. One review found no link between the vaccine and her death, and there is a dispute over whether the woman was properly and quickly treated with epinephrine as her allergic reaction became clear.
But Unruh doesn't care about facts that contradict the narrative he's being (sporadically) paid to push. His job -- as is that of every other WND employee -- is to spread fear about COVID vaccines.
Posted by Terry K. at 6:29 PM EDT