Ghouls: WND Exploits Executive's Death To Repeat A Lie
Topic: WorldNetDaily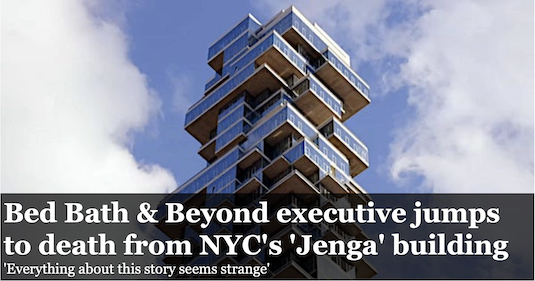 We've repeatedly caught WorldNetDaily pushing the demonstrable falsehood that the financial woes of retail chain Bed Bath & Beyond are directly related to its decision to stop stocking MyPillow products in the wake of Mike Lindell's aggressive embrace of Donald Trump's Big Lie about election fraud. Joe Kovacs tried peddling that story again -- while ghoulishly exploiting a man's tragic death -- in a Sept. 4 article:
The chief financial officer of Bed Bath & Beyond, the company which ran into severe financial trouble after dropping Mike Lindell's MyPillow products, is now identified as the man who plunged to his death Friday from New York City's iconic new skyscraper called the "Jenga" building.

Gustavo Arnal, 52, also an executive vice president for the home-goods retailer, plunged from the 18th floor of the 60-story tower, known for its misaligned apartments that resemble the popular game "Jenga."

Just two days before his death, the company announced it was closing 150 stores of its roughly 900 stores, and laying off 20 percent of staff of about 32,000 employees overall.

[...]

Bed Bath & Beyond, once regarded as a "category killer" in home and bath goods according to Britain's Daily Mail, has in recent years seen its fortunes tarnished, especially in the wake of its cancellation of MyPillow products produced by Mike Lindell, the firebrand supporter of President Donald Trump who maintains the 2020 election was stolen through a wide range of vote fraud.
Again: There's no proof whatsoever that BB&B discontinuing MyPillow products has anything at all to do with the company's woes, and Kovacs offers none. Instead, Kovacs uncritically repeated the crass MyPillow propaganda that came out after Arnal's death:
Without mentioning the death of Arnal, MyPillow continued sending out commercial email messages Sunday, directly tying the financial troubles of Bed Bath & Beyond to its decision to no longer carry its products.

"In January 2021, Bed, Bath & Beyond sided with the liberal mob and dropped MyPillow products from their stores. Liberals celebrated," the email began, featuring this exemplary tweet:

In response, conservatives boycotted Bed, Bath & Beyond -- and bought their bedding from MyPillow.com using promo code USA1776 directly instead," MyPillow's message continued.

It then mentioned the news of the chain closing 150 of its stores, and proffered its own take on the matter:

"Canceling MyPillow was a big mistake! They forced conservatives to choose between a big box store and a man who fights for conservatives. With MyPillow winning, will other retailers stop fighting conservatives? Will we return America to the open economy it should be?"
Kovacs couldn't be bothered to fact-check MyPillow's claims -- that would interfere with the narrative he's pushing.
Posted by Terry K. at 2:14 PM EDT